Lebanese journalist slammed for suggesting Israel should eliminate Nasrallah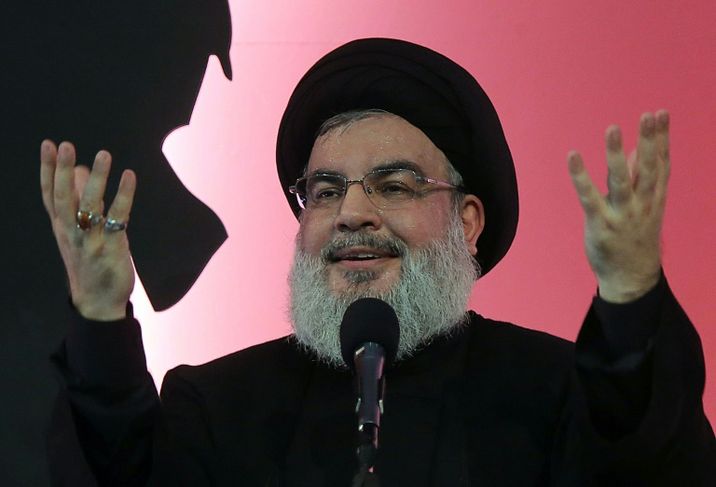 Hassan Nasrallah has headed the Hezbollah movement since 1992
AFP/File
Maria Maalouf faces lawsuits over tweets saying Israel should airstrike Hezbollah party leader
Maria Maalouf, a Labanese journalist sparked fury over the weekend for asking on Twitter why Israel hasn't taken action to eliminate Hezbollah party chief Hassan Nasrallah.
The journalist known for her vocal criticism of Hezbollah, and the Syrian regime which Hezbollah is backing in the civil war tweeted on Saturday: "If Israel really wants peace, then it should go ahead and prove it by signing an agreement with Hezbollah. To this day, we have yet to rid ourselves of Hassan Nasrallah, who had led us awry in his war against it."
"If Israel is the enemy of Hassan Nasrallah, why have they not carried out an airstrike to rid us of him and protect itself?" she wrote in a follow up tweet.
According to the Hezbollah linked al Manar TV station, Maalouf's tweets aroused the anger of many supporters of Hezbollah's leader, and prompted a number of them to file a lawsuits against her, asking for her to be prosecuted for "incitement to murder and assassination with the help of an entity hostile to the Lebanese Republic."
Maalouf's tweets came the same day that Nasrallah accused Israel of intervening in the Syrian civil war on a daily basis, and claimed that Israeli Prime Minister Benjamin Netanyahu "fears the collapse" of the Islamic State group in Syria.
"Israel intervenes every day in Syria, using many excuses [to justify it]," Nasrallah said in a speech which marked the birthday of Fatima, the Prophet Muhammad's youngest daughter.
The leader of the terror group went on to allege that Israel's actions inside of Syria are in support of the extremist jihadist I.S. group, and that during Netanyahu's trip to Moscow earlier this month the Israeli leader "begged" Russian President Vladimir Putin to stop fighting I.S. in Syria.
"Netanyahu crawled to Moscow to beg Putin because he fears the defeat of I.S., since a victory over I.S. would signal a failure for him and victory for the axis of the resistance [to I.S.]," Nasrallah charged.