Some flights from Israel to US affected by electronics ban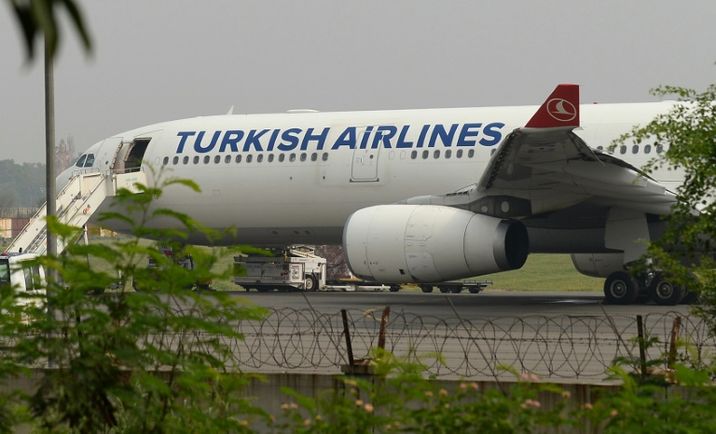 Un avion de la Turkish Airlines le 7 juillet 2015 sur l'aéroport de New Delhi
SAJJAD HUSSAIN (AFP/Archives)
Travelers flying from Israel to US with stops in Jordan or Turkey must adhere to the ban, IAA says
The United States and Britain on Tuesday banned larger electronic devices from the passenger cabin on flights from some airports in Turkey, the Middle East and North Africa.
"Our top priority will always be to maintain the safety of British nationals," a spokesman said after the US imposed a similar ban, warning that extremists plan to target planes with bombs in electronic devices.
Earlier in the day the United States warned that extremists plan to target passenger jets with bombs hidden in electronic devices, and banned carrying them onto flights from 10 Middle East airports.
Senior US officials told reporters that nine airlines from eight countries had been given 96 hours, beginning at 3:00 am (0700 GMT), to ban devices bigger than a cellphone or smartphone from the cabins.
The US ban includes flights operated by Royal Jordanian, EgyptAir, Turkish Airlines, Saudi Airlines, Kuwait Airways, Royal Air Maroc, Qatar Airways, Emirates and Etihad Airways.
The British ban only involves six countries, two of which -- Lebanon and Tunisia -- do not feature on the US list. The change affects six British airlines, including British Airways and EasyJet, and eight foreign carriers.
The Israel Airport Authority issued a clarification late Tuesday for passengers flying to the US, saying that travelers on flights stopping in Jordan or Turkey must adhere to the ban, and will not be allowed to board with electronics larger than a cellphone in their carry-on luggage.
Revelations that the US was poised to announce such a ban emerged Monday evening, after a tweet from Saudi Airlines and one -- subsequently deleted -- by Royal Jordanian airlines informed their customers of an imminent cabin ban on electronic devices larger than a cellphone.
Royal Jordanian said all such devices -- including laptops, tablets, cameras, DVD players and electronic games -- would need to be checked in under new US government rules coming into force March 21.
The tweet was later removed amid suggestions the airline had released the information prematurely.
CNN quoted a US official as saying Monday that the ban was believed to be related to a threat posed by Al-Qaida in the Arabian Peninsula, or AQAP.
According to the Financial Times, which cited a US official, the new rules will concern eight Middle Eastern nations, including Egypt, Jordan, Saudi Arabia and the United Arab Emirates.
The move would mark the latest attempt by President Donald Trump's administration to tighten security at US borders, after its bid to curb travel from a group of Muslim majority nations was twice blocked by the courts.
Reaction from the affected airports' host governments was generally low-key, but one, Turkey, denounced the order and demanded that it be rescinded or scaled back.
"We particularly emphasize how this will not benefit the passenger and that reverse steps or a softening should be adopted," Transport Minister Ahmet Arslan told reporters.
"We already take all kinds of security measures," he said.