Students petition Birthright to support participants who oppose settlements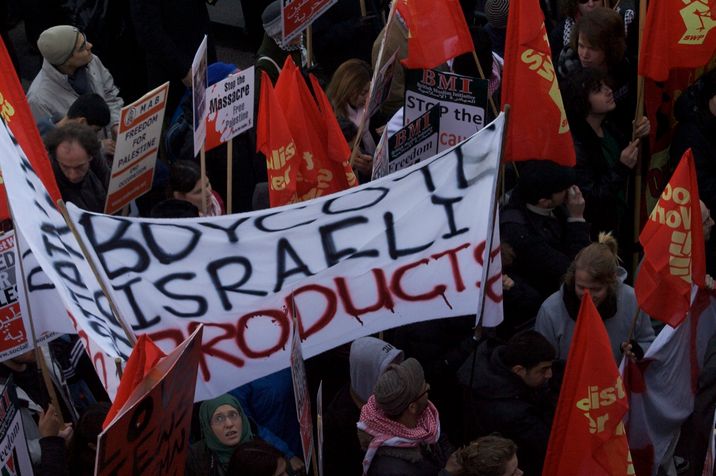 BDS supporters, London 2009
claudia gabriela marques vieira/ Wikipedia
Concerned students ask Birthright executives not to screen applicants based upon political beliefs
Over 500 Jewish students petitioned Birthright, an organization which sponsors free trips to Israel for Jewish participants, to support applicants who oppose Jewish settlement expansion in the West Bank and not to screen its applicants based upon their political beliefs, Haaretz daily reported on Tuesday.
The letter comes in response to new Israeli legislation which allows Israeli authorities to bar individuals or representatives of NGO's calling for a boycott on Israel from entering the country, and applies to all non-Israeli citizens or permanent residents.
In the letter, students ask Birthright executives to confirm whether the organization will vet Birthright participants based upon their political beliefs regarding Jewish settlement construction in the West Bank and their support of the Boycott Divestment and Sanctions movement which calls for a boycott of Israel and Israeli products.
The letter contains signatures from 575 students from 97 American colleges, universities and high schools, according to Haaretz Daily. The initiative is backed by J Street, a left-wing Jewish organization which opposes Jewish settlement construction in the West Bank an comes just before summer break when some 30,000 birthright participants are slated to visit Israel on Birthright's free ten-day organized trips.
"While we represent pro-Israel students from across the political spectrum," the letter reads, according to Haaretz, "we recognize that there is nothing anti-Israel about opposing settlement expansion."
The letter emphasized that most American Jews oppose Jewish settlement expansion and support a two-state solution to the Palestinian-Israeli conflict. The letter also affirmed that its signatories do not support the BDS movement.
The Birthright website states that applicants are not be asked about their political views but the organization did not supply an official response to the letter. Additionally, Birthright did not confirm whether it would aid participants who supported BDS if they were denied entry to Israel at the airport.