Iran complying with nuclear deal but sponsoring terror, says US administration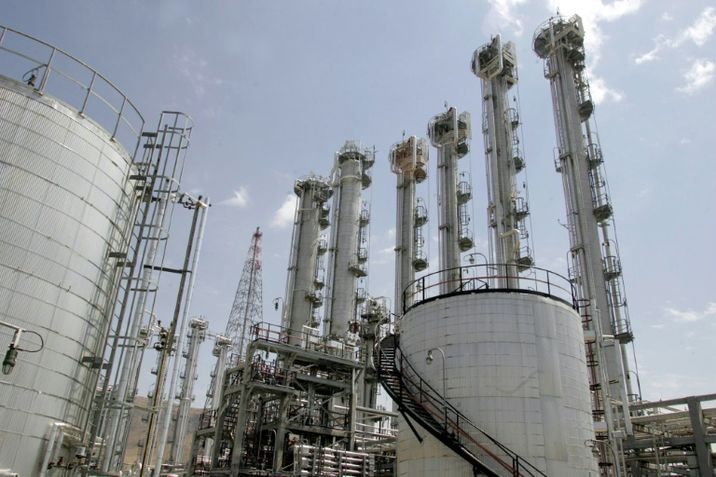 Heavy water is not itself radioactive, but is used in certain types of nuclear reactors
Atta Kenare (AFP/File)
Tillerson: Iran is 'leading state sponsor of terrorism'; Mattis visits Saudi Arabia to discuss the rogue state
President Donald Trump's administration notified Congress on Tuesday that the Iranian regime was complying with the terms of the nuclear deal, and that therefore sanctions will be extended.
Under the terms of the deal negotiated by the Obama administration in 2015, Congress must be notified of the progress of the deal every 90 days. This is the first such notification since President Trump came to office.
Reached after marathon talks in Vienna in 2015, the accord between Iran and six major world powers, was aimed at ending a 13-year standoff over Iran's nuclear ambitions after repeated diplomatic failures and threats of military action. The deal placed curbs on Tehran's nuclear program in exchange for the lifting of international sanctions.
However, Secretary of State Rex Tillerson sent a letter to Speaker of the House Paul Ryan on Tuesday in which he said that the administration was reviewing whether sanctions relief was an appropriate course of action.
"Iran remains a leading state sponsor of terror, through many platforms and methods. President Donald J. Trump has directed a National Security Council-led interagency review of the Joint Comprehensive Plan of Action that will evaluate whether suspension of sanctions related to Iran pursuant to the JCPOA is vital to the national security interests of the United States," explained Tillerson in the letter.
US Defense Secretary Jim Mattis is in Saudi Arabia Wednesday to reinvigorate the Riyadh-Washington alliance, with both seeing a common adversary in Iran and its "destabilizing" activities.
(Staff with AFP)
You need to be logged in in order to post comments. Sign up or log in
ramp up sanctions for their missile launches and endless terrorism!