Erdogan says set to meet Trump in Washington on May 16-17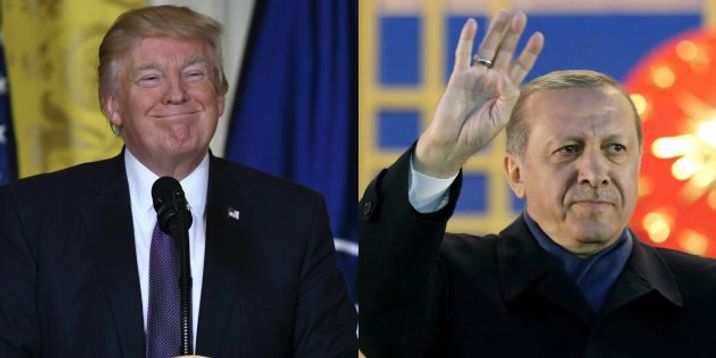 Trump - Erdogan
AFP
Ankara's foreign minister has said leaders have expressed desire to improve relations in phone call
Turkish President Recep Tayyip Erdogan said on Thursday he is to travel to Washington on May 16-17 to meet US counterpart Donald Trump, the first meeting since Trump's inauguration, Reuters reports.
Turkish Foreign Minister Mevlut Cavusoglu previously said the pair would meet in May before a NATO summit planned for late May, but did not provide further details.
After Erdogan's narrow win in Sunday's referendum on creating an executive presidency, Trump congratulated the Turkish leader in a phone call on Monday, in contrast to the muted reaction of European leaders to the result, which has been challenged by the opposition.
Cavusoglu said that during their call the two leaders had expressed a common desire to meet in Washington "to improve bilateral relations".
Turkey hopes ties with the Trump administration will improve after relations soured between the NATO allies during Barack Obama's term over Syria and Turkey's calls for US-based Muslim cleric Fethullah Gulen to be extradited.
Gulen is accused of ordering last July's failed coup and Ankara has repeatedly called for his extradition. The preacher vehemently denies Turkey's accusations.
Last month, US Secretary of State Rex Tillerson became the most senior American official to visit Turkey since Trump took office in January.
Tillerson met Turkish leaders and discussed the six-year Syrian civil war and the fight against the Islamic State group (IS).
The US believes Kurdish militia are the most effective fighting force against IS in Syria but Ankara claims they are terrorists linked to outlawed Kurdish militants waging an insurgency inside Turkey.
These tensions have cast a shadow over the relationship and also raised questions over whether Turkey would take part in any US-led operation to oust IS jihadists from their de-facto capital of Raqqa.
(Staff with AFP)