US envoy David Friedman presents credentials to Israeli President Reuven Rivlin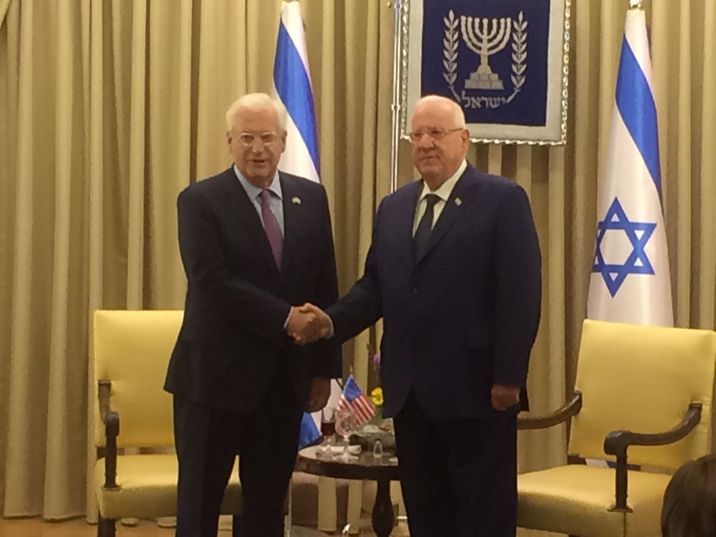 US envoy David Friedman presents credentials to Israeli President Reuven Rivlin
Friedman said President Trump's 'love and commitment to Israel is unequivocal'
He's here! But trouble already overshadows his arrival.
After long months of anticipation, David Friedman, the new American ambassador to Israel, officially handed his credentials to Israeli President Reuven Rivlin, only hours after arriving in Israel.
Rivlin told the audience that he was happy to welcome Friedman "not only as the ambassador to Israel, but also as a Jerusalemite," in reference to the ambassador's home in the city.
Friedman responded to Rivlin's words saying that it was a great honor to serve as an ambassador on behalf of President Trump, whose "love and commitment to Israel is unequivocal."
Friedman, a right-wing Jew, had many hopes to make a change. First and foremost he wanted to take the symbolic step of working from Jerusalem.
But diplomatic protocol was quickly adopted by this passionate hawk, who has engaged in the past in fundraising for the West Bank settlement of Beit El, and for the time being he will have to settle for the luxurious residence in Herzliya and the embassy in Tel Aviv.
But not only are the prospects of relocating the embassy from Tel Aviv to Jerusalem grim, but even an American recognition of Jerusalem as the capital of Israel is at risk. American media has quoted top officials recommending the Trump administration avoids such a public declaration, fearing it will not only endanger attempts to renew peace talks but could also destabilize the region as a whole.
Friedman will not have much time to reflect on his fading dreams, as his first big challenge is right around the corner with President Trump's trip to the region causing diplomatic spats between the two allies before the US president has even boarded Air Force One.
Ellie Hochenberg is i24NEWS' Senior Diplomatic Correspondent