White House may hold off on extending 'laptop ban' to Europe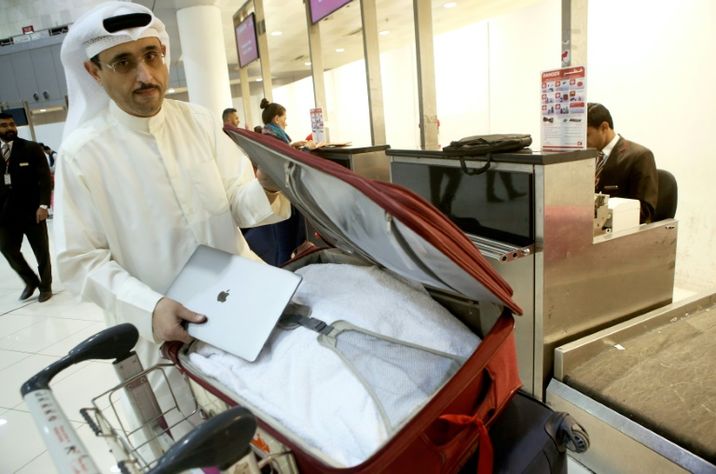 A ban on laptops in cabins frustrates travellers and will eat into airlines' profits, experts say
Yasser Al-Zayyat (AFP)
Flight regulators say storing a large number of devices in hold on long-haul flights could pose fire hazard
US President Donald Trump's plan to extend a ban on laptops and tablets in flight cabins to Europe may have been reportedly dropped following a meeting between EU and US officials.
The Guardian reported Thursday that after a four-hour meeting on Wednesday, there was no plan to implement the so-called "laptop ban" to European flights, but the US delegation would keep Brussels informed should any changes in measures take place.
Though, the possibility has still not been ruled out. According to a spokesman for Airlines for Europe, the representative body for 22 major carriers, "there will further talks next week," reported the Guardian.
The meeting was held at the request of EU officials over concerns of major travel disruptions should the US impose the ban and whether possible security threats had not been shared with Brussels.
In March, Washington barred all electronic devices larger a mobile phone on direct flights to the United States from 10 airports in seven Middle Eastern countries, only allowing them to be transported in hold luggage.
Britain followed with a similar ban from five countries in the Middle East and North Africa.
Last week Reuters reported that the United States might extend its ban of larger electronic devices from the passenger cabin on flights to some European countries.
"No final decisions have been made on expanding the restriction on large electronic devices in aircraft cabins; however, it is under consideration," the Department of Homeland Security told the Daily Beast website last week. "DHS continues to evaluate the threat environment and will make changes when necessary to keep air travelers safe."
A senior source told the Guardian that the industry would be "surprised" if the plans were dropped.
"It had appeared so clear that the ban was going to be imposed that it would be a surprise for it to be dropped over night after one meeting," said the source. "We shall have to wait and see."
According to Reuters, European flight regulators said that storing a large number of devices in the hold on long-haul flights could pose fire hazard.
"If the ban comes in then security may or may not be improved, but because of the risk of batteries being put in the hold, safety will not be," the source also noted.
Following the EU-US meeting, a joint statement was issued that said, "both sides exchanged information on the serious evolving threats to aviation security and approaches to confronting such threats."
"Participants provided insight into existing aviation security standards and detection capabilities as well as recent security enhancements on both sides of the Atlantic related to large electronic devices placed in checked baggage."
"No ban on electronic devices was announced. Neither were any other measures decided during this meeting," reiterated the European commission's chief spokesman, Margaritis Schinas, in a daily press conference in Brussels.