Palestinian official: US embassy move would 'end peace process'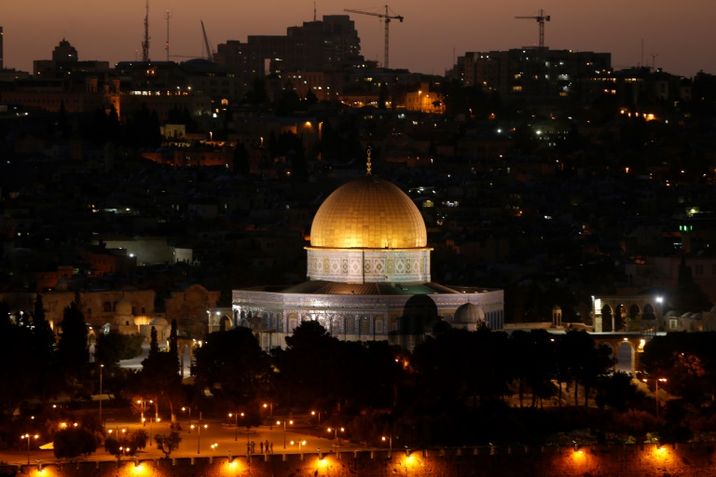 The Dome of The Rock is a UNESCO heritage site situated in Jerusalem's Old City
AHMAD GHARABLI (AFP/File)
Saeb Erekat warns against moving US embassy from Tel Aviv to Jerusalem
Moving the American embassy in Tel Aviv to Jerusalem would end the peace process between Israel and the Palestinians, a senior Palestinian official said Saturday.
"We believe that moving the US embassy to Jerusalem would mean the end of the peace process," Saeb Erekat, second-in-command of the Palestine Liberation Organisation (PLO), said days ahead of a visit to the region by US President Donald Trump.
Trump promised during his election campaign to move the US embassy to Jerusalem, whose status is one of the thorniest issues in the Israeli-Palestinian conflict.
The new US ambassador to Israel David Friedman, who took up office on Monday, has also backed the move.
There has been no movement so far on the pledge which would break with decades of American policy on the city, home to the holiest sites in Judaism and some of the holiest in Christianity and Islam.
The Palestinians and the Arab world fiercely oppose such a move which the international community has warned could spark fresh unrest.
"I hope that President Trump would give us a chance," Erekat said at the World Economic Forum on the Middle East and North Africa at the Jordanian Dead Sea resort of Sweimeh.
"He said... he will not impose solutions on us or on the Israelis," Erekat said. "(But) the fact that he is going to move the embassy is imposition, is dictation."
Erekat said a Palestinian state without east Jerusalem as its capital would have "no meaning".
Trump, who arrived in Saudi Arabia Saturday on his first foreign tour since taking office, is set to visit Israel on Monday and the West Bank on Tuesday. 
(AFP)
You need to be logged in in order to post comments. Sign up or log in
what peace process? palis ended negotiating peace long ago and now are ruled by one illegitimate government in Judea and Samaria and a terrorist government in Gaza. there is no Pali government to make peace with. Move The Embassy. stop Arab blackmail of US policy.
To deny Jews their capital Jerusalem is a fundamental Islamic goal.