The 92-year-old Holocaust survivor rapping for refugees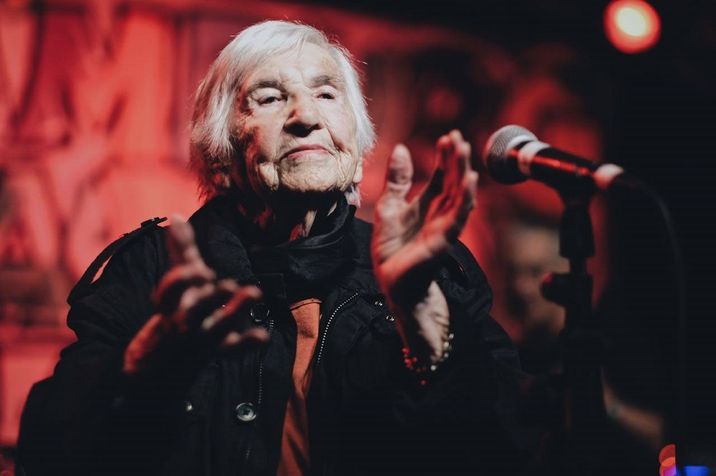 Esther Bejarano on stage
Sascha Niethammer
'I will sing until there are no more Nazis'
A petite 92-year-old woman with a white pixie haircut is standing on stage in a popular concert venue in Hamburg. In front of her is a crowd of youngsters, paying close attention and bursting into applause at the end of each sentence. Behind her, a banner that reads "rap for refugees," painted just hours ago by a group of teens now sitting in the audience.
"Rap is a community, rap is hope," the woman tells the crowd, seemingly an unlikely person to convey such a message. The artists taking the stage after her will also speak of the power of music in the fight for human rights and equality, in the fight for one's own dignity, but nobody represents that message better than Holocaust survivor Esther Bejarano.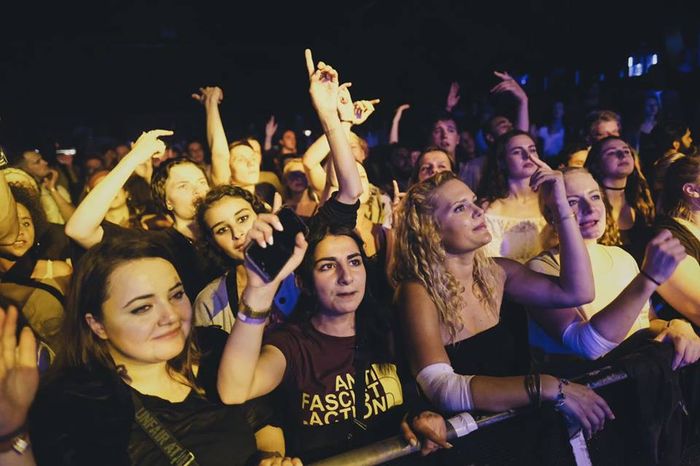 Born in 1924 in Saarlouis on the French-German border, Bejarano was the daughter of the Jewish community's head cantor and grew up in a house filled with music. When the Nazis took power, her plans of immigrating to British-mandated Palestine were interrupted. She was sent to a labor camp near Berlin and in 1943 was deported to Auschwitz.
There she became one of the 42 members of Auschwitz's Girls Orchestra, playing for the prisoners on their way to and from work duty. Later they were sent to a new location, the train platform in front of transport trains carrying prisoners to the gas chambers.
"In Auschwitz I survived because of the music, but I made music that was forced on me," she tells i24NEWS, sitting backstage at the benefit concert. "Many people think that after Auschwitz, one can't make music anymore, one can't paint or write books. With me, it is the exact opposite."
Now she utilizes her music for good instead of evil, as if part of her revenge on the perpetrators. "I use my music to bring people closer, to convince them of how important it is that one knows what happened then, because when one doesn't know it, it can happen again."
Part of the modern anti-racism resistance
After surviving the death marches, in 1945 Bejarano finally reached Palestine. She married, started a family and continued to make music. But after 15 years, on the advice of a friend, the family relocated to Hamburg.
"I couldn't bring myself to return to where I was born, to where I lived with my murdered parents and sister," she explains. "And also in Hamburg, it wasn't easy at first. It was difficult to interact with the people; I was always wondering what did they did back then. For a long time I did not feel at home here, until I got to know people that were part of the German resistance against the Nazis. I knew I could trust them."
Today she is too part of the resistance, now fighting modern racism, with rap as her weapon of choice. In the early 80's, Bejarano began touring Germany with her two children, Joram and Edna, performing Jewish and anti-fascist songs.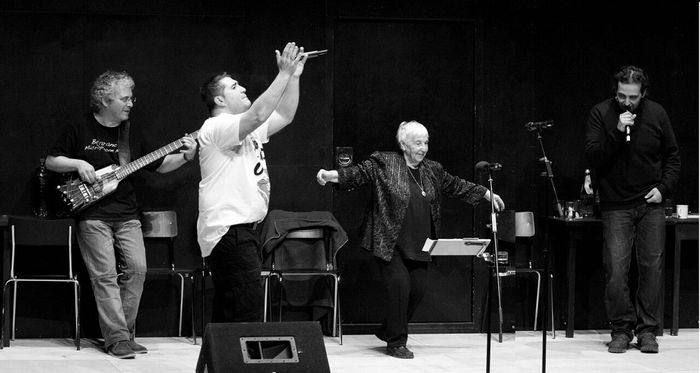 Some ten years ago she teamed up with the rap crew Microphone Mafia - three rappers of Turkish and Italian descent, with their own story of discrimination. They still perform together, a repertoire containing a Turkish, German, Italian and Hebrew-language mishmash.
"It is very important that the youth learns what happened back then, and with rap I can reach them better. It's a tool to capture the youth," says Bejarano, explaining her choice of genre.
"There are no other bands like this," she adds. "Not only because we are three generations on the stage, but also three religions. That is also the reason why I do this, to show that one needs to get along with people of different cultures."
Even the artists were surprised
Last Wednesday she took to the stage as part of a charity concert, launching a new project titled "Rap for Refugees." Before the show, teens from asylum-seeking families took part in workshops devoted to graffiti art, street dance and beatboxing.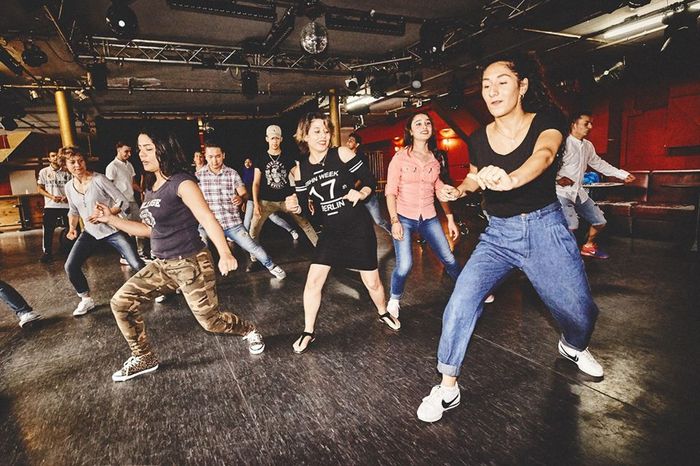 "These are all forms of art that fascinate the youth, and we can use this to support them and help them express themselves and gain strength, hope and confidence," explains Ata Anat, a 30-year-old soccer coach who initiated the project with the support of the Hamburg-based NGO Basis und Woge.
"The youth is the future of our country, but also of their own countries," he continues. "They want to return someday and rebuild their countries, and if we can't give them the feeling here that they can return and achieve something, then it's no integration, in my view."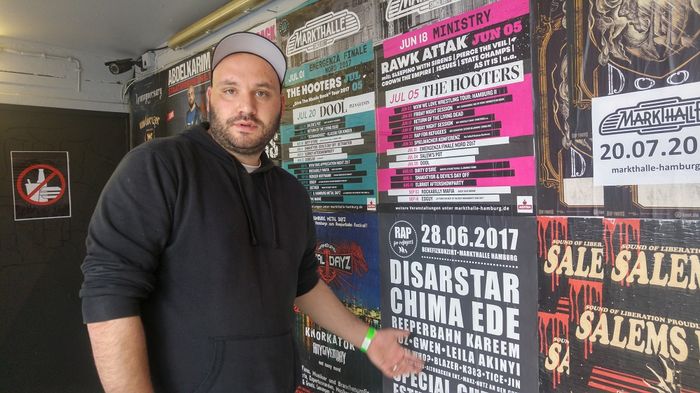 The fact that the concert's lineup consists of 16 local artists, many of them from a similar background, can help inspire the youths, says Anat. The addition of Esther to the lineup raised some eyebrows, including among the other artists, he adds, but to him the connection was clear.
"When I saw videos of her shows, I knew she was the perfect partner. Esther is involved worldwide, through music and rap, in the struggle against racism and persecution, which many of the refugees have experienced. People are naturally surprised, but that just makes them ask more questions and then discover how cool it is."
"I'll sing until there are no more Nazis"
The idea to invite Bejarano came from Leman Stehn of the "Basis und Woge" anti-discrimination organization, who met her last year at a remembrance event. "She told me how in Auschwitz she found the strength to do this this, that there she promised to devote her life to resistance against fascism, and I was amazed.
"Esther questions on an international level why is it that people must flee their countries. She shows that fascism isn't a problem of just one country and reminds us of how important it is that every individual worldwide stands for solidarity, for humanity and against fascism."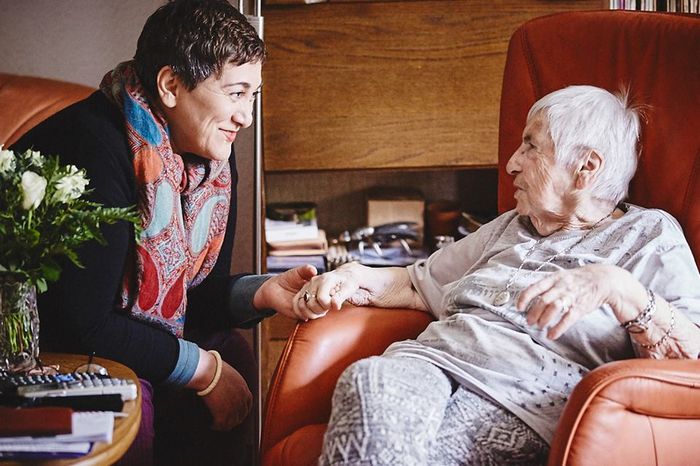 "I feel compelled to do something [for the refugees]," explains Esther, before going on stage to sing for others, despite the memories of the wrongs done to her still fresh on her mind. "The torching of refugee homes, for example, is a shame. A shame for me, and for Germany, that this is happening."
Descending the stairs from the stage is already not so easy for Bejarano. The crowd is still cheering, and backstage artists who are a third of her her age line up to praise her performance. Some try to pull her aside for a selfie. Bejarano always agrees, and takes the compliments with a gracious head node.
When asked if she ever plans to quit singing, she says: "I always said that I'll stop when I'm 100 years old. I do this out of conviction, that I will sing until there are no more Nazis. I hope to achieve it, but even I am not that optimistic."
Polina Garaev is the i24NEWS Germany correspondent