US citizen sentenced to 10 years in Iranian jail identified as visiting academic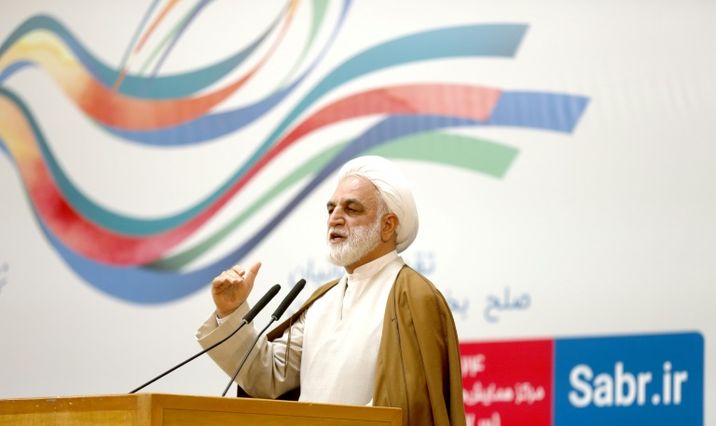 le porte-parole de la justice iranienne, Gholam hossein Mohseni-Ejeie, à Téhéran le 14 mars 2017
ATTA KENARE (AFP/Archives)
Princeton says Xiyue Wang was researching his PhD dissertation on the 19th Century Qajar dynasty
A Chinese American accused of "infiltration" in Iran has been sentenced to 10 years in prison, local media reported on Sunday.
The man was identified as Xiyue Wang, a 37-year-old researcher at Princeton University, according to Mizanonline, the official news agency of Iran's judiciary.
Wang, who was born in Beijing according to the report, was arrested on August 8, 2016 while trying to leave the country. Earlier, the official IRNA news agency quoted the judiciary spokesman Gholamhossein Mohseni Ejei as saying that the "spy" was a citizen of the United States and another unspecified European country.
Mizanonline said he was part of "an infiltration project" aimed at gathering "highly confidential articles" for several US and British institutions, including Princeton, the US State Department, Harvard's Kennedy School and the British Institute for Persian Studies.
"Before his arrest he was able to digitally archive 4,500 pages of the country's documents, while under covert surveillance," said Mizanonline.
The confidential documents were said to be taken from "research and cultural archives" and "the libraries of some state organisations".
Mizanonline published an excerpt from a British Institute of Persian Studies annual report, in which Wang thanked its librarian for helping him make contact with academics in Iran.
The report claimed this as "proof" Wang was on a covert mission, although the quote shows Wang was openly trying to work with academics to access a number of official archives in Tehran and Mashhad.
In a statement to i24NEWS, Princeton University confirmed that Wang is a fourth-year doctoral candidate at the prestigious school, specializing in "late 19th and early 20th century Eurasian history."
"He was in Iran last summer solely for the purpose of doing scholarly research on the administrative and cultural history of the late Qajar dynasty in connection with his PhD dissertation," said spokesman Daniel Day.
"We were very distressed to learn that charges were brought against him in connection with his scholarly work, and to learn of the subsequent conviction and sentence," Day wrote in an email.
"Since his arrest, the university has worked with Mr. Wang's family, the U.S. government, private counsel and others to facilitate his release," the statement added. 
'Fabricated charges'
Deputy judiciary chief Gholamhossein Mohseni Ejeie had earlier announced the sentencing of an American citizen without giving his name or second nationality.
Ejeie said the man had appealed his conviction.
The US State Department issued a statement soon afterwards, calling for "the immediate release of all US citizens unjustly detained in Iran so they can return to their families", without referring to any specific person.
"The Iranian regime continues to detain US citizens and other foreigners on fabricated national security-related charges," a US official said.
In January, Tehran's chief prosecutor said as many as 70 "spies" were serving sentences in the city's prisons, but the identities of only a handful have been made public.
Most are thought to be Iranians who hold another passport from Europe or the United States.
In October, US-Iranian business consultant Siamak Namazi and his 80-year-old father Baquer, a former UNICEF official, were given 10 years in prison for "espionage and collaboration with the American government".
Washington has repeatedly called for their release and also for Tehran's cooperation in the case of Robert Levinson, a former FBI agent who disappeared in Iran in 2007.
The news comes amid tensions between the two countries as President Donald Trump and Congress have taken increasingly harsh positions against Tehran.
Trump has promised to tear up the 2015 nuclear deal struck between Iran and world powers including the United States that lifted some sanctions in return for curbs on Tehran's nuclear programme.
In mid-June, the American Senate backed new sanctions against Iran, denouncing the Islamic republic's "continued support of terrorism". The bill must be passed by the House of Representatives.
The new restrictions impose mandatory sanctions on people involved with Iran's ballistic missile programme and those that transact with them.
Iran has vowed to respond with "reciprocal and adequate measures"
You need to be logged in in order to post comments. Sign up or log in
Iran & N Korea act alike. Both are terrorist states.