Netanyahu breaks with US, Russia and comes out opposed to Syria ceasefire deal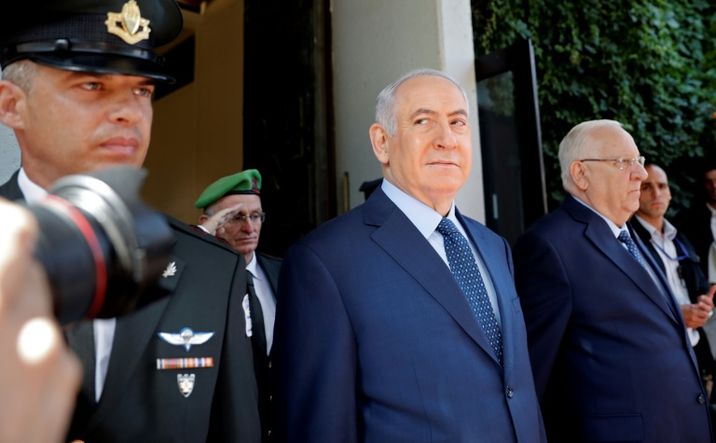 Le Premier ministre israélien Benjamin Netanyahu (c), le 10 juillet 2017 à Jérusalem
THOMAS COEX (AFP/Archives)
Macron said he shares Israel's concerns over Hezbollah, wishes to pursue a 'diplomatic move' to reduce threat
Israeli Prime Minister Benjamin Netanyahu broke with the United States and Russia and came out in opposition to a fragile ceasefire brokered between the two nations in southern Syria on the grounds that it perpetuates Iran's plans to establish a disruptive long-term presence on Israel's northern border.
Speaking to reporters after meeting with French President Emmanuel Macron in Paris on Sunday, Netanyahu said he expressed his staunch opposition to the deal which does not do enough to stem Iran's military ambitions there.
Netanyahu raised the issue during his meeting with Macron, which came after the leaders attended a ceremony commemorating 75 years since the rounding up of 13,000 Jews at Paris's Vél d'Hiv stadium in 1942.
A report by the Haaretz daily on Sunday, citing a senior Israeli official who asked to remain anonymous due to the sensitivity of the matter, said that Israel is aware of Iranian plans to not only send its military advisers into Syria, but also to build up its forces there including through the establishment of a permanent airbase and naval base.
"The agreement as it is now is very bad" one senior Israeli official told Haaretz. "It doesn't take almost any of Israel's security interests and it creates a disturbing reality in southern Syria. The agreement doesn't include a single explicit word about Iran, Hezbollah or the Shi'ite militias in Syria."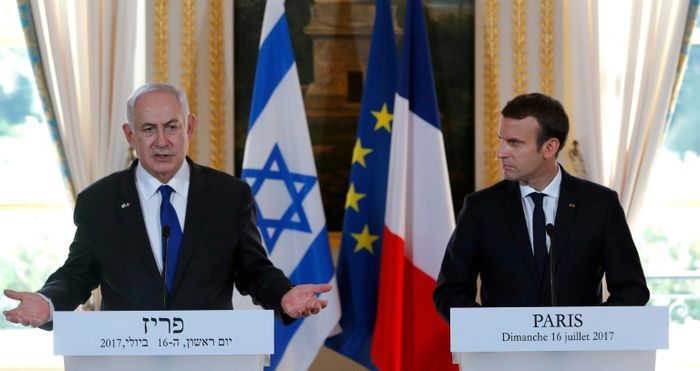 Netanyahu and Macron met for an hour and a half at the Élysée Palace, and discussed a range of issues including Syria, the Iran nuclear deal, and shared concerns over the activities of the Iran-backed Hezbollah militia in Lebanon.
Macron said he shares "Israel's concerns about Hezbollah's activity in south Lebanon and about the arms the group has," adding that he wants to try to "promote a diplomatic move to reduce the severity of this threat."
The hard-won ceasefire deal negotiated between the US and Russia in southwest Syria went came into effect earlier this month.
The ceasefire was meant to prevent further advances in southern Syria by any force, though it was unclear whether Iran and the Lebanon-based Islamist group would comply as they were not involved in the agreement.
Netanyahu initially welcomed the deal, but warned that it "should not allow the military consolidation of Iran and its satellites in Syria in general, and in southern Syria in particular."
Hezbollah, considered by Israel to be one of the biggest threats to the Jewish State, has been advancing into southern Syria as part of their fighting alongside Syrian government forces in support of President Bashar Al-Assad, which is fighting to regain the territory from rebel groups.
Israel has expressed concern that Iran is pursuing a broader agenda, hoping to stake out a permanent presence in the region through Hezbollah, including creating a land route through Syria that would connect Iran, Iraq, and Lebanon.
A US official told The Associated Press that Israel had been "a part" of the agreement, but did not elaborate, while Haaretz reported that senior Israeli officials were only briefed on the talks.
Israel was said to be adamantly opposed to Russia monitoring the ceasefire and argued that the United States should be in charge of enforcing the agreement.
Regardless of Israel's demands, both the US and Russia have a shared interest in preventing Iran and Hezbollah from gaining further military ground.
See also:
Russian military official met with Hezbollah chief on role in Syria: report
You need to be logged in in order to post comments. Sign up or log in
Iran cares less about the T-P fragile accord.