Lebanon army to act against militants near Syria border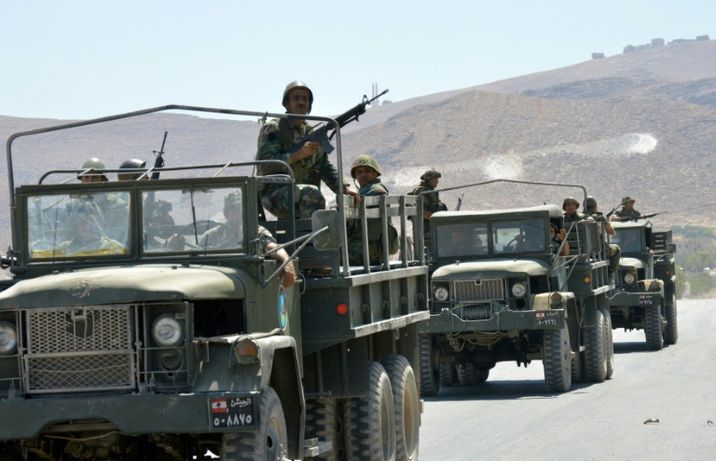 Des soldats libanais à la sortie de la ville d'Aarsal, le 5 août 2014, près de la frontière syrienne
- (AFP/Archives)
Lebanon to conduct military operation in region being used as stronghold for IS fighters and Syrian rebels
Lebanese security forces will launch an operation against militants near informal refugee camps in the country's east after coming under attack there, Lebanon's prime minister said on Tuesday.
Saad Hariri's announcement came as the country's president warned against rising anti-refugee rhetoric after Lebanese troops were attacked around Arsal, a town near the Syrian border.
"The Lebanese army will carry out a planned-out operation in Jurud Arsal and the government gives it freedom (to do so)," Hariri said in comments quoted by the official National News Agency.
According to the report, the Lebanese military will conduct an operation in the Jaroud Arsal region, a barren mountain range between Syria and Lebanon which has been a base for insurgents in the Syrian civil war.
The region is a base for militants from the Jihadist Islamic State group. It is unclear whether Hezbollah will engage in the military operation but the Lebanese prime minister has insisted that the Lebanese army should be the only force fighting in the battle.
A security source told Reuters that the Lebanese army had increased its deployment in the Arsal area in the last 24 hours.
There are some 3,000 militants in the Arsal region and some two thirds of those are Islamic State militants. The remainder are affiliated with other rebel groups, according to Reuters.
Lebanese troops carrying out arrest raids in two of those camps in late June were met with a string of suicide attacks and grenades.
A girl was killed and seven soldiers wounded in the attacks, and the army subsequently arrested dozens of people.
Days later, the army said four of the detainees had died of pre-existing medical conditions, but rights groups urged an independent investigation after allegations that the men had been tortured to death.
Lebanese security forces have come under attack in Arsal before, and in 2014 jihadists kidnapped 30 soldiers and policemen after clashes in the area.
Four of the hostages were killed and a fifth died of his wounds, while 16 were eventually released in December 2015.
Another nine hostages are still being held.
The latest incident in Arsal has created renewed tensions in a country of just four million people hosting more than one million Syrian refugees.
Lebanese President Michel Aoun warned Tuesday that anti-refugee rhetoric was dangerous for both sides.
"If we are working for the return of the refugees, it is because Lebanon is no longer able to carry the burden," Aoun said at a meeting with local officials, and in a post on his official Twitter account.
"But the spread of hatred and incitement are rejected, and their consequences are severe for both peoples," he added.
He urged Lebanese to make a distinction between Syrians who have "done wrong" and those who had not. 
You need to be logged in in order to post comments. Sign up or log in
may every last hezbolah members and supporters die in Syria