Argentina donates copies of WWII documents to US Holocaust Museum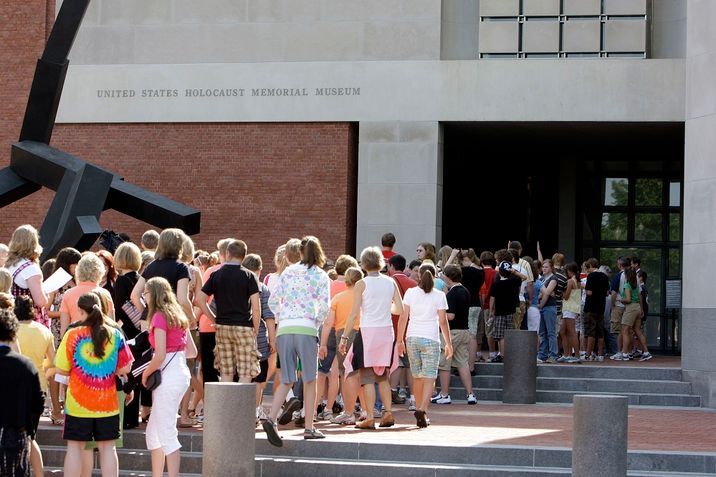 People line up for the opening of the U.S. Holocaust Memorial Museum in Washington Friday, June 12, 2009
AP Photo/Alex Brandon
Many high-ranking members of the Nazi party fled to the South American country towards the end of the war
The Foreign Ministry of Argentina has delivered thousands of World War II-era documents to the United States Holocaust Memorial Museum in Washington DC, the Jewish Telegraphic Agency (JTA) reports.
The 38,779 digital copies of documents delivered to the museum include letters, telegrams, newspaper clippings, notes and reports produced by the ministry between 1939 and 1950.
There are also communications between Argentina and countries involved in the war, as well as messages sent from the Argentinian embassy in Nazi Germany.
According to the JTA, an agreement was signed on Friday in Buenos Aires between Secretary of International Cooperation Ernesto Gaspari and a representative of the museum, Samanta Casareto.
Many high-ranking members of the Nazi party fled to the South American country towards the end of World War II.
Nazi 'Angel of Death' Josef Mengele, known for his cruel and deadly experiments on Jews in the Auschwitz concentration camp, lived in Argentina for a period following the war before drowning off the coast of Brazil in 1979. Holocaust mastermind Adolf Eichmann was abducted by Israeli Mossad agents in Buenos Aires in 1960, sentenced to death in 1961, and subsequently hanged in Israel a year later.
In June, police in Argentina announced they had uncovered the largest collection of Nazi artifacts in the country's history. The 75 pieces were found in a hidden room in the home of a collector north of Buenos Aires, and were said to have originally belonged to high-ranking officials in the Third Reich.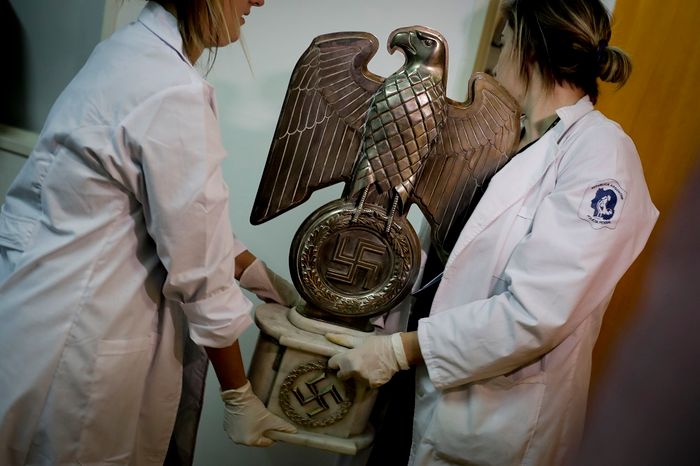 The artifacts include a bust relief of Adolf Hitler, Nazi-themed toys and a medical device used to measure head size. The Nazis were proponents of the theory of eugenics and used the concept of genetic differences between people to advance their theories of Aryan racial superiority. Cranial measurements was one way in which the Nazis believed they could distinguish between races and prove that Jews were inferior.
You need to be logged in in order to post comments. Sign up or log in
I met Mengele. I did 5 weeks research into theme parks and found his contribution for the West was being used by them to cultivate MK Ultra and monarchprogramming.com. Both were or are trauma based military grade mind control still manifesting Mengele's system which actually predated him. Some say he was a Knight of the Black Sun or an Ipsimmus, however you spell it or regard it as evidence he lost his own mens rae once "captured" to do the work of what I call Monarch Programming. (USA version = thus = "five eyes" franchise. All the usual suspects get credited with Mengele's versions of brainwashing, and I follow the lead that it is as ancient as Shamanism and the history of slavery. Professor Rogan taylor (1986) provides the material to that claim. bhmversusmengele.tumblr.com is my riposte to those who mistake this case, or my condition, as somehow outside this envelope. Trust me, I have been writing this history as it occurred to me since I saw a photograph of Mengele in 2009 and knew the drowning was no more than the sixth attempt to bury the man and what he had in his head which has fortified this scheme for an age of mass media. . panopticonsecurity.wordpress.com should answer your legitimate skepticism. msbnewsextra.wordpress.com should reveal my achilles heel. Tim Baber, Ringwood Hampshire, Happy to be useful if you believe any of it. I do.