Abbas meets Kushner, praises Trump's diplomatic efforts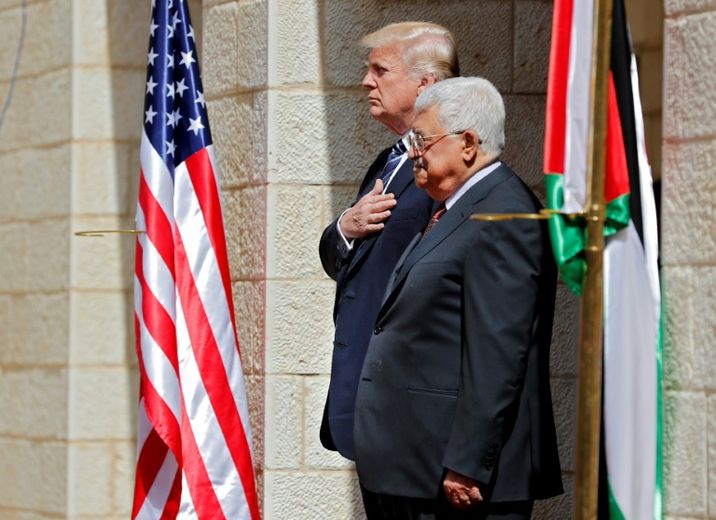 Donald Trump et Mahmoud Abbas à Bethléem, en Cisjordanie, le 23 mai 2017
Thomas COEX (AFP)
Palestinian Authority president says working to 'arrive soon at what President Trump called a peace deal'
Palestinian Authority President Mahmoud Abbas on Thursday met with US presidential adviser Jared Kushner and told him that Palestinians "highly appreciate the efforts of President Trump, who announced from the outset that he will work on a historic peace deal."
Kushner met the Palestinian leader in Ramallah hours after meeting with Israeli Prime Minister Benjamin Netanyahu.
"We confirm that this delegation is working for peace, and we are working with him to arrive soon at what President Trump called a peace deal," said Abbas. "We know that things are difficult and complicated, but there is no impossible for good efforts."
Kushner meanwhile said that "President Trump is very optimistic and hopes for a better future for the Palestinian people and the Israeli people.
"We hope they can work together, live together for many years and have a much better life," added the president's son-in-law and adviser.
A US official said earlier that Trump "remains optimistic that progress toward a deal can be achieved".
The visit is part of a regional tour by Kushner, Trump aide Jason Greenblatt and Deputy National Security Adviser Dina Powell.
In his meeting with Netanyahu, Kushner said: "The President is very committed to achieving a solution here that will be able to bring prosperity and peace to all people in this area, and we really appreciate the commitment of the Prime Minister and his team to engaging very thoughtfully and respectfully in the way that the President has asked them to do so."