Israeli embassy in Washington sends aid to Hurricane Harvey victims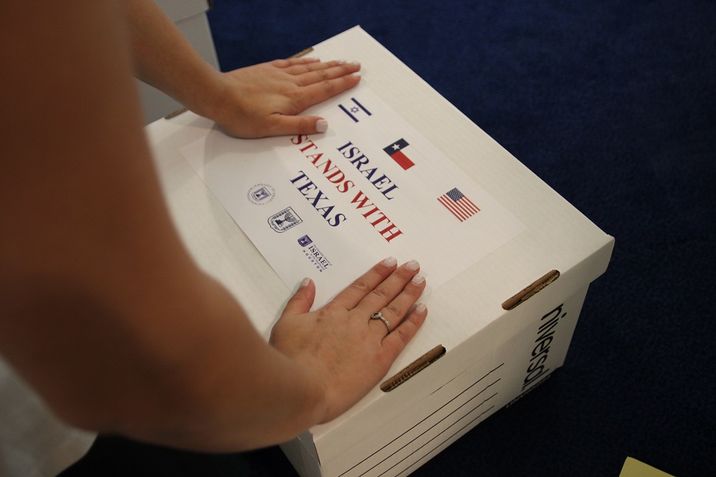 Israeli embassy in Washington sends aid to Hurricane Harvey victims
Israel Embassy, Washington DC
Embassy staff packed several tons of supplies into a truck alongside workers from IsraAid
The US embassy in Washington DC on Tuesday packed up a truck with several tons of supplies and donations to send to the victims of Hurricane Harvey in Texas.
The Times of Israel reports that staff from the embassy worked alongside staff from the the Israeli humanitarian aid organization IsraAid and Movers 495, an American-Israeli-owned removals firm.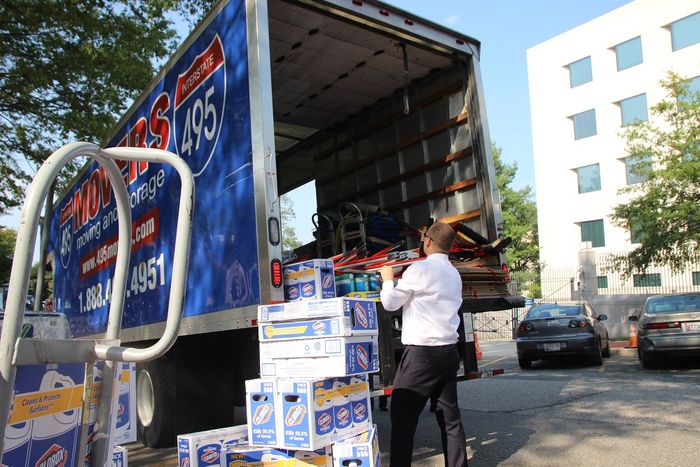 "We have been working closely with the Israeli consulate in Houston," Itai Bar-Dov, a spokesperson for the Israeli embassy in Washington explained to the newspaper. "They will be receiving the aid together with IsraAid and help with the distribution."
Bar-Dov said that the shipment of aid wasn't only about providing material goods to help those affected by the catastrophic storm, but also was to send "a message to the people of Texas that 'Israel stands with you.'"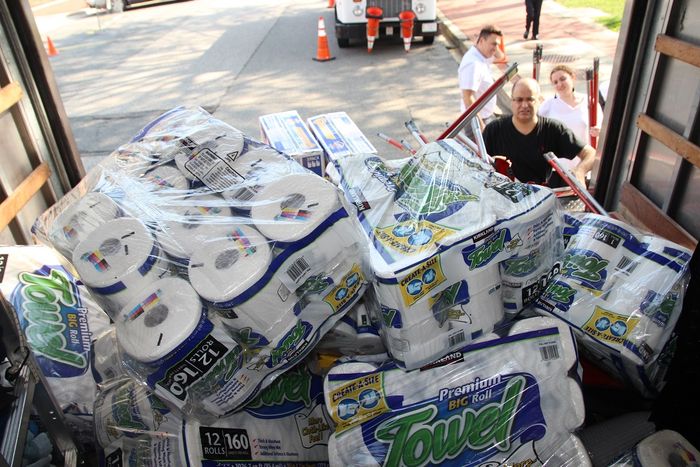 On Monday the Israeli Ministry of Diaspora Affairs announced that it was advancing a plan to give $1 million in emergency aid, in the wake of the disaster caused by Hurricane Harvey.
"The Jewish State is measured by its response when our brothers around the world are in crisis," Minister Naftali Bennett said.
The aid money will be used to rebuild schools, synagogues and Jewish communities which are not funded by the state.
"The city of Houston was hurt badly last week, and the Jewish community, 70% of which lived in the flooded neighborhoods, was hit hard," Bennett said. "Schools and synagogues were flooded and can't be used. The old-age home and JCC were damaged, and hundreds of families will remain homeless."
Bennett affirmed that Israel would throw its support behind the Jewish community in Houston, in order to help in its rehabilitation.
"From talks we've had over the past week with the heads of the community and Israel's Consul General we learned the damage is vast, and the rehabilitation will take years," Bennet said. "For years the Jewish communities stood by Israel when it needed their help; now it is our turn to stand by Houston's Jewish community."
Harvey has been blamed for at least 42 deaths thus far and tens of billions of dollars of damage.
Houston Mayor Sylvester Turner said most of the city was "now dry," but urged residents living near two overflowing reservoirs to leave their homes.
Officials said most of the 15,000 to 20,000 area residents have left. Some however were holding out, straining emergency workers who have to maintain services to them, including providing them with water.