UN: Trump gives scathing rebuke of Iran, is mum on Israel-Palestinian conflict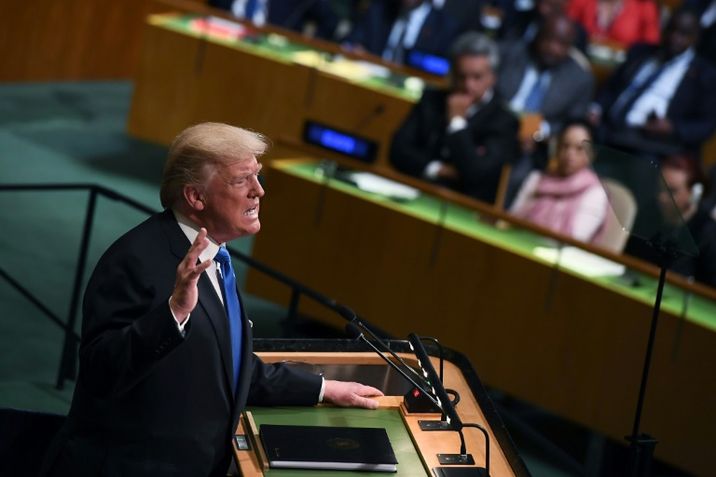 Le président américain Donald Trump, le 19 septembre 2017 à l'Assemblée générale des Nations unies à New York
Jewel SAMAD (AFP)
Iran's Zarif blasts Trump's 'ignorant hate speech' at UN while Netanyahu praises it as 'bold and courageous'
US President Donald Trump delivered scathing rebuke of Iran during his debut address at the United Nations General Assembly on Tuesday, much to the satisfaction of Israeli Prime Minister who later praised the address as "bold and courageous."
During the 40-minute speech, Trump declared Iran a "rogue state" and "corrupt dictatorship", accusing it of sowing "death and destruction" throughout the Middle East by supporting terrorist groups such as Hezbollah.
Iran "speaks openly of mass murder, death to America, destruction to Israel," Trump said, adding that the country's chief exports are "violence, bloodshed and chaos."
"Rather than use its resources to improve Iranian lives, its oil profits go to Hezbollah and other terror groups that kill innocent Muslim and attack their Arab and Israeli neighbors," Trump charged.
"It is time for the entire world to join us in demanding that Iran's government end its pursuit of death and destruction," Trump said, accusing the Iranian regime of masking "a corrupt dictatorship behind the false guise of democracy."
Trump also slammed the nuclear deal signed with Iran under the administration of his predecessor Barack Obama as an "embarrassment" to the United States.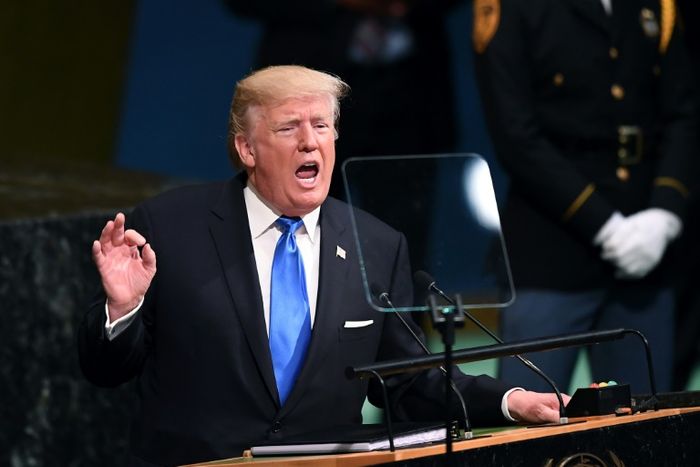 Trump said that the United States "cannot abide by an agreement if it provides cover for the eventual construction of a nuclear program," calling it "one of the worst and most one-sided transactions the US has ever entered into."
"Frankly, that deal is an embarrassment to the United States, and I don't think you've heard the last of it," Trump said.
Trump has been staunchly critical of the deal, signed by his predecessor Barack Obama, but has so far refrained from making good on his threats to scrap the accord. He is reportedly determined to find ways to declare Iran in noncompliance with the deal by an October 15 deadline.
The US leader added, however, that the greatest threat to the Tehran regime was not the American military, but the Iranian people who want change.
Iranian Foreign Minister Mohammad Javad Zarif slammed Trump's address as an "ignorant hate speech."
"Trump's ignorant hate speech belongs in medieval times -- not the 21st century UN -- unworthy of a reply," Zarif said on Twitter.
Trump's speech, which unlike Obama's made no mention at all of the Israeli-Palestinian conflict, was well-received by Netanyahu who will take the podium later on Tuesday where he too is expected to take aim at Iran.
"In over 30 years in my experience with the UN, I never heard a bolder or more courageous speech," Netanyahu said in a statement following Trump's address.
"President Trump spoke the truth about the great dangers facing our world and issued a powerful call to confront them in order to ensure the future of humanity," he said.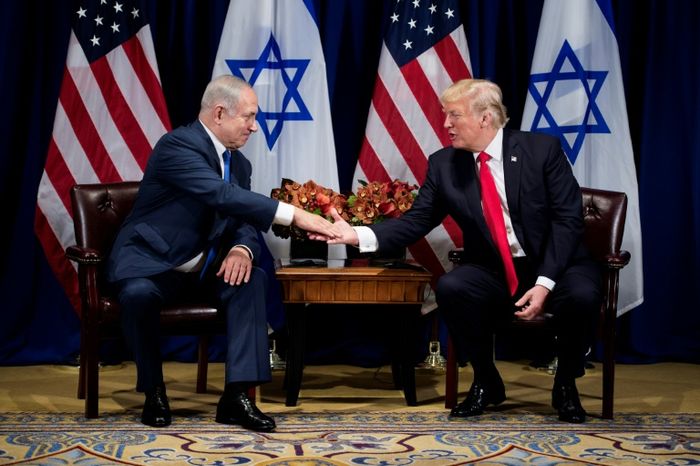 Trump did not explicitly, however, warn Iran against a military buildup in war-torn Syria as had been expected and as Netanyahu is likely to do during his own speech.
Netanyahu -- who in 2012 famously brandished a diagram showing how close the Islamic Republic was getting to nuclear weapons capability -- is set to warn at the meeting of world leaders that Israel will not tolerate Iran entrenching militarily in southern Syria.
According to Israel's Haaretz daily, senior State Department official Brian Hook, head of policy planning, told reporters that Trump would use the address to warn that the US will "not allow the 'Lebanonization' of Syria" by staking out a long-term military presence in the country.
Israel is concerned that Iran will use the power vacuum in war-torn Syria and strong Russian influence to establish military bases in Syria with the aim of opening up a second front against Israel in the event of a war with Hezbollah, the Lebanese Shiite militia.
(Staff with agencies)
You need to be logged in in order to post comments. Sign up or log in
September 22, 2017 1:40 AM
Palestinian issue is inconsequential. Biafra is Israel's natural ally