Rouhani hits back at Netanyahu and Trump, says Iran seeks 'moderation'
France's president suggested the 'good' accord could be expanded; Rouhani dismissed the idea
Iran's president Hassan Rouhani on Wednesday launched a spirited defense of the 2015 nuclear accord and took direct aim at US President Donald Trump and Israeli prime minister Benjamin Netanyahu's own speeches to the UN General Assembly, branding their criticism of his country as "ignorant, ridiculous, absurd, baseless allegations."
Characterizing Iran as seeking "moderation" in global affairs, he said the entire international community has ownership of the nuclear deal and its fate could not be decided by "one or two countries."
The 2015 deal was "overwhelmingly applauded by the international community and endorsed as part of Resolution 2231" adopted by the Security Council, Rouhani told the gathering of world leaders. "As such it belongs to the international community in its entirety and not only to one or two countries."
His speech came amid a backdrop of fierce criticism of the Iran deal from the US and Israel while the United Kingdom and France attempt to keep the deal -- in which Iran curbed its nuclear ambitions in exchange for sanctions relief -- on the rails.
"Iran will not be the first to violate the agreement, but will respond decisively resolutely to its violation by any party," Rouhani said, adding that "it will be a great pity if this deal is destroyed by rogue newcomers to world of politics," in an apparent reference to Trump, who has condemned the deal.
"By violating its international commitments, the new US administration only destroys its own credibility and undermines international confidence in negotiations with it or accepting its word or promises," Rouhani declared.
He added later that "we do not threaten anyone, but we do not tolerate threats from anyone."
No renegotiation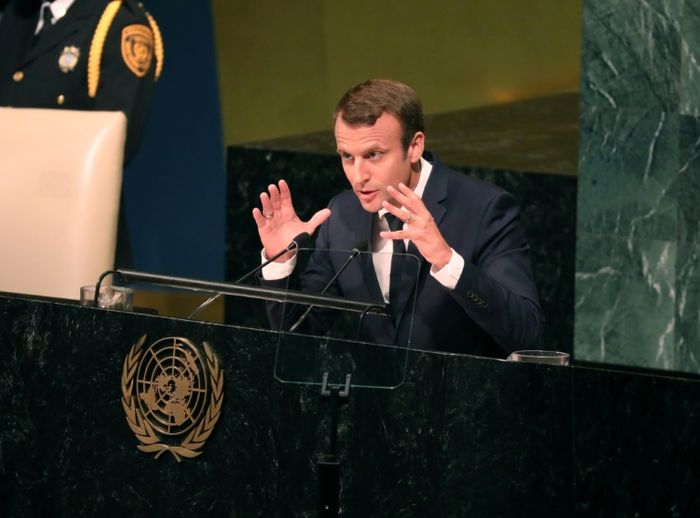 Speaking to reporters shortly after his address, Rouhani dismissed the idea of renegotiating the accord.
"An American government that chooses to trample on her legal and legitimate international commitments -- a conversation with such a government would be a waste of time," Rouhani said.
"It is an agreement that took over two years of negotiation over every single word and every single sentence," he said. "We were able to agree on mutually acceptable dates and deadlines so this agreement is not something you can touch. If you take out a single brick, the entire building will collapse," he said.
Before Rouhani took to the stage, French President Emmanuel Macron floated the idea of inserting new planks into the deal and delving into "discussions" with Iran about the wider Middle East.
"We have to keep the 2015 agreement because it was a good one with strong monitoring of the current situation, and and we have to add two or three pillars," Macron told reporters on the sidelines of the UNGA.
Macron said these measures should include "one to better control ballistic missiles and ballistic activities" and another to prolong the agreement beyond 2025, when limits on Iran's nuclear enrichment will start to expire.
A possible third pillar would involve "open discussions with Iran about the current situation in the region."
'Rogue Zionist regime'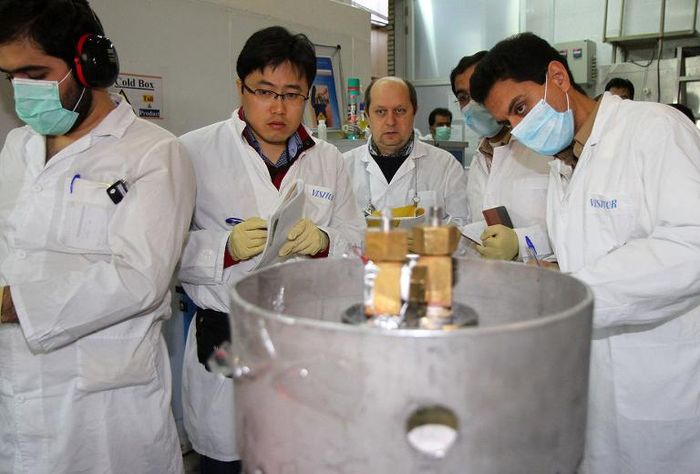 The Iranian president maintains a tight balance at home between hardline conservatives allied to the country's most powerful figure Supreme Leader Ayatollah Ali Khamenei, and a surging middle class who desire greater social and economic freedom.
He was granted Khamenei's blessing to pursue the nuclear accord, but has come under pressure at home as US criticism of the deal has mounted.
"We were not deceived, nor did we cheat or deceive anyone," Rouhani declared. "We have ourselves determined the extent of our nuclear program. We never sought to achieve deterrence through nuclear weapons."
"I declare before this august global assembly that moderation is the inclination as well as the chosen path of the great Iranian people. Moderation seeks neither isolation nor hegemony," he said, later extolling Iran as a "bastion of tolerance" and adding that "we never condone tyranny and always defend the voiceless".
The president, re-elected for a second term in July, also denounced Israel, declaring that "it is reprehensible that the rogue Zionist regime, that threatens global and regional security with its nuclear arsenal ... has the audacity to preach to peaceful nations."
"Centuries ago we supported the rights of the Jewish people and today we insist of the restoration of the rights of the Palestinian people," he said.
Read more: Nuclear watchdog rebuffs Israeli officials' claims it is 'weak' on Iran
Read more: Trump tells UN energy watchdog US will not stay in a badly monitored Iran deal
Read more: Trump says he's decided what to do with Iran nuclear accord, but won't say what
(AFP contributed to this report)
You need to be logged in in order to post comments. Sign up or log in
September 20, 2017 9:40 PM
Do they even understand the work moderation ? We see how moderate they are with their own people. Not worthy of trust.
September 21, 2017 2:48 AM
Moderation while developing nuke secretly!