Palestinian PM visit marks PA return to Gaza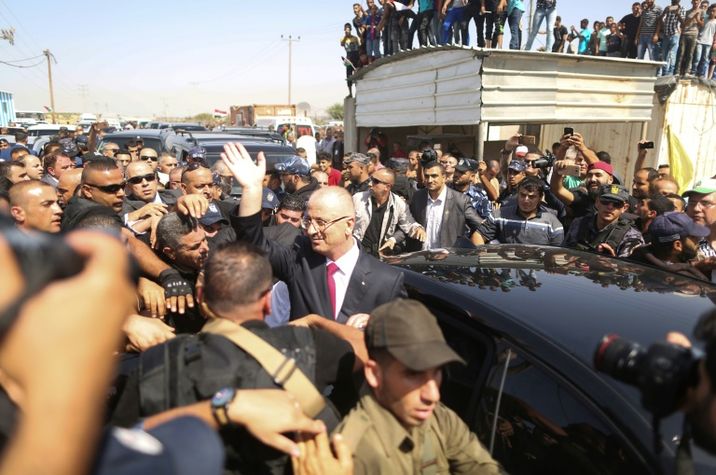 Le Premier ministre palestinien Rami Hamdallah accueilli à Beit Hanun à Gaza, le 2 octobre 2017
MAHMUD HAMS (AFP)
Palestinian Authority to resume control of Gaza's government in the coming days
Palestinian prime minister Rami Hamdallah visited Gaza for the first time in two years Monday, in a potential first step to ending a decade-long conflict between the two major Palestinian factions.
Arriving in the impoverished enclave Hamdallah said the internationally recognized Palestinian Authority would resume control of Gaza's government in the coming days.
Hamdallah met with the leaders of rival political movement Hamas, 10 years after they violently forced his allies out of Gaza in a near civil war.
Washington gave a cautious welcome to the PA's return to Gaza, while stressing that any new Palestinian government would have to renounce violence and recognize Israel.
"The United States welcomes efforts to create the conditions for the Palestinian Authority to fully assume its responsibilities in Gaza," White House special envoy Jason Greenblatt wrote on his Facebook page.
"Any Palestinian government must unambiguously and explicitly commit to nonviolence, recognition of the State of Israel, acceptance of previous agreements and obligations between the parties and peaceful negotiations," he said.
The UN said it was "carefully optimistic" of ending the split which is seen as a key complicating factor in potential peace talks with Israel.
Al-Azhar, one of the world's leading Islamic seats of learning, also welcomed the steps taken towards national reconciliation.
Hamdallah was welcomed by thousands of Gazans, with hopes that this reconciliation plan can avoid the problems that wrecked several previous attempts.
The Islamists recently agreed to hand over civilian power to a unity government after Egyptian mediation and Hamdallah said they would get to work immediately.
"The government began to exercise its roles in Gaza from today," Hamdallah said.
"We return to Gaza again to end the division and achieve unity."
Later he met with Hamas's overall leader Ismail Haniya and its Gaza chief Yahya Sinwar, and is expected to chair a cabinet meeting.
Hamas ousted the PA in 2007, but recently agreed to dissolve what has been seen as its rival administration and make way for a unity government.
Palestinian president Mahmud Abbas's PA is the internationally recognized Palestinian government and supposed to steer its people to an independent state.                 
More pragmatic Hamas?               
UN Middle East envoy Nickolay Mladenov said he was "carefully optimistic" about the reconciliation talks.
"If the region stays engaged, if Egypt's role continues and if the political parties themselves continue to show the willingness they are currently showing to work with us on this process, then it can succeed," he told AFP.
The United States and the European Union see Hamas as a terrorist organisation, complicating any potential involvement in a Palestinian government.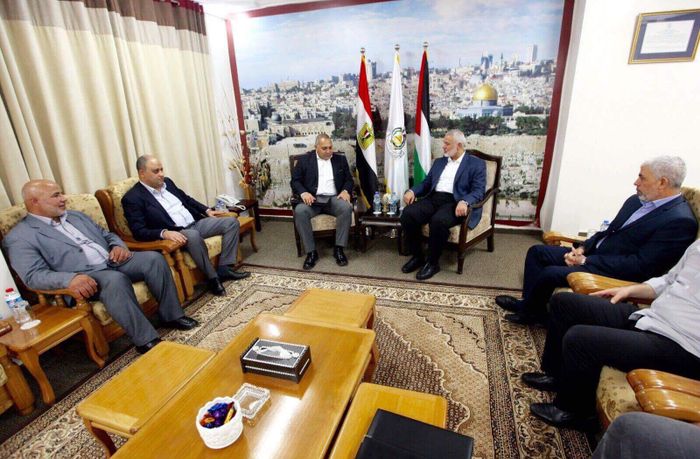 The logistics of the three-day visit were themselves an indication of divisions and challenges.
Arriving by road from Ramallah, about 70 kilometres (44 miles) away in the West Bank, Hamdallah's convoy crossed Israel and then transited the fortress-like Erez crossing into Gaza before passing a Hamas checkpoint.
Hamas last month finally agreed to the PA's return to Gaza, under pressure from the enclave's powerful neighbour Egypt.
The group was squeezed by Abbas, who stopped paying Israel for electricity it supplies to Gaza, resulting in devastating power cuts.
And long-time Hamas ally Qatar's diplomatic isolation led to a fall in backing for the group.
For Gaza's two million residents, the hope is to see an improvement in their miserable living conditions in the overcrowded territory.
Battered by three wars with Israel since 2008, Gaza is under Israeli and Egyptian blockade and suffers from severe water and electricity shortages, an economic slump and unemployment of more than 40 percent.          
Prospect of social unrest                
Experts say the prospect of social unrest among disgruntled Gazans was a factor in Hamas's willingness to reconcile with Fatah, along with its growing isolation and perhaps a new pragmatism in its leadership.
Hamas and Fatah, which dominates the PA, have both expressed confidence the latest unity initiative will fare better than in the past.
But scepticism remains rife, with many observers suspecting Hamas of a tactical manoeuvre to improve its position.
They doubt Hamas will cede its security control over the strip to the PA, and see major challenges for Abbas in finding a future for the thousands of public workers recruited by Hamas over the past decade.
Particularly thorny issues include the potential future of Hamas's military wing.
The Hamdallah delegation's visit is seen as largely symbolic and preparing the ground for further talks, probably in Cairo.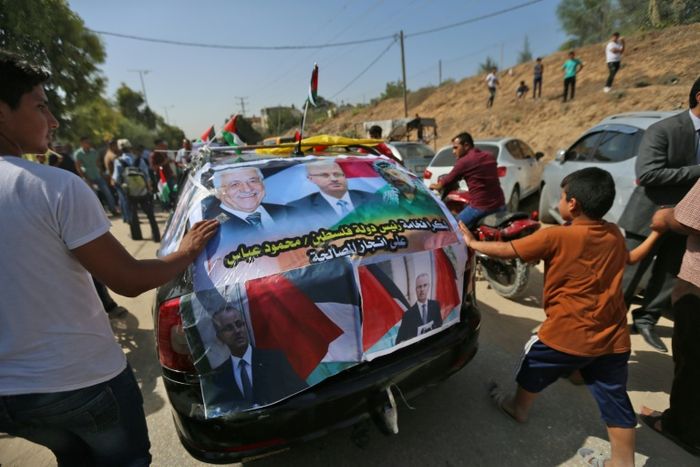 The outcome will determine the Palestinians' acceptance on the international stage.
The PA recognizes Israel, but that appears to remain out of the question for Hamas.
Israeli construction minister and former general Yoav Galant says everything depends on Hamas accepting Israel's existence and ending armed struggle.
"If the answer is positive, we can talk about a lot of things," he says. "If it is negative, nothing has changed and all this is a deception."