Erdogan at UN produces Netanyahu-esque map of 'shrinking Palestine'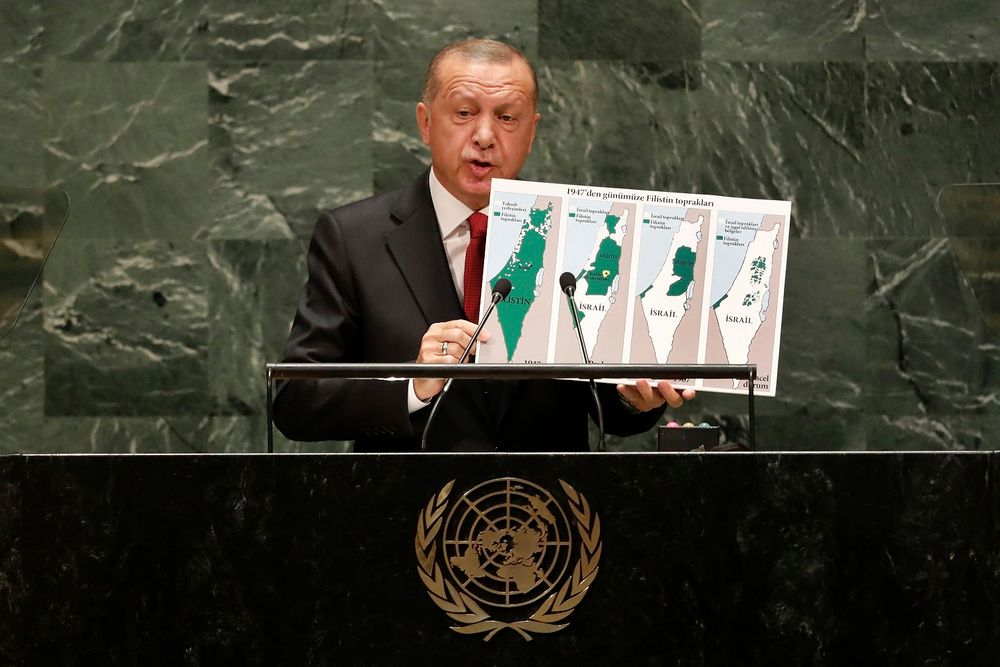 Netanyahu told Erdogan to 'stop lying' after reportedly comparing Gazans to Jews in Holocaust
In an apparent nod to Prime Minister Benjamin Netanyahu, Turkish President Racep Erdogan brandished a map of Israel during his speech at the UN General Assembly exhibiting a "shrinking Palestine."
"The Palestinian territory under Israeli occupation has become one of the most striking places of injustice," he told world leaders.
"Israel, which was almost non-existent in 1947, has continued until this day to seize Palestinian land with the aim of eliminating the state and the Deal of the Century will support those territorial ambitions," he added.
Erdogan asked how far Israel was prepared to extend its borders after Netanyahu recently announced his plan to extend sovereignty to other parts of the Jordan valley.
"How can the Golan Heights and the West Bank settlements be seized just like other occupied Palestinian territories before the eyes of the world? Is the aim of the initiative to promote, as the Deal of the Century, to entirely eliminate the presence of the state and the people of Palestine? Do you want another bloodshed?" Erdogan asked.
Netanyahu, who sent his foreign minister to New York in his place as he attempts to extend his record-tenure as Israel's premier, released a video during the speech by Erdogan reacting to a reported comparison he made on the sidelines of the UN of Gazans to Jews in the Holocaust.
"Someone who does not stop lying, who slaughters Kurds, who denies the massacre of the Armenians, should not preach to Israel. Stop lying Erdogan," Netanyahu charged.
According to Turkey's Foreign Ministry, citing the country's Anadolu Agency, Erdogan told US Muslim leaders that "when we look at the Nazi murder of the Jews, we see the massacre in the Gaza Strip from the same perspective."
This article received 1 comments