Trump will not ask Congress to reintroduce Iran sanctions, Tillerson says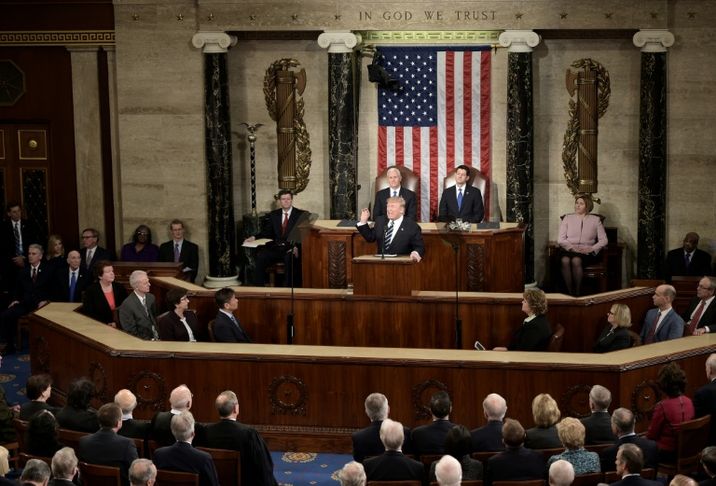 US President Donald Trump addresses a joint session of the US Congress
Brendan SMIALOWSKI (AFP)
President Donald Trump will not ask Congress to "snap back" sanctions against Iran that would kill a landmark nuclear deal.
"A re-imposition of the sanctions," said Secretary of State Rex Tillerson, "would, in effect, say we're walking away from the deal."
The White House is instead calling for new sanctions to be introduced if Iran passes "specific trigger points."
During a White House speech scheduled for Friday, Trump is expected to declare a 2015 deal, which curbed Iran's nuclear program in return for massive sanctions relief, is no longer in the US national interest.
Officials say he will not kill the deal outright, instead leaving US lawmakers to decide whether they want to kick away one of the accord's foundational pillars by "snapping back" sanctions against Iran, without explicitly asking them to do so.
Iran has vowed a "crushing response" if Trump elects to declare the Iranian Revolutionary Guard Corps a terrorist organization. While officials told AFP that he will not take that step, the Wall Street Journal reported that it was "likely".
According to a fact sheet released by the White House to set the stage for Trump's speech, he will rail against Iran's "destabilizing influence" on the Middle East, "particularly its support for terrorism and militants."
The strategy will seek to shield Israel from Iran's "unrelenting hostility" and counter the threat to all US interests and allies from Iran's proxy forces, ballistic missile development and eventual nuclear ambitions.
But the plan as outlined by the fact sheet does not envisage Washington pulling out of the Iran deal's Joint Comprehensive Plan of Action (JCPOA). Indeed, "the deal must be strictly enforced, and the IAEA must fully utilize its inspection authorities."