Israel to Poland: Fix unjust bill on restitution for Holocaust survivors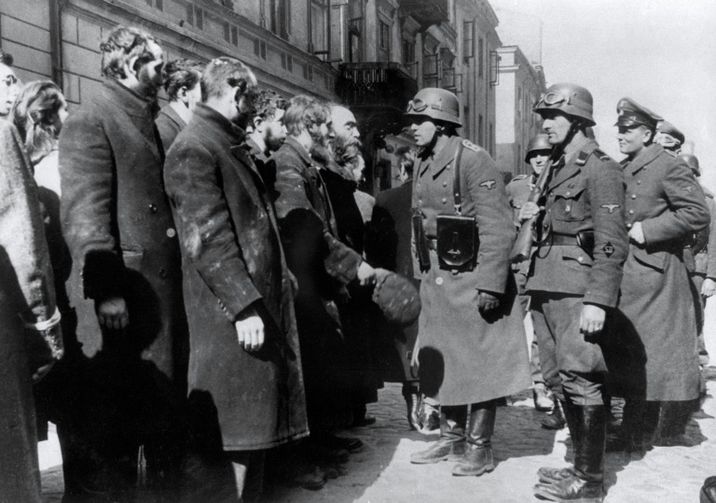 Nazi soldiers question Polish Jews after the Warsaw ghetto uprising in 1940
AFP/File
NGO says bill would drastically limit eligibility for survivors whose property was seized
Israel's foreign ministry on Thursday lodged a formal objection with the Polish ambassador over Warsaw's draft bill that would reportedly place strict guidelines on restitution for Holocaust survivors whose property was confiscated by the Nazis.
"It is impossible to compare the fate of Jews in the Holocaust to any other group," read a missive sent to Amabssador Jacek Chodorowicz. "The Israeli government demands that Poland fix the bill to make it more just towards Holocaust survivors."
According to the World Jewish Restitution Organization (WJRO), the bill would limit eligibility by stipulating that applicants must be current citizens of Poland and have been resident in the country at the time of the property's post-war nationalization.
Because most of the few Polish Jews who survived the Holocaust fled the country after the war, the bill would only apply to a small clutch of people. Additionally, the compensation would also only apply to children, grandchildren and spouses of survivors.
The NGO also cited the draft bill as putting strict limits on the scope of the compensation itself, saying it would "eliminate the possibility of return of the actual property, or of substitute property and limit compensation to 20% of the value of the property in cash or vouchers, or 25% in government bonds."
"Polish Holocaust survivors and their families were an integral part of Polish life for centuries," WJRO's Chairman Ronald Lauder and Gideon Taylor, Chair of Operations, said in a joint statement.
"Their property is often their last tangible connection with the life they lived before the destruction of the Holocaust. We strongly urge the Polish government to ensure that the legislation, when introduced to the Parliament, will have eligibility criteria and a claims process that are fair and just to those who suffered and lost so much."
Most countries in Western Europe enacted restitution programs in the decades following the war, however Poland has never established a comprehensive legal framework on the matter.
Poland lost around 90% of its Jewish population during the Holocaust and the country suffered widespread devastation both during the German occupation and the subsequent Soviet offensive.
Nazi Germany also established its network of extermination camps in the country's east, in the midst of what was then one of Europe's largest Jewish population centers.
You need to be logged in in order to post comments. Sign up or log in
The US Congress needs to intervene.