Netanyahu to be questioned at least four more times by police: report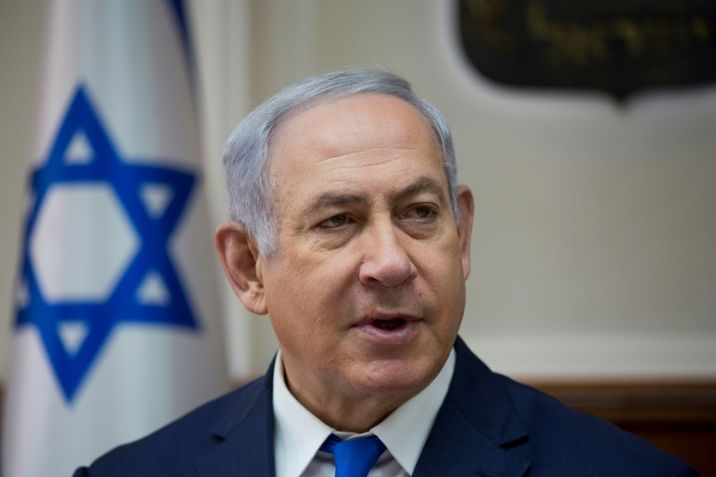 Le Premier ministre israélien Benjamin Netanyahu préside la réunion hebdomadaire du gouvernement le 7 novembre 2017
Ariel Schalit (POOL/AFP)
The report comes one day after Netanyahu was grilled for over four hours by Israeli police
Israeli Prime Minister Benjamin Netanyahu will reportedly be questioned at least four more times as a part of an ongoing corruption probe, Hebrew media reported Friday.
In an ongoing probe against the Israeli premier deemed Case 1000, sources in the Israeli police told Hebrew media that they have constructed a foundation for a corruption case against Netanyahu, the Israeli Channel two reported.
Police investigators arrived at the Netanyahu residence on Thursday afternoon where he endured over four hours of questioning over his suspected involvement in two separate corruption scandals.
Israeli public radio said that detectives arrived at Netanyahu's official residence in Jerusalem shortly before 5.00 pm (1500 GMT), but police refused to confirm the reports until the meeting ended.
"We confirm that the prime minister was questioned today for several hours at his Jerusalem residence," the police statement said in Hebrew adding, that the interrogation was carried out by detectives of national fraud and serious crimes squad.
It gave no further details.
Netanyahu gave a statement later saying, "I repeat, there will be nothing because there is nothing," a phrase he has reiterated many times.
The interrogation was the fifth round of questioning in several ongoing probes against the premier, dubbed Case 1000 and Case 2000.
Case 1000 centers on suspicions that Netanyahu received gifts such as expensive champagne and cigars from wealthy businessmen including film producer Arnon Milchan and Australian casino mogul James Packer.
In Case 2000, police are reportedly examining conversations with newspaper proprietor Noni Mozes, leaked excerpts of which were sensationally broadcast on Israeli television earlier this year, which revealed an alleged quid pro quo' arrangement with the Yedioth Ahronoth publisher to limit circulation of the newspaper's main rival in exchange for more favorable coverage.
In early August, state prosecutors clinched a deal with Netanyahu's former chief of staff Ari Harow to act as a state witness.
Netanyahu has already been questioned several times by police in connection with the two cases, and has repeatedly denied any wrongdoing on his part.
The Prime Minister has blasted Israel Police Chief Alsheikh for failing to plug a steady stream of leaks from the investigations, accusations rebuffed by the police who insist the agency is "doing its work in accordance with the law and country."
The investigations have stirred Israeli politics and led to speculation over whether Netanyahu will eventually be forced to step down.
Over the past several days, two of Netanyahu's closest confidants have been detained for questioning in yet another corruption scandal, known as Case 3000, which centers on the purchase of three submarines from German shipbuilding conglomerate ThyssenKrupp.
Netanyahu's diplomatic envoy Yitzchak Molcho and his legal partner David Shimron, who is also Netanyahu's cousin and personal attorney, were detained on Sunday and questioned for two days in connection with the case.
While Netanyahu is not considered a suspect in the case, Israeli media has reported that it is likely he will also be questioned during the investigation.
It was not immediately clear whether Thursday's questioning of Netanyahu would also include the submarine affair.