Hearing date set for Sara Netanyahu amid misuse of funds allegations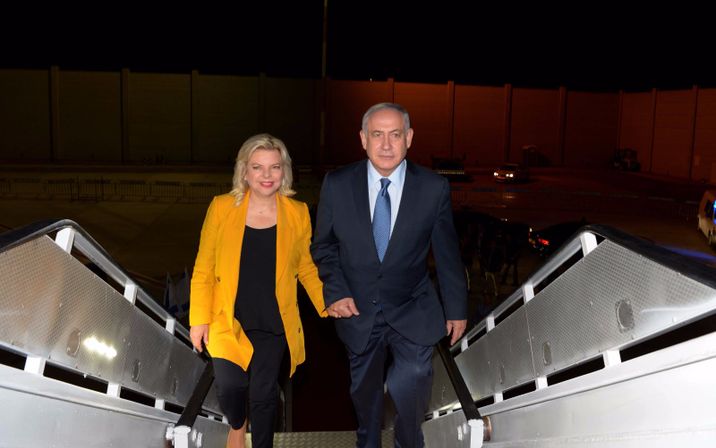 Sara Netanyahu and Israeli prime minister Benjamin Netanyahu before departing on a trip to the Americas, September 10 2017.
Avi Ohayon/GPO
Personal assistant to Israeli director Arnon Milchan says Netanyahus requested expensive gifts
A date has been set for the hearing of Israeli Prime Minister Benjamin Netanyahu's wife, Sara Netanyahu, before the attorney general, amid allegations the primer's wife misused public funds, Hebrew media reported Monday.
According to reports, Sara Netanyahu will testify before the Israeli attorney general in the middle of January.  
In an additional development, Hebrew media reported Monday that personal assistant to Israeli director Arnon Milchan, Hadas Klien, told police that the Netanyahus requested expensive gifts from her former employer.
"Sara Netanyahu would request bottles of champagne in cases of 8 or 12," Klein told Israeli police. "Bibi would ask for the cigars, and he was aware of the quantities that his wife received."
"The company driver would travel to Jerusalem to deliver the champagne and cigars," Klien said.
Sara Netanyahu, whose husband has vigorously denied the allegations, will be asked to provide evidence as to why she should not be charged with fraud, fraudulently receiving goods under aggravated circumstances, and breach of trust.
According to a justice ministry statement released earlier this year, Netanyahu is suspected of working closely with the former head of the residence, Ezra Seidoff, to create the "false impression" that cooks at the Balfour St house were not employed in a cookery, thus allowing her to circumvent a regulation and order external meals at the taxpayer's expense.
In all, the Attorney General will allege that 359,000 shekels ($102,000) of meals were fraudulently ordered from chefs and restaurants.
In a win for Netanyahu, earlier this year, state prosecutors did not find sufficient evidence to charge her over several other matters, including the employment of a live-in caregiver for her father, hiring an electrician by circumventing the required tender process and transferring garden furniture paid for by the taxpayer to the family's private home in the ritzy seaside town of Caesarea.