Abbas envoys warn Kushner peace talks end if US backs Israeli claim to Jerusalem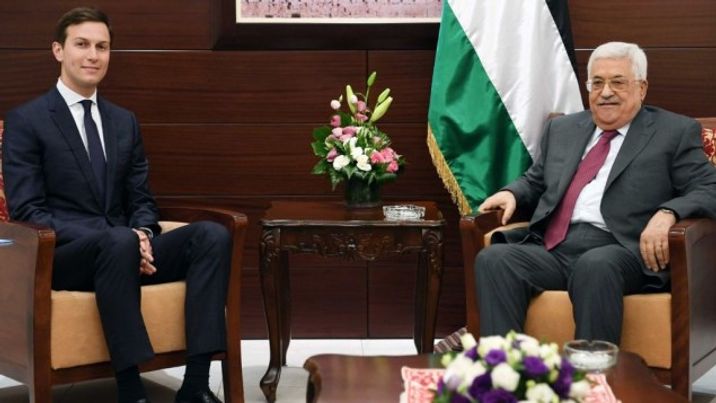 Jared Kushner et Mahmoud Abbas à Ramallah
Autorité palestinienne
US has reportedly informed missions in Middle East to prepare for backlash following anticipated announcement
Palestinian Authority president Mahmoud Abbas sent a delegation to Washington on Friday with a warning that the United States' efforts to revive peace talks between it and Israel would hit a dead end if president Donald Trump announces the relocation of the US embassy from Tel Aviv to Jerusalem or if he recognizes the holy city as the undivided capital of the Jewish State.
Trump has until Monday to renew a rolling waiver which delays implementing a 1995 decision by Congress to move the embassy to Jerusalem. Reports emerged on Friday that Trump is expected to declare Jerusalem as the capital of Israel in a speech on Wednesday and announce that he has instructed his team to prepare moving the embassy there.
The status of Jerusalem has been a major sticking point in long-stalled peace negotiations between Israel and the Palestinians, which hold competing claims over the city.
Israel's Hadashot news (formerly Channel 2 news) reported that the PA delegation -- which included senior Abbas aides Majed Faraj and Saeb Erekat -- met with Trump's son-in-law and senior adviser on the peace process Jared Kushner at the White House on Friday to deliver the warning.
They reportedly told Kushner that either step "will kill the negotiations" and delivered a letter from Erekat which communicated Abbas' anger at the anticipated moves.
The delegation also said that either move would challenge Washington's role as "an honest broker" for any negotiations between Israel and the Palestinians, Channel 10 reported.
The reports said the Palestinian delegation was not optimistic that the US would heed its warnings.
On Thursday, the Wall Street Journal reported that the White House was notifying its embassies in the Middle East that it was preparing to declare the holy city Israel's "undivided" capital, instructing them to prepare for possible unrest in the wake of the move.
During his run for the presidency, Trump controversially vowed to move the US embassy to Jerusalem while also saying he wants to relaunch frozen peace talks between Israel and the Palestinians in search of the "ultimate deal"
Analysts say any major shift in US policy towards Jerusalem would make that goal more difficult to achieve.
But according to The Washington Post, the president has grown increasingly "agitated and exasperated" with his team of advisers who urged the president to once again sign the waiver postponing the embassy move.
The status of Jerusalem is a flashpoint issue in the Israeli-Palestinian conflict. The Palestinians claim East Jerusalem as the capital of their future state, while Israel has declared the entire city as its capital.
No countries currently have their embassies in Jerusalem, instead keeping them in the Israeli commercial capital Tel Aviv.
See also:
Ex-Israeli PM says Trump moving embassy to Jerusalem would be a 'great thing'
Pence says Trump 'actively considering' US embassy move to Jerusalem