As it happened: It's official - Trump recognizes Jerusalem as Israel's capital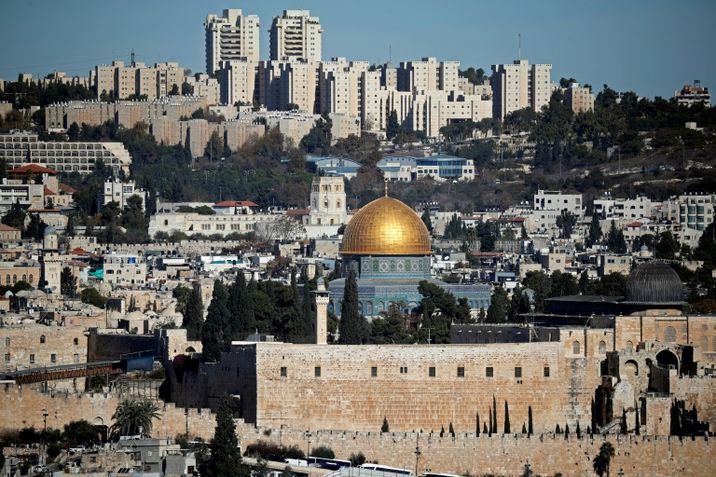 The status of Jerusalem is one of the most contentious issues of the long-running Israeli-Palestinian conflict
THOMAS COEX (AFP)
See below for up-to-the-minute coverage of Trump's controversial and historic decision
President Donald Trump recognized the disputed city of Jerusalem as Israel's capital Wednesday -- a historic decision that overturns decades of US policy and risks triggering a fresh spasm of violence in the Middle East.
The hotly-anticipated speech upended decades of careful US policy and ignored dire warnings of a historic misstep that could trigger a surge of violence in the Middle East.
Plunging further into a bitter centuries-old argument between Jews, Muslims and Christians, Trump also ordered planning to begin on moving the US embassy from Tel Aviv to Jerusalem.
The status of Jerusalem is a central issue in the Israeli-Palestinian conflict, with both sides claiming the city as their capital, and expectations of Trump's announcement have roiled the combustible region.
The speech sparked howls of condemnation from US allies of foes alike, including the United Kingdom, France, Germany, Jordan, Turkey, Egypt and Iran. 
Israel and US embassies throughout the Middle East were girding for possible violent backlash following the announcement, after Palestinian factions called for mass disobedience during three "days of rage" on Wednesday, Thursday, and Friday.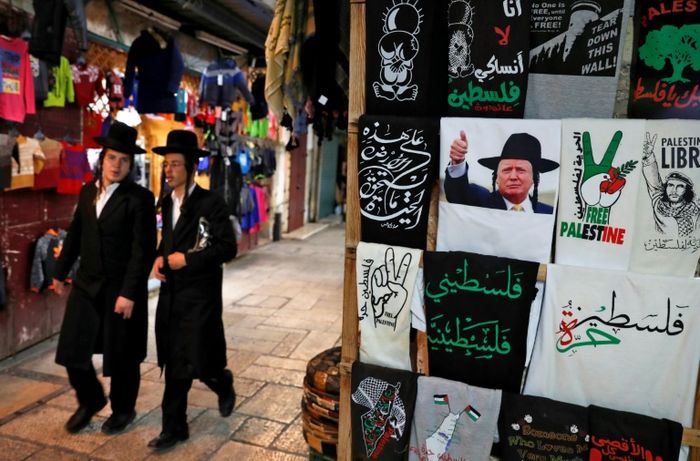 Anticipating widespread demonstrations, US government officials have been ordered to avoid Jerusalem's Old City and the West Bank.
Palestinian Authority President Mahmoud Abbas embarked on a frenzied round of calls to world leaders to try and fend off the declaration, including with France's President Macron and Pope Francis.
Most of the international community, including the United States, does not formally recognize Jerusalem as Israel's capital and scores of leaders have expressed concern at the move.
Several peace plans have unraveled over the issue of how to divide sovereignty or oversee sites in the city that are holy for Christians, Jews and Muslims.
Wednesday 6 December 2017
9:52 PM
Eight nations call for UN Security Council talks on Jerusalem, news agencies are reporting.

That might be our last post for tonight. Thank you for staying with us.
9:40 PM
Hundreds of people staged a loud but mostly peaceful protest outside the US consulate in Istanbul on Wednesday after Trump's speech, AFP reports.

Around 1,500 gathered outside the well-protected compound close to the Bosphorus and the area was sealed off by police barricades.

The slogan "free Palestine" was daubed on a consulate wall while protesters hurled plastic bottles into the compound. A piece of paper with a representation of an Israeli flag was also burned.
9:26 PM
In the flurry of responses we missed that of Israel's President Reuven Rivlin.

"I congratulate President Donald Trump on his announcement of US recognition of Jerusalem as the capital of Israel and on the expected move of the American Embassy to Jerusalem," he said in a statement.

"There is no more fitting or beautiful gift, as we approach 70 years of the State of Israel's independence."
9:18 PM
The US embassy in Jordan has suspended all services for Thursday in the wake of Trump's speech.

A statement posted on their Twitter account warned that protests have the potential to become violent and that diplomats' children should not attend school on Thursday.
9:14 PM
Several thousand protesters gathered in several points around the Gaza Strip after Trump's speech, AFP reported.

Gaza-based news agency Shehab said senior Hamas leaders gave speeches to the crowds.

Several hundred people also gathered in Bethlehem's Nativity Square, waving Palestinian flags, the news agency reported.

Maan news agency said dozens of people gathered in the center of Ramallah, several of whom fired weapons in the air.
9:00 PM
Our senior international affairs correspondent Owen Alterman wonders about the fine print of what all this will translate to on the ground:



Tonight's proclamation on Jerusalem will have a big immediate impact.



But what about the long term? The statement leaves a lot of unanswered questions. What is Jerusalem's legal status? For that matter, what is 'Jerusalem'? If Israel builds apartments across the Green Line, is that -- according to the U.S. government -- allowed under international law or not? What about listing 'Jerusalem, Israel' on passports? What's the role of the U.S. consulate in the city?



These questions are important because they show that the fought over Jerusalem's status is not over. There are many rounds to come.
8:43 PM
Iran weighs in, predicting that Trump's proclamation will trigger a fresh intifada (Arabic for "uprising")

"The provocative and unwise decision by the US... will provoke Muslims and inflame a new intifada and an escalation of radical, angry and violent behaviour," the Iranian foreign ministry said in a statement on its website.
8:38 PM
Earlier today the Czech foreign ministry released a statement saying that the country -- a close Israel ally -- "considers Jerusalem to be future capital of both states, meaning the State of Israel and the future State of Palestine."

It is a similar position to Russia's, which sees the city as big enough for two countries.
8:23 PM
The United Kingdom spoke out against Trump's speech before he made it, and now Prime Minister Theresa May says it was "unhelpful" for peace efforts.

"We disagree with the US decision to move its embassy to Jerusalem and recognise Jerusalem as the Israeli capital," she said in a statement. "We believe it is unhelpful in terms of prospects for peace in the region".
8:09 PM
As the reactions flood in, let's also take some time to go over a few more key quotes from Trump's speech:

"We cannot solve our problems by making the same failed assumptions and repeating the same failed strategies of the past. Old challenges demand new approaches."

"This is a long-overdue step to advance the peace process and to work towards a lasting agreement."

"This decision is not intended, in any way, to reflect a departure from our strong commitment to facilitate a lasting peace agreement."

"I call on all parties to maintain the status quo at Jerusalem's holy sites, including the Temple Mount, also known as Haram al-Sharif."
7:51 PM
The Palestinians say Trump's speech has "destroyed" the peace process and signals that the US has given up is role as an honest broker.

However Jason Greenblatt, who is leading -- along with Jared Kushner -- that same peace effort, just wrote on Twitter:

POTUS' courageous speech recognizing Jerusalem as Israel's capital today reflects current and historic reality. No matter how certain parties react, we will continue to be hard at work putting together our peace plan to benefit all parties.
7:46 PM
US government has warned its citizens to avoid its embassy and consulates in Turkey after reports of protests over Trump's speech.

During the summer's Temple Mount crisis, tens of thousands took the streets in Turkey.
7:41 PM
The State Department will immediately act on President Donald Trump's order to relocate the American embassy in Israel from Tel Aviv to Jerusalem, Secretary of State Rex Tillerson said Wednesday.

"The State Department will immediately begin the process to implement this decision by starting the preparations to move the US Embassy from Tel Aviv to Jerusalem," Tillerson said during a visit to Germany.

In his speech, Trump said he had ordered State to kick off the process, including by hiring architects. The United States own several plots of land and other properties in the city.
7:23 PM
Our senior diplomatic correspondent Ellie Hochenberg has the following analysis. The key point: this change in US policy will be imposed on whoever comes after Trump.

What's the price? Where will the embassy be relocated? Will it undermine the peace process?

Many questions remain, but Trump's decision is not only historic, but one no following president will dare to modify.

It's a success for Netanyahu and his strategy, proof of the strength of ties between the two administrations and an indication to what's to be expected as part of the attempts to revive negotiations and build a new Middle East.
7:15 PM
Palestinian factions are calling a mass strike in Jerusalem tomorrow:

"National and Islamic forces in Jerusalem declare a commercial strike tomorrow in Jerusalem to protest the US decision to declare Jerusalem as the capital of the Zionist entity, stressing that Jerusalem as the capital of the independent Palestinian state."

(via our senior Middle East correspondent Mohammad Al-Kassim in Qalandia)
7:07 PM
Prime Minister Benjamin Netanyahu: @POTUS Trump, thank you for today's historic decision to recognize Jerusalem as Israel's capital. The Jewish people and the Jewish state will be forever grateful. pic.twitter.com/Z24lSRezYm

— PM of Israel (@IsraeliPM) December 6, 2017
7:05 PM
Some analysis from our senior defense correspondent Shai Ben Ari:

Weather could be a major factor in determining the strength of Palestinian demonstrations in reaction to President Trump's decision. If Wednesday's heavy rains and strong winds continue into Thursday, this could lead to minimal protests on what is a regular workday. Friday may be the key day - weather is expected to clear up by then and Friday prayers at the Al-Aqsa mosque in the Old City of Jerusalem have often been a flash point for violence in the past.

Another major concern is the threat of lone wolf assailants who may be motivated to commit attacks following Trump's decision. There is also the question of the various Palestinian factions including Fatah, Hamas and Islamic Jihad -- will they move beyond the peripheral role they played in the wave of violence of the past few years, and now move towards organized violence?
6:55 PM
French president Emmanuel Macron says in Algiers that Trump's decision is "regrettable"
6:44 PM
Turkey's foreign minister says Trump speech "a clear violation of international law"
6:40 PM
Strong reaction from the Palestine Liberation Organization (via AFP)

They say Trump's speech "destroys the two state solution"
6:36 PM
Israeli prime minister Benjamin Netanyahu reacts:

"President Trump's statement helps promote peace because it connects everyone to the ground reality."

President Trump, we thank you for your just and courageous decision to recognize Jerusalem as the capital of Israel and to begin preparing for the opening of the American Embassy here.

Adds he will maintain the city's status quo, meaning that Jordan will continue to be the custodians of the city's Muslim and Christian holy sites.
6:30 PM
Trump also says the US will support a two state solution if that is what Israelis and Palestinians want.

While not indicating his administration will push for that outcome, it differs from his previous position of supporting "whatever" the two sides decide
6:19 PM
Trump has spoken. Key excerpts:

"I have determined that it is time to officially recognize Jerusalem as the capital of Israel".

The president also said he is directing the State Department to begin preparations to move the US embassy from Tel Aviv to Jerusalem.

Yet, in a key passage, he added that the specific boundaries of "Israeli sovereign borders" within Jerusalem are a matter for Israelis and Palestinians
5:56 PM
Jerusalem's Mayor Nir Barkat says he will light up a section of the Old City walls with the American and Israeli flags.
5:25 PM
"I classify The Palestinians as our enemy"

Republican Congressman Brian Mast (FL) has given a fiery interview to i24NEWS.

"There are people within the Arab world and Palestinian that will use any excuse to go out there and cause a loss of life," the House foreign affairs and defense committee member told the Spin Room program, arguing that "US leaders before Trump were paralyzed by fear of the truth," which he says is that Jerusalem is Israel's capital.

"We won't recognize East Jerusalem as the Palestinian capital in a future state, not at this point".
5:07 PM
Trump has said a few words to reporters about his speech, expected in one hour.

Hours before a momentous announcement recognizing Jerusalem as Israel's capital, US President Donald Trump on Thursday said that the move was "long overdue."

"Many presidents have said they want to do something and they didn't do it, whether it's courage or they changed their mind, I can't tell you," Trump was quoted as saying by AFP, portraying himself as daring to fulfil a promise that previous presidents have shied away from.

"I think it's long overdue," he said.
3:56 PM
Our senior Middle East correspondent Mohammad Al Kassim reports hearing gunshots at Qalandia checkpoint between Jerusalem and Ramallah
3:54 PM
Hundreds of Palestinians in the Gaza Strip rallied to burn American and Israeli flags, waving banners proclaiming Jerusalem as "our eternal capital," reported Palestinian news agency Maan.
3:47 PM
In an open letter to President Trump, 600 bereaved Israeli and Palestinian families "beg" him to reconsider decision to recognize Jerusalem as the capital.

"We have killed each other in the name of the love of Jerusalem" wrote the letter from the families of the Parents Circle Forum, "you cannot possibly want to ruin the last vestige of hope we have to protect our children, by placing another nail in the coffin of peace."
3:29 PM
Earlier on Wednesday Israeli public radio reported that controversial president of the Philippines Rodrigo Duterte had told the Israeli prime minister Benjamin Netanyahu that he also wants to move his country's embassy to Jerusalem.

The Phillippines embassy in Tel Aviv told i24NEWS they were not aware of any such communication.
3:08 PM
Pakistani Prime Minister Abassi's office said it was "unequivocally opposed" to President Trump's expected Jerusalem decision, calling for him to "refrain" from the move, reported AFP.

"It would sidestep decades of global consensus on this issue, undermine regional peace and security as well as derail any prospects for a lasting peace in the Middle East," added the statement from the world's second most populous Muslim country.
2:28 PM
Jordan's King Abdullah and Turkey's President Erdogan just held a joint press conference in Istanbul.

They had a similar message. Abdullah, who spoke in English, said that "ignoring the Palestinian, Muslims and Christian rights in Jerusalem would only fuel further extremism and undermine the fight against terrorism"

Erdogan was quoted by the Daily Sabah as saying that recognizing Jerusalem as Israel's capital would "only benefit terrorist organizations".
12:45 PM
President Donald Trump is "very committed" to the Middle East peace process, US Secretary of State Rex Tillerson said Wednesday amid global alarm at a US plan to recognize Jerusalem as Israel's capital.

Tillerson said the US believes "there is a very good opportunity for peace to be achieved" between Israel and the Palestinians, despite international outcry at Trump's expected announcement on Jerusalem.
12:19 PM
Israeli Prime Minister Benjamin Netanyahu proudly declared Wednesday that his country's "national historical identity is receiving important recognition, especially today," in his first comments on an imminently expected announcement by United States President Donald Trump recognizing Jerusalem as Israel's capital.


12:15 PM
Iranian President Hassan Rouhani blasted his US counterpart Donald Trump's plan to recognize Jerusalem as the Israeli capital on Wednesday, saying it would not be tolerated.

Iran "will not tolerate a violation of Islamic sanctities," he said in a speech to officials in Tehran. "Muslims must stand united against this major plot.
11:28 AM
British Prime Minister Theresa May said, "the status of Jerusalem should be determined in a negotiated settlement between the Israelis and the Palestinians", adding that she intends to speak to US President Trump on the matter.

"Jerusalem should ultimately form a shared capital between the Israeli and Palestinian state," May said.
10:29 AM
Turkish President Recep Tayyip Erdogan has called a meeting of the pan-Islamic Organization for Islamic Cooperation (OIC) to be held on December 13 in response to Trump's imminent announcement on the status of Jerusalem.

Meanwhile, Jordan and the Palestinians have requested an emergency meeting of Arab League foreign ministers on December 9 to discuss the decision.

"In the face of developments that arouse sensitivity over the status of Jerusalem, Mr President is calling a leaders' summit of the Organization of Islamic Cooperation (OIC) in order to display joint action among Islamic countries," presidential spokesman Ibrahim Kalin told reporters in Ankara. Turkey currently holds the chairmanship of the OIC.
10:23 AM
There's a reason why all past US administrations have not made this move, and why leaders around the world have warned Trump against it: It would undermine the prospects for an Israeli-Palestinian peace agreement and severely, perhaps irreparably, damage our ability to broker it. https://t.co/dEF0bloRj2

— Bernie Sanders (@SenSanders) December 5, 2017
10:23 AM
In highly anticipated remarks at the Jerusalem Post Diplomatic Conference, Netanyahu refrained from commenting on Trump's imminent Jerusalem announcement. In his first speech since the plan was confirmed, Netanyahu instead focused on Israel's security and economic ties with countries globally.

US Ambassador David Friedman, who was slated to speak at the event, cancelled his appearance at the last minute.
10:23 AM
Palestinian national factions and Islamic factions (including Hamas and Islamic Jihad) have called on the Palestine Liberation Organization (PLO) to withdraw its recognition of Israel.
10:22 AM
Pope Francis defended the "status quo" in Jerusalem, hours ahead of Trump's expected announcement recognizing the disputed city as Israel's capital.

"I cannot silence my deep concern over the situation that has emerged in recent days. At the same time, I appeal strongly for all to respect the city's status quo, in accordance with the relevant UN resolutions," the pope said in his weekly address.

Palestinian Authority President Mahmoud Abbas made a frenzied appeal to Pope Francis on Tuesday as he sought to fend off Trump's imminent declaration.
10:04 AM
Speaking at the Jerusalem Post Diplomatic Conference, Israeli President Reuven Rivlin says his political mentor former Prime Minister Menahem Begin once told him that "sometimes the obvious should be said.

"The obvious is that Jerusalem is the actual capital of Israel," Rivlin says.
9:21 AM
Turkey says US recognition of Jerusalem risks igniting 'fire' in region. Yesterday, Turkish President Recep Tayyip Erdogan threatened to sever recently-renewed ties with Israel if Trump forges ahead with the move. The threat struck a particular nerve in Israel, and immediately ignited contemptuous responses from Israeli officials, who seemed unconcerned with losing Turkish support.
9:09 AM
The Syrian government condemned Trump's plan to recognize Jerusalem as the capital of Israel, saying the move flouts international law.

"This is a dangerous initiative by the US administration that clearly exemplifies the United States' contempt for international law," a foreign ministry official quoted by the official SANA news agency said.
8:23 AM
Turkey's Erdogan calls summit of pan-Islamic body on Dec 13 over Jerusalem, spokesman announces
7:03 AM
Speaking at the JPost Diplomatic Conference, Yair Lapid of the centrist Yesh Atid party calls on the entire world to recognize a united Jerusalem as the capital of the State of Israel and also its sovereignty over the disputed Golan Heights.

"The new reality in Syria is that Iran is going from boots on the ground to roots in the ground. This is why there is no scenario in which Israel can, or should ever, be expected to return the Golan Heights," Lapid said. "This is also the time for the entire world to recognize united Jerusalem as the capital of Israel. Policies should not be dictated by threats and intimidation. If violence is the only argument against moving the embassy to Jerusalem, then it only proves it is the right thing to do. Now is the time to do what is right."
6:58 AM
Israel's Hadashot TV (formerly Channel 2) reported Tuesday that Prime Minister Benjamin Netanyahu and his aides were "active partners" working in "total coordination" with the Trump administration during the lead-up to his anticipated announcement recognizing Jerusalem as Israel's capital.

The report said that Netanyahu and his team have been "encouraging, supporting, [and] reassuring" the Trump administration about the likely fallout from the decision, while the Palestinians were kept in the dark.

Channel 10, meanwhile, reported that Israel's US ambassador Ron Dermer played a key role in the plan. The report said that Netanyahu has specifically instructed Israeli officials "keep a low profile" and contain their reactions to the move so as not to inflame an already tense situation.
6:32 AM
China has warned that Trump's Jerusalem announcement could lead to an "escalation of tensions" in the region.

"We are concerned about the possible escalation of tensions," foreign ministry spokesman Geng Shuang told a regular news briefing.

"All relevant parties should bear regional peace and tranquility in mind, be cautious in words and deeds, avoid impacting the foundation for the settlement of the issue of Palestine, and avoid causing new confrontation in the region."
6:31 AM
The UN envoy for the Middle East peace process Nickolay Mladenov has said that the final status of Jerusalem must be decided through negotiations between Israel and the Palestinians, and warned of the repercussions of any action over the disputed city.

"The (UN) secretary general has spoken many times on this issue... and he has said that we all have to be very careful with the actions we take because of the repercussions of these actions," Mladenov said.

"The future of Jerusalem is something that needs to be negotiated with Israel, with the Palestinians, sitting side by side directly in negotiations."
6:30 AM
British Foreign Minister Boris Johnson says that his country is "concerned" about Trump's plan to recognize Israel's claim on Jerusalem.

"We view the reports that we have heard with concern, because we think that Jerusalem obviously should be part of the final settlement between the Israelis and the Palestinians, a negotiated settlement," Johnson said as he arrived for a NATO meeting in Brussels.
6:29 AM
A senior White House official says that Trump will make a landmark declaration recognizing Jerusalem as Israel's capital at 1:00 p.m. EST (1800 GMT) from the White House.
You need to be logged in in order to post comments. Sign up or log in
YES! Well done President Trump. This may be the BEST thing he has done in his presidency.