Israel bars Palestinians from attending B'Tselem photo exhibition in Tel Aviv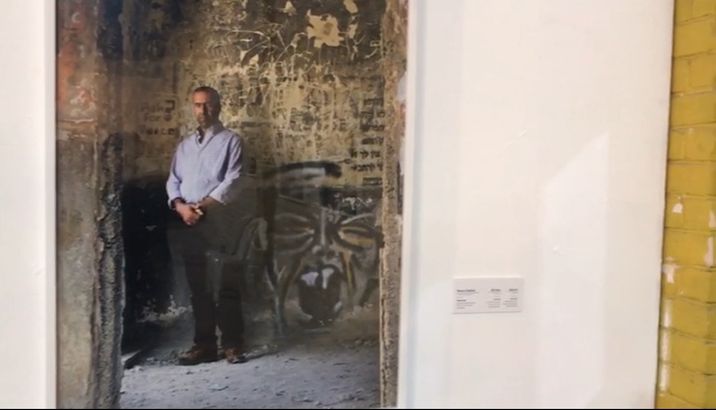 "50 Years" B'Tselem photography exhibition
i24NEWS
EU ambassador to Israel, Emanuele Giaufret, attended a reception for the exhibition, despite Israeli protests
Israel barred twenty-two Palestinians from attending a controversial photography exhibition in Tel Aviv that marks fifty years of Israeli occupation of the West Bank, an Israeli rights group said Thursday.
B'Tselem, which organized the event with the support of the EU, said some of those barred were photographers while others were the subjects of the portraits on display.
The exhibit titled "50 years" and held in the Jaffa Port, slightly south of Tel Aviv, unveiled the portraits of fifty Palestinians born in 1967, the historic year the West Bank was seized by Israel.
The portrait subjects come from a variety of backgrounds, explains the B'Tselem website. They come "from the Gaza Strip, the West Bank; from cities such as Ramallah, East Jerusalem, Hebron and Nablus; from rural areas, from refugee camps, and from small communities currently facing expulsion from their homes."
The EU's ambassador to Israel, Emanuele Giaufret, attended a reception for the exhibition, despite Israeli protests, B'Tselem said.
An EU official confirmed to AFP earlier this week that the bloc's Giafret was planning to visit the exhibition in connection with International Human Rights Day on Thursday.
On Monday, Israel bluntly criticized the European Union over Giaufret's plan to participate.
Israel's right-wing government accuses groups such as B'Tselem of unfairly tarnishing the country's image for political reasons, charges they firmly deny.
"For reasons unknown, the EU people believe that the way to Israelis' hearts is by spitting in their faces," Israeli foreign ministry spokesman Emmanuel Nahshon.
"We are again seeing the same patronizing approach of preaching hypocritical, condescending morality that just pushes away rather than bringing closer." He said of the exhibit. "It is sad and superfluous."
The tensions come ahead of a planned visit next week by Israeli Prime Minister Benjamin Netanyahu to Brussels for talks with EU foreign ministers.
In April, Netanyahu cancelled talks with German Foreign Minister Sigmar Gabriel after the visiting diplomat declined to call off meetings with rights groups -- including B'Tselem -- critical of his government.
Netanyahu's upcoming talks with EU foreign ministers on December 11 are considered "informal" and come amid continuing tensions over Israeli settlement building in the West Bank.
While the EU is Israel's largest trading partner, a number of European Union states have refused for several months to approve a formal meeting with Israel's government due to a lack of unanimity among members on how to condemn Israeli settlement building and to express frustration over stalled peace efforts.
Meanwhile, US President Donald Trump's recognition of Jerusalem on Wednesday sparked even more diplomatic backlash among the international community.