US Jewish groups urge Netanyahu to reverse asylum seeker deportation plan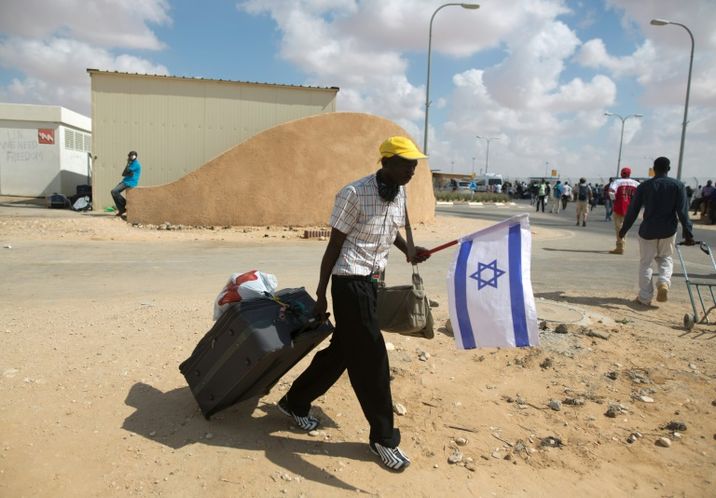 Un clandestin africain quitte le centre de rétention de Holot en Israël, le 25 août 2015
Menahem Kahana (AFP)
'As a people who were once refugees...we believe we have a special obligation toward refugees'
Leaders of more than two dozen North American Jewish organizations sent a joint letter to Israeli Prime Minister Netanyahu on Monday, urging him not to follow through with his plan to deport the thousands of African asylum seekers from the country.
"We are concerned that if you move forward with these plans, the lives of thousands of individuals will be put in jeopardy, and the name of the Jewish State and the Jewish People will be irreparably stained," the leaders pleaded, Haaretz reported.
The statement continued, "as a people who were once refugees, and were once strangers in a strange land, we believe we have a special obligation toward refugees, whatever their religion or race."
Last week Netanyahu instructed National Security Adviser Meir Ben Shabbat to examine the process of expelling tens of thousands of African migrants by force.
The plan, presented to the Cabinet on Wednesday, said that each migrant will have until the end of March to leave. They will be given a plane ticket and $3500 (2,900 Euros) which will decrease if they choose to remain in the country, with the added prospect of facing arrest.
"Either cooperate with us and leave voluntarily, respectably, humanely and legally, or we will have to make use of other means at our disposal, which are also in accordance with the law," Netanyahu said at a Likud Cabinet meeting.
Holot, an open facility in Israel's desert south that can host 1,200 migrants who are allowed to leave to work during the day, is also set to be closed.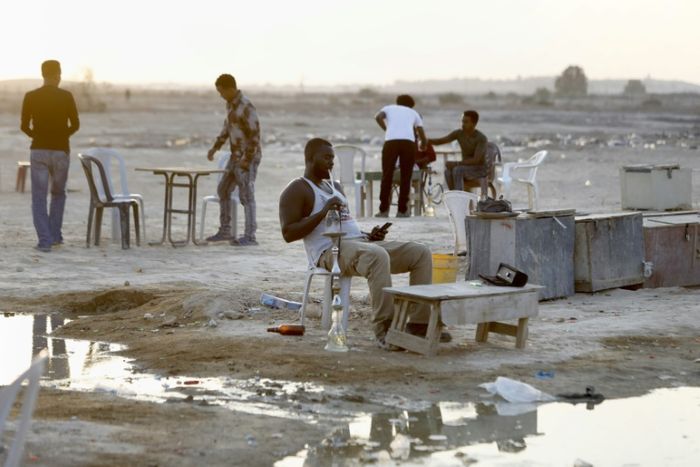 Organizations represented on the petition sent to the Government on Monday included the heads of J Street, the New Israel Fund, JSpaceCanada, HIAS, T'ruah, the National Council of Jewish Women, ARZA alongside a number of other groups advocating for asylum seekers as well as rabbis from across the board.
The letter noted that in other Western countries between 56 and 84 percent of Eritrean and Sudanese asylum seekers are granted refugee status whilst in Israel that is less than 1 percent Haaretz reported.
Netanyahu has vociferously defended the plan stating that "every country must maintain its borders, and protecting the borders from illegal infiltration is both a right and a basic duty of a sovereign state."
Israel however, tacitly recognizes that the Sudanese and Eritreans cannot be returned to their dangerous homelands, so it has apparently signed deals with Rwanda and Uganda. The countries however deny this agreement.
Leaders of the Jewish organizations also expressed their concerns regarding the suffering of asylum seekers who had previously been persuaded to leave Israel and either return home or seek refuge in countries such as Rwanda or Uganda. They wrote, according to Haaretz, "we know that many such individuals are not longer among the living."
They concluded by offering their help to the country if Netanyahu agreed to reverse his decision, asking him "to respect the rights of asylum seekers and refugees as enshrined in the International Refugee Convention and in Jewish law and values, and to allow those asylum seekers already residing in Israel to live in dignity until it is truly safe for them to return."
The United Nations refugee agency expressed its concerns about the plan when it was first announced in November.
You need to be logged in in order to post comments. Sign up or log in
Why don't American Jews focus on their own country. And if they want to deal with Israel then they should move to live there first. Shame on them. And don't start about contributing money. Which mainly aims to silence the guilt. Israel is not for sale.
When i was small my family was the sides of israel people when they hear war with every country around them.. syria, lebanon, egypt, jordan and so on .thats why i came to israel to save my life, israel people is not ignorant he need to know we are his side in the horn of africa, i am from south eritrea and north ethiopia (tigrai) agazian if they deport me they kill their left side..
These US Jews should take these refugees. Stop lecturing & spreading your ignorance.