US special envoy slams Hamas for using aid money to fund terror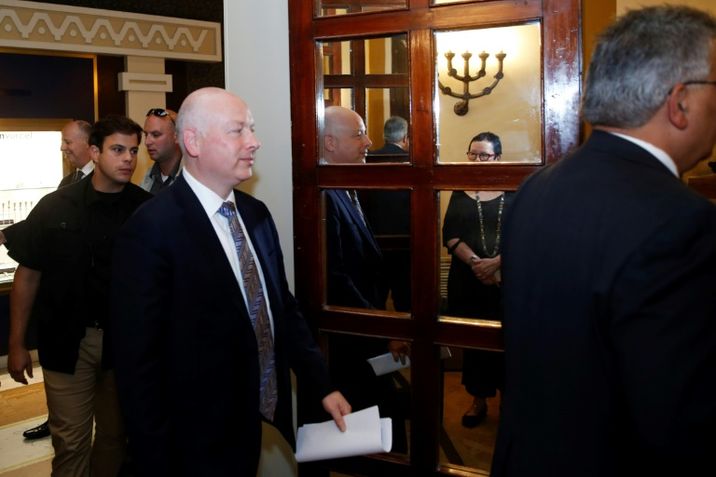 L'émissaire de Trump pour le Proche-Orient Jason Greenblatt, le 13 juillet 2017 à Jérusalem
RONEN ZVULUN (POOL/AFP/Archives)
Greenblatt also called for the release of the bodies of Israeli soldiers being held by Hamas in the Gaza Strip
US special envoy slammed the Gaza-based Hamas organization on Twitter on Sunday, asserting that the Islamist group uses aid money to fund terror infrastructure. 
"Hamas should be improving the lives of those it purports to govern, but instead chooses to increase violence and cause misery for the people of Gaza," the US envoy wrote on his Twitter on Sunday. "Imagine what the people of Gaza could do with the $100 million Iran gives Hamas annually that Hamas uses for weapons and tunnels to attack Israel!"
"Iran spends almost a billion dollars a year sponsoring terrorism in Lebanon, Israel and West Bank/Gaza. This blood money only increases violence and does nothing to help the Palestinian people," wrote the US envoy. "The corrupt regime in Tehran squanders the resources of the Iranian people on military adventures throughout the region instead of investing at home and promoting peace abroad."
Greenblatt called for the release of the bodies of Israeli soldiers being held by Hamas in the Gaza Strip.  
"Hamas must also permit the repatriation of Hadar Goldin's remains and the release of Oron Shaul, as well as the release of Israeli civilians - Avraham Abera Mengistu, Hisham al-Sayed and Juma Ibrahim Abu Ghanima," he wrote.
The comment comes amid backlash after the US announced last month it had frozen over half of its contribution to United Nations Relief and Works Agency (UNRWA), from $125 million dollars to a mere $60 million.
You need to be logged in in order to post comments. Sign up or log in
end all finding to the Pali filth. de-fund unrwa completely. there will be no right off return, ever! Pali dogs need to embrace reality or get out of ALL of Israel!!!!