UN's Mideast envoy says Israel responsible for 'catastrophic' situation in Gaza Strip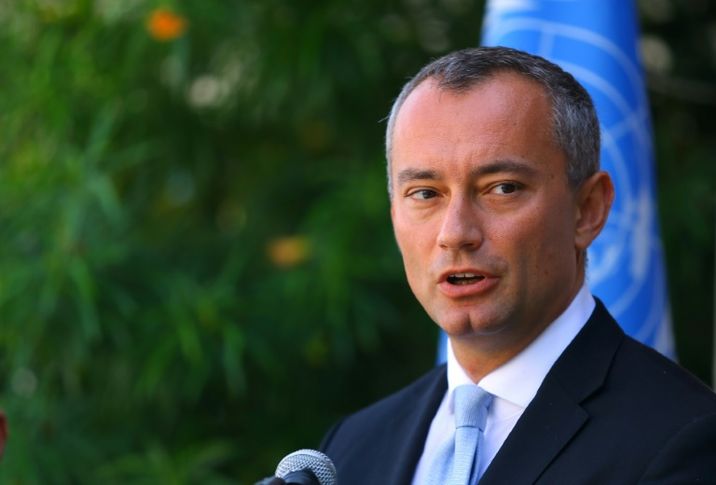 UN envoy Nikolay Mladenov speaking to reporters in Gaza City.
MOHAMMED ABED (AFP)
1.8 million Gazan residents have limited access to drinking water, electricity and medical care
The Mideast envoy Nikolay Mladeno in a private briefing to the United Nations said that responsibility for the ongoing disastrous humanitarian situation in the Gaza Strip is mainly Israel's responsibility, the Associated Press reported on Thursday.
The briefing, which came at the request of Kuwait and Bolivia, expressed concern over the deteriorating conditions in the coastal enclave which has left Gaza's 1.8 million residents with limited access to drinking water, electricity shortages and reduced access to medical treatment.
The Bolivian Ambassador Sacha Llorentty Soliz said that Mladenov told the council that Israel was primarily responsible for "the catastrophic situation," echoing the words from Palestinian Ambassador Riyad Mansour who expressed his concerns.
Danny Danon, Israel's ambassador to the UN objected to such claims and redirected the blame onto the Hamas militant group that currently presides over the region.
Hamas "has been holding the people of Gaza hostage in pursuit of its own nefarious goals, ignoring their most basic needs. Hundreds of millions of dollars in international aid that should go directly towards humanitarian purposes have been misappropriated towards terror," Danon said in a statement, AP reported.
In fighting between Gaza's Islamist rulers Hamas and the West Bank-based Palestinian Authority over electricity payments has the resident's access to basic provisions.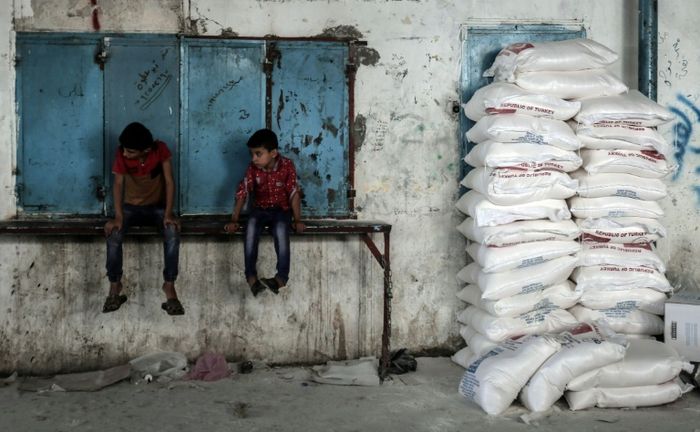 In an exclusive interview with i24NEWS last week, Yaakov Peri a former head of Israel's Shin Bet agency said that "it's a security interests to ease the situation in the Gaza Strip" adding that, if it's relieved, "the guilt will be on the shoulders of the State of Israel."
Israel has maintained a crippling blockade on the Gaza Strip for more than decade which is says is necessary to isolate Hamas with whom it has fought three wars since 2008.
In his briefing to the council, Mladenov cited Gaza's 47 percent unemployment rate which is steadily increasing to 60 percent for young people.
Mladenov emphasized that the United State's recent decision to suspend $65 millions worth of its funding to the UN Relief and Works Agency for Palestinian Refugees (UNRWA), has exacerbated the situation further.
The US is the single biggest donor to UNRWA which provides schools and health clinics to 5.3 million refugees in the Palestinian territories, Jordan, Lebanon and Syria. US Ambassador Nikki Haley has said aid will not be provided until the Palestinians agree "to come back to the negotiation table" and reach a peace deal with Israel.
Ambassador Mansour stated that PA President Mahmoud Abbas is set to make an address to the Security Council on February 20 regarding the situation of Palestinians region. Abbas will also call on council members "to end the occupation that started I 1967, to allow for the independence of the state of Palestine, and therefore to save the two-state solution," according to AP.
You need to be logged in in order to post comments. Sign up or log in
February 15, 2018 1:30 PM
Here we go again folks. The UN at its best Israel bashing. No! The repressibility is that if Abbas, the PA and Hamas, not Israel. While Abbas lives in luxury and embezzled billions, while Hamas spend their billions on weapons and tunnels, Palestinians are deprived of basis necessities and are instigated to violence against Israel. This UN narrative is age old and meaningless because the international community knows it. Stop supporting Hamas and the PA with money until they are held accountable for their role in the suffering if their people. Only then can you turn to Israel.
February 15, 2018 2:47 PM
The primary responsible are the leaders the Gaza residents elected to govern themselves. If they use their resources in tunnels and rockets, that's their problem. Live with it.
February 15, 2018 2:47 PM
Yes, blame the Jews again.
February 15, 2018 4:38 PM
UN blaming Israel for the catastrophic situation in Gaza is understandable. But for I24 to say that Israel is maintaining a "crippling blockade" is hard to accept. Especially, everyone knows that it is letting through hundreds of trucks a day & is giving humanitarian aid in form of hospitalization to thousands of Gazans. In regard to the infrastructure, it is not Israel's responsibility, but rather Hamas & the PA authorities. Again, the UN position is understandable, but I24 statements are not.
February 15, 2018 7:47 PM
funny how they forget that Egypt had gaza blockaded too! phucking UN POSs