Israel's Deputy Foreign Minister says asylum seekers engage in 'terror'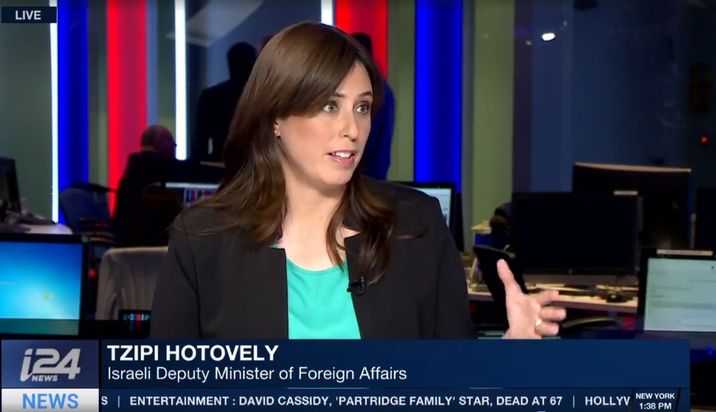 Israel's Deputy Foreign Minister Tzipi Hotovely on i24NEWS
Tzipi Hotovely is a far right politician with a history of shocking remarks
Israel's Deputy Foreign Minister Tzipi Hotovely said people in Tel Aviv live under "migrants' terror" speaking at a meeting on the expulsion of asylum seekers at the Israeli Knesset.
Hotovely went on specifying citizens in southern neighborhoods in Tel Aviv were under threat of violence and sexual harassment by African migrants, which she refers to as "infiltrators".
Using a common argument among right-wingers who support the deportation of around 40.000 asylum seekers, Hotovely went on to highlight how these migrants should not be called "refugees" but "migrant workers".
Under international law, refugees have a right to asylum whereas economic migrants can be subject to legitimate deportation.
"The government of Israel has decided to remove migrant workers just like many other democratic countries, including the US and Australia," Hotovely said.
The Deputy Foreign Minister also slammed any comparison between deportations of Jews during World War Two and the upcoming expulsions of Africans from Israel. "The comparison is outrageous," she denounced.
The tragic story of Anne Frank, who authored a diary before being deported and killed in concentration camps from the Netherlands, has also been used in a campaign against the deportation of African asylum seekers from Israel called "Anne Frank Home Sanctuary movement".
Launched by prominent Israeli Reform Rabbi Susan Silverman, the movement proposes to shelter African asylum seekers who are due for deportation in order to save them from unsafe prospects upon their return to Africa.
Critics have however noted that while the "Righteous" in World World Two risked their lives to save Jews, and indeed that is one of the conditions to be accepted as such by the Yad Vashem, Israelis today would not risk their lives if they were to keep migrants in hiding.
The government plan to deport around 40.000 asylum seekers from Israel has sparked outrage in Israeli civil society, including reactions from religious, intellectual and media figures.