The Jewish refugees who trained as Nazi soldiers to go behind enemy lines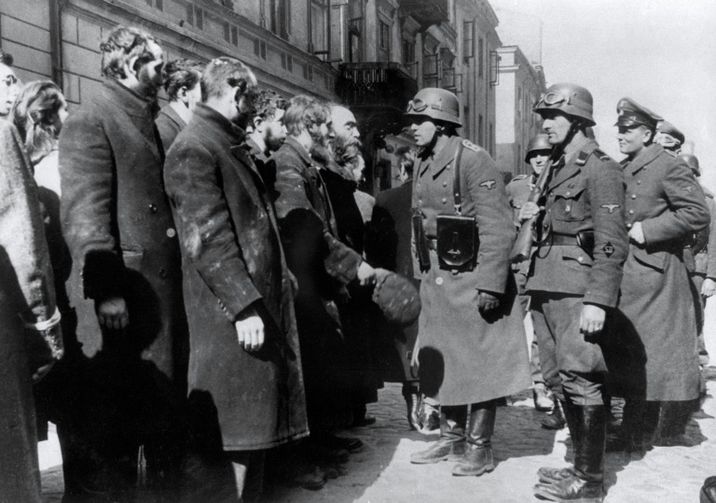 Nazi soldiers question Polish Jews after the Warsaw ghetto uprising in 1940
AFP/File
The little-known story of the Jews who trained as German soldiers to go behind enemy lines during WW2
One day in early June 1942 a group of Jews put on their Nazi army uniforms and went off to join in the fighting. Their story, which reads like Lawrence of Arabia meets Inglorious Basterds, is hardly known among the wider public.
These Jews, all refugees who escaped Nazi persecution, were part of Great Britain's Special Interrogation Group (SIG), an outfit so small, so secret, and ultimately so obscure that in some accounts they're called the Special Investigation Group or the Special Intelligence Group.
They existed as a special unit for a few months only, but in that time, gained a reputation for bravery and daring -- going from refugees to avengers.
The SIG was the brainchild of Captain Herbert Buck. A fluent German speaker, he had been captured in North Africa by the Afrika Korps in late 1941, had escaped, and, wearing bits of German army uniform, made his way across the desert back to Allied lines.
The experience convinced him that German-speakers, dressed and acting like German soldiers, could operate easily behind German lines.
But it's likely the idea first began percolating in what was an especially fertile mind months before, when, stationed in Palestine, he had stopped to pick up two teenage hitch-hikers. He began chatting with them, and one, Leah Schlossberg, the daughter of German Jews, invited him to meet her family when he was in Tel Aviv. Buck became friendly with the Schlossbergs, often visiting them and experiencing a taste of Germany in Tel Aviv.
He presented his proposal to the Middle Eastern heads of the Special Operations Executive, that unit which was waging what Winston Churchill called "ungentlemanly warfare." The plan, as ungentlemanly as it gets, was approved.
"It is intended that this sub-unity should be used for infiltration behind the German lines … they will frequently be dressed in German uniform," minuted one of the SOE heads.
Even today, no one can agree on how many volunteers Buck found. Some sources put the number at 38, others at a much lower figure.
The majority of those who found themselves at the isolated SIG training base in Egypt in mid-March 1942 were Jews who had fled Hitler, immigrated to Palestine, and joined the British Army when war broke out. One, Karl Kahane, much older than the others, had even served in the Austro-Hungarian army in World War One.
All knew when they joined the group – and Buck made it very clear – that if captured, they could expect to be executed, but probably only after a long session with Gestapo torturers.
To train the group to act like, think like, and be German soldiers, Buck recruited two Afrika Korps prisoners of war, Heinrich Buckner and Walter Essner. Both professed to be anti-Nazi.
Not all the SIG men were comfortable with being trained by them, but Buck, who one volunteer later described as brilliant but naïve, shrugged off their complaints.
All training, from the time they were woken up in the morning by harsh German commands, to the time they went to sleep, was carried out in German. They wore German army uniforms, were taught German army terms, German army slang, German army songs.
Each was given a fake identity, complete with photographs of wives and sweethearts, and false documents backing up their cover stories.
Only a few select British officers knew about the unit. Some of them referred to it as "Bertie Buck's suicide squad."
Little is precisely known of what they did in the initial days. A few accounts say they were used on intelligence-gathering missions, such as slipping behind the German lines and posing as military police, able to question virtually any soldier or officer with impunity (and, one supposes, with the requisite arrogance.)
The first real operation came in June 1942.
The plan was an attack on two Axis airfields in Libya, Matrub and Derna. Buck and nine SIG troops would disguise themselves as German soldiers escorting 33 Free French soldiers, supposedly prisoners of war.
They drove through several German roadblocks – warned at one of them to be careful, since there were British commandos in the area. They even spent some time at a German army camp, where SIG volunteer Ariyeh Shai, craving German food, nervelessly queued up with other (real) soldiers at a field kitchen.
The group attacking Matrub destroyed at least 20 German aircraft and got away safely. The attack on Derna was a disaster.
Ex-German POW Bruckner, suddenly stooped the truck he was driving, saying it had mechanical problems. He said he would go to a nearby German outpost to get help. He returned – with a posse of German soldiers, who surrounded the truck and demanded the occupants come out. The two SIG men in the team, Peter Haas and Eliyahu Gottlieb, knowing only too well what their fate would be, came out fighting. Only Lieutenant Augustine Jourdain managed to make it, breathlessly and wounded, back to the rendezvous with Buck's team five miles away.
Essner, who took part in the raid on Matrub, must have known that following Bruckner's treachery, he too would be suspect. His fate is unclear. He was later reported as having been shot while trying to escape. Only the first part of that claim is beyond any doubt.
At the same time as the Derna and Matrub missions, Karl Kahane, dressed as a German soldier, went off with David Stirling, the founder of the Special Air Service, and his deputy, Blair Mayne (a wild, wild man and former Northern Ireland rugby international, whose off-field exploits during the 1938 British Lions tour of South Africa are legendary.)
It was not a major raid, but Kahane rose to the occasion when he unleashed a convincingly angry – and expletive-laden - German-language rebuke to a sentry rash enough to challenge them.
SIG's second major action came a few months later, in September 1942. It was to take part in a massive raid on German-held Tobruk, with the main aim of destroying its harbor facilities. Once again the SIG men would be dressed as German soldiers, escorting "prisoners of war."
The raid, 'Operation Agreement" called for navy ships to batter Tobruk from the sea, and commandoes to land from the sea and join up with the ground forces, including the SIG team.
It was an ambitious raid. It went horribly, wrong.
The SIG team – Buck, Russell and five men – successfully carried out their initial mission but nothing else went according to plan. The navy ships were unable to carry out a proper bombardment, the landings from the sea were fouled up, and the port was better defended than had been thought. By the time the battered survivors pulled out and tried to get to safety, around 750 men were killed, missing or wounded.
Buck and one other SIG man were taken prisoner and spent three miserable years in a series of prison camps.
The rest joined up with groups trying to walk the 300-miles across the desert back to Allied lines. They eventually made it.
It was the end of SIG as an independent unit. Its members were parceled out to other formations, and most survived the war. Some did not. Russell, Buck's second in command, was killed about a year later, most probably by thieves, while on an undercover mission to the Balkans. Buck was liberated from prison camp when the war in Europe ended, but died in a plane crash while on his way to another posting (only a few weeks after his wedding.)
Almost all the SIG Jews fought in Israel's War of Independence. Some stayed in the Israeli army. Karl Kahane became one of the founders of the IDF's paratroop brigade. Yisrael Carmi retired with the rank of Colonel.
And Leah Schlossberg, the teenager whose conversation with Buck planted the seeds of the Special Interrogation Group? She married a young fighter from the pre-Israel Palmach underground. His name was Yitzhak Rabin.
Jeff Abramowitz is a Senior Producer at i24NEWS.