Preparing for US missiles, Russia evacuates naval base in Syria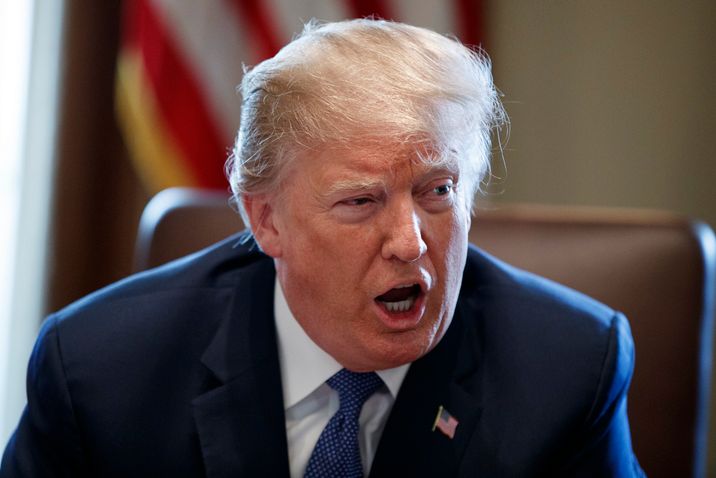 President Donald Trump speaks during a cabinet meeting at the White House, Monday, April 9, 2018, in Washington.
AP Photo/Evan Vucci
'Smart missiles should fly toward terrorists, not legal governments' Russian FM said in response
In satellite images published on Wednesday by ImageSat International, the Russians appear to be evacuating their forces from their naval base in Tartus, Syria, while reports from The Syrian Observatory for Human Rights indicate that pro-Syrian government forces are also evacuating military bases and airports. 
The evacuations come after US President Donald Trump warned Russia on Wednesday to prepare itself for a US attack on its bases in Syria.
In a provocative tweet, Trump wrote: "Russia vows to shoot down any and all missiles fired at Syria. Get ready Russia, because they will be coming, nice and new and "smart!" You shouldn't be partners with a Gas Killing Animal who kills his people and enjoys it!"
In a another tweet on Wednesday, Trump said "our relationship with Russia is worse now than it has ever been, and that includes the Cold War. There is no reason for this. Russia needs us to help with their economy, something that would be very easy to do, and we need all nations to work together. Stop the arms race?"
US Secretary of Defense, John Mattis, backed up the the warning from Trump, saying that Pentagon is 'ready' to provide military options for Syria, and that the US is "still assessing" suspected Syria chemical attack. 
The rhetorical spat has been ongoing since a strike on Syrian airbases were launched on Monday, which the US, Russia, Iran and Syria attribute to Israel. 
"Smart rockets should be aimed at terrorists, rather than the legitimate government, which has for several years been fighting international terrorism on its territory," foreign ministry spokeswoman Maria Zakharova said in a Facebook post responding to the US threat.
Although Russia and the US exchanged verbal warnings several times on Wednesday, a statement from Kremlin said that "Russia won't take part in 'Twitter diplomacy'"
Putin said that he hopes 'common sense will prevail' in international relations. 
Moscow suggested that any US strikes could destroy alleged evidence from the chemical attack in Douma, the last rebel-held enclave in Syria, on Saturday.
On Saturday more than 40 people died in Damascus suburb in an attack, which left victims wheezing, with discolored skin and foaming at the mouth.
The Kremlin, only a few hours earlier, urged restraint in Syria saying that countries should avoid taking action that could further destabilize the war-torn country, as the US mulled action.
"As before we would hope that all sides will avoid steps that in reality are not provoked by anything and that could destabilize the already fragile situation in the region," Kremlin spokesman Dmitry Peskov told journalists.
In recent days, the threat of a US strike is seeming increasingly likely.
President Donald Trump has made it clear he plans to make Assad, and his Russian and Iranian backers, "pay a big price" for the latest toxic gas atrocity of Syria's civil war. He has threatened to respond "forcefully."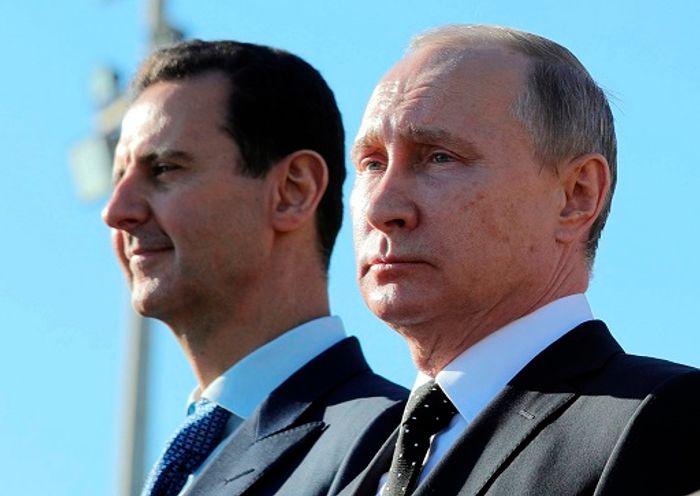 But the UN Security Council failure to agree a global response to the incident, after Washington and Moscow opposed each other's rival motions to set up an international investigation into the use of chemical weapon in Syria, has stalled the possibility of a strike.
However, Washington's UN ambassador Nikki Haley said that the failure to secure a Security Council vote would not hold America and its allies back. The White House has reiterated it has "a lot of options militarily" and will decide in the coming days.
Syria's government has repeatedly denied accusations of using banned weapons such as chlorine or sarin throughout the country's seven-year war. Russia has said that allegations of chemical weapons were not based upon real facts and urged an impartial investigation into the incident.
Douma has been heavily bombed by Syria and Russia making it extremely difficult for media to independently verify the claims.
Amid the back and forth fiery rhetoric, European airspace authorities have warned aircraft carriers to be cautious when flying close to Syria over the next few days due to the prospect of military reprisals against Assad's army.
In a notice posted to Eurocontrol's website, the European Aviation Safety Agency (EASA) said: "Due to the possible launch of airstrikes into Syria with air-to-ground and/or cruise missiles within the next 72 hours, and the possibility of intermittent disruption of radio navigation equipment, due consideration needs to be taken."