Rivlin, Netanyahu slam Iran at reception for diplomats in Jerusalem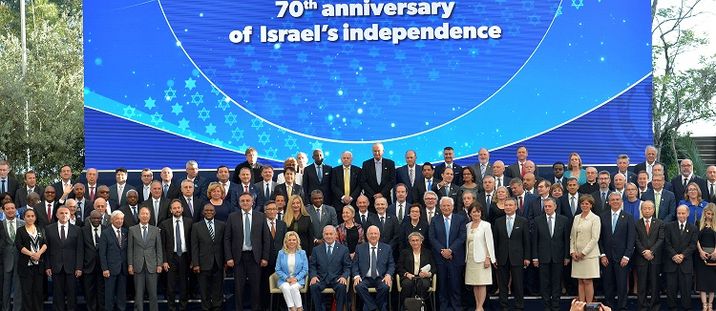 Israel's President Rivlin, Prime Minister Netanyahu and the diplomatic corps.
Kobi Gideon (GPO)
The diplomats who attended were also encouraged to follow Trump's lead and move their embassies to Jerusalem
In honor of Israel's 70th Independence Day, President Reuven Rivlin and Prime Minister Benjamin Netanyahu welcomed ambassadors, diplomats and military attaches from around the world at Rivlin's residence in Jerusalem.
Speaking about Israel's accomplishments in a variety of fields, Rivlin said that although the Jewish state will not close the door on peace, it will act to defend itself when deemed necessary.
"I know that all of your peoples, along with us, hope that we won't have to wait another 70 years for peace in this region. We will not stop trying. Yes, we will do everything to defend ourselves. We may have to build fences to stop terrorists, or to act in different ways to assure the safety of our people, but we will never close the door on peace."
The President addressed the ambassadors, saying he knows that achieving peace in the Middle East is a priority for the international community.
"I know you all see this as a priority. So do we. And while there are no shortcuts in the Middle East, we can work together to show the Palestinians that we can live together side by side in peace."
The recent clashes between Israel and Iran was also addressed by Rivlin, who stated that Iran continues to be a threat to the stability of the region.
"Of course there are others who do not want peace. The Iranian regime - not the Iranian people - continues to support terror and hatred and to endanger world's security. This is a challenge for the whole world, and the whole world must face it together. We all must do everything we can to stop these evil regime."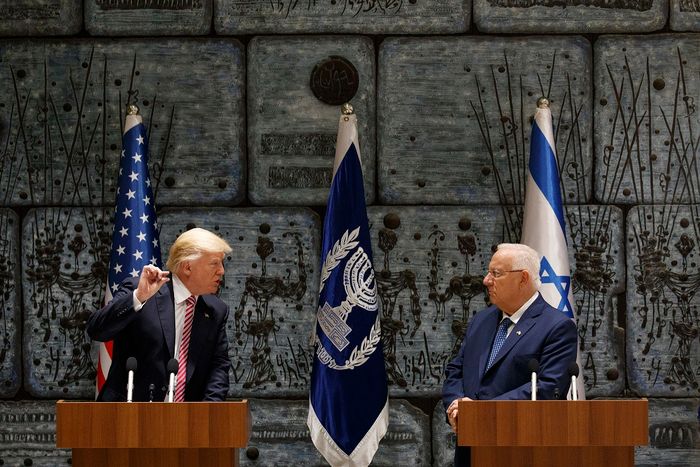 Finalizing his speech, the president asked the diplomats what the international community will answer the next generation when asked why Bashar al-Assad was not stopped in Syria.
"The heart breaks when we look at the pictures in Syria. We took care of thousands injured that have arrived at our gates, but the atrocities by Assad's regime and by Assad himself are of the worst in the history of the world and of this ancient region. The next generation will ask us all, what did we do to stop the tragedy in Syria? What did we do to stop these crimes; crimes against humanity, crimes against innocent children, women, civilians."
Iran, a top priority
Prime Minister Netanyahu addressed the threat of Iran right away in his speech at the reception for foreign diplomats.
"There are two things that you can do to help Israel celebrate this great Independence Day. The first thing is – speak out against Iran. Iran is the enemy of us all – of Israel and the Arab world. It openly speaks about liquidating Israel in the 21st century."
Netanyahu repeated his decade old warning about Iran's aggressive behavior in the region which he also holds responsible for firing rockets into Saudi Arabia.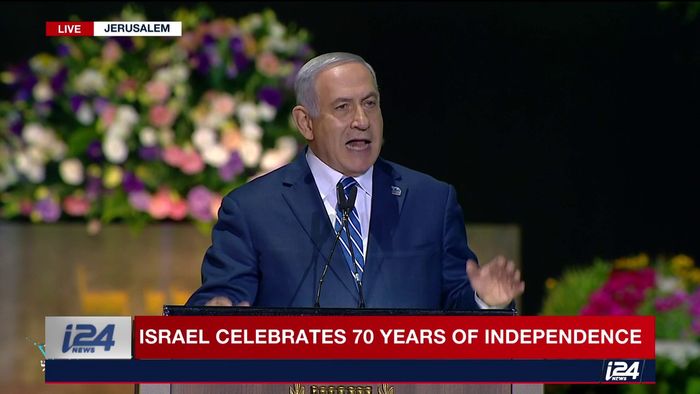 "It encircles the whole Middle East which it wants to conquer, it fires rockets into Riyadh and Saudi Arabia, it is occupying Lebanon effectively, it's trying to inflame Gaza again. It is in Iraq, and it is trying to establish a military base in Syria, which all peace loving nations should resist. If history has taught us anything, it is that a murderous tyranny must be opposed in the beginning."
The diplomats who attended were also encouraged to follow US President Donald Trump's lead in moving their embassies to Jerusalem.
"The second thing you can do to advance peace is to move your embassy here. We are delighted with President Trump's decision to move the embassy here. It says a simple thing: Peace must be based on truth.
Linking the embassy to truth which ultimately leads to peace, the prime minister said that "recognizing reality is the way you build peace. You cannot build peace on a foundation of lies because it crashes on the rocks of reality. It's important to establish those principles that will ultimately guide peace: that Israel has a capital, that the Jewish people have had a capital for 3,000 years and that it's called Jerusalem. It's time to recognize that fact."