Israel arrests Hamas members in West Bank, suspected of smuggling Euros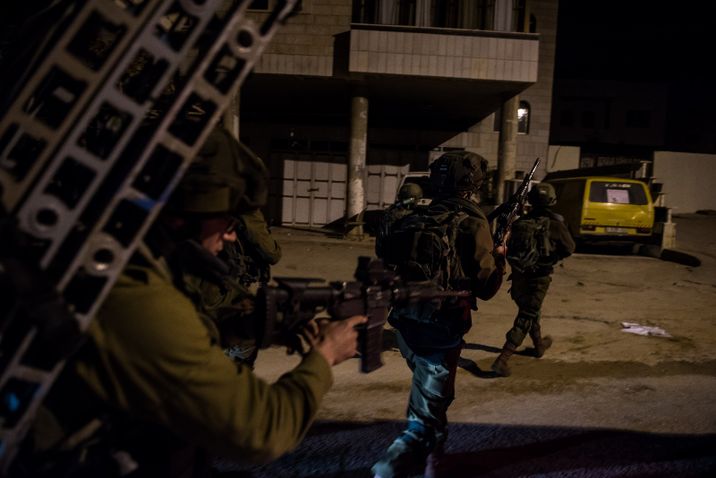 IDF soldiers carry out searches in the Nablus area
Israeli Defense Forces
The money said to be designated for Hamas infrastructure was hidden in various locations in the West Bank
In a special joint operation with Israel Police and Israel Defense Forces (IDF), Israel Security Agency (ISA) arrested several Hamas members suspected of smuggling around 150,000 Euros into the West Bank for Hamas activities, the government press office cleared for publication on Thursday.
The money said to be designated for Hamas infrastructure was hidden in various locations in the West Bank, the report stated.
Back in March, Undercover Border Police officers arrested for questioning a 24-year old Hamas member named Omar Kiswani on the campus of Bir Zeit University in the West Bank. 
The arrest was filmed and went viral on social media, showing Kiswani being pummeled and brought to submission on the ground by a number of officers.
Kiswani served as the student council chairman representing a Hamas-affiliated student group and was found to be in contact with various Hamas members in order to funnel money into Hamas activity at Bir Zeit University.
The contacts Kiswani shared included a Turkish Hamas member as well as Yassin Rabia, who was released by Israel in the 2011 Shalit deal that saw some one thousand Palestinian prisoners in exchange for the return of Israeli soldier Gilad Shalit, who was captured by Hamas militants in 2006.
"Rabia subsequently transferred to him approximately 150,000 Euros which were concealed in several locations throughout Judea and Samaria. Kiswani collected the money along with his friend and fellow Hamas student association member Yahya Alawi, 20. The two used the funds to promote Hamas activities," the statement from ISA read.
ISA added that "The foregoing is yet another example of efforts by Hamas commanders in Turkey and the Gaza Strip to advance Hamas activities in Judea and Samaria by bringing in money and hiding it in various locales in order to fund its local infrastructures," and that "The investigation points to the deep involvement of Hamas members in Turkey and the Gaza Strip in efforts to advance Hamas activities in Judea and Samaria."
ISA said that the arrest of Kiswani proves that Hamas is operating in higher learning institutes such as Bir Zeit University.
"Exposing the efforts of Kiswani and Alawi further underscores the high importance Hamas command ascribes to student activities in its affiliated groups in order to recruit and train members in Judea and Samaria."
Back in March when Kiswani was arrested at outside on campus, Bit Zeit University issued a statement condemning the operation by ISA and calling it a violation of international law.
"This is not the first violent intrusion by Israeli army forces, who systematically invade the university's campus – even though it is specifically protected under international humanitarian law – and constantly harass students, faculty members, and staff at Birzeit University and other Palestinian educational institutions," it said.
ISA, however, says that Hamas' operations at institutes such as Bir Zeit is a danger to Israel.
"The case also underscores the great danger involved in such activity and its status as a significant additional arm of Hamas, the goal of which is to harm the State of Israel, despite its taking place at an institution of higher learning."
"In 2017 a Gaza Strip-based Hamas cell was uncovered which had recruited Bir Zeit University students to perpetrate suicide attacks. Additional Hamas student group members have recently been discovered as having sought to commit shooting attacks in the Ramallah area," the statement added.