EXCLUSIVE: Cypriot President says Iranian threat to Israel also threat to Cyprus
Cypriot president says is nonetheless bound by EU position on Iran nuclear deal, US embassy move to Jerusalem
Ahead of a meeting with Israeli Prime Minister Benjamin Netanyahu, Cypriot President Nicos Anastasiades said that any threat from Iran to Israel was also a threat to his country, referring specifically to ballistic missile threats and the potential dangers of a nuclear arms race unfolding in the wider Middle East.
"We have urged Iran to pursue good relations with all of their neighbors and to respect the principle of non-interference," Anastasiades said in an interview with i24NEWS ahead of a trilateral summit with Netanyahu and Greek Prime Minister Alexis Tsipras on Wednesday.
"Given the geographic proximity of our two countries, we are also very concerned of the ballistic missile activity of any state, as well as the dangers of sparking a nuclear arms race in the greater Middle East," Anastasiades said.
"It goes without saying that any threat against Israel, is also a threat against Cyprus due to this geographical proximity," he stressed.
Nevertheless the Cypriot president said he was bound by the European position on the Iranian nuclear agreement as well as on the embassy move to Jerusalem.
Concerning the Israeli-Palestinian conflict, Anastasiades said he was "anticipat[ing] the presentation of the American plan and stand by the ongoing comprehensive effort, led by the US, which will safeguard Israel's existence and ensure stability and security for all parties concerned."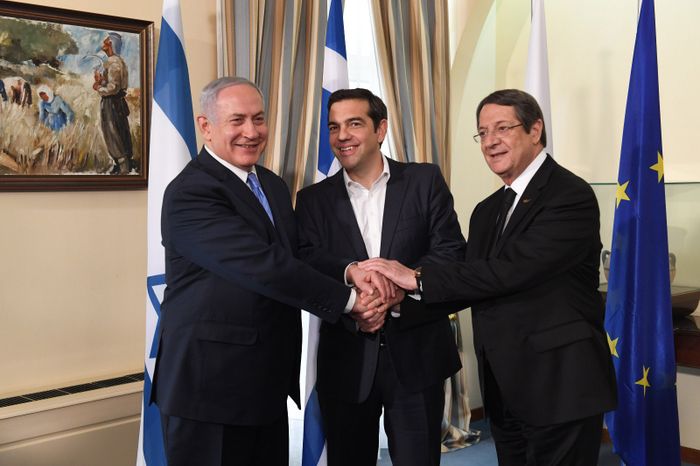 Dealing with its own longstanding internal conflict vis-a-vis Turkey, the Cypriot president expressed hope that they could reach an enduring settlement agreement, which would strengthen the strategically located island lying just 100 kilometers from the Syrian coast.
"A united Cyprus under a federal roof could serve an exemplary model of a prosperous and peaceful democracy in our turbulent Eastern Mediterranean neighborhood," Anastasiades told i24NEWS.
The northern part of Cyprus is de facto under Turkish control, with the country divided between the north, where mostly Turkish Cypriots live, and the rest of the island, where Greek Cypriots form the majority. A buffer zone exists between the two sections.
Asked how he envisages his partnership with Israel going forward, he responded sharply, "That is an easy question that has an easy answer. Not even the sky is the limit!"
The Cypriot referred to "common democratic values and shared geo-strategic vision" with Israel in addition to economic, environmental cooperation, and even "coordination between our diasporas."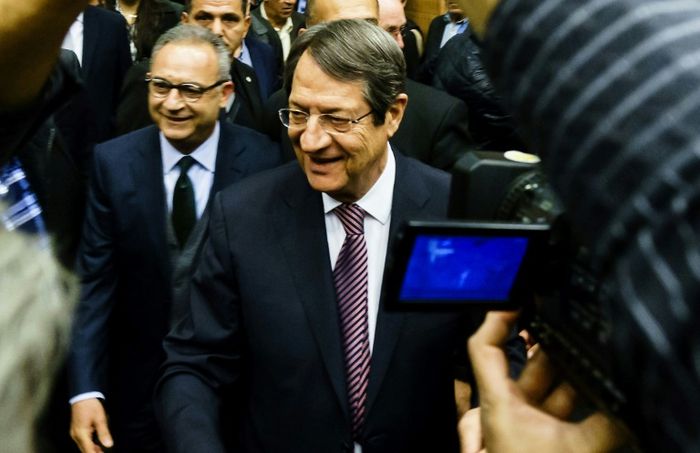 "And I should note that the upcoming Trilateral coincides with the grand occasion of Israel's 70th Independence anniversary during which we acknowledge the remarkable achievements and ingenious spirit of the people of Israel," Anastasiades said.
The trilateral summit between Anastasiades, Netanyahu, and Tsipras is the fourth such summit of the three leaders in the last few years, demonstrating a warming of relations among the nations as Israel is reportedly expected to go ahead with a decision to lay a pipeline from its discovered natural gas reserves through Cyprus into the Greek mainland and Italy.
If carried out as planned, the long-discussed $6.2 billion pipeline would take gas from Israel and Cyprus's recently discovered offshore gas reserves to Europe and could help reduce the continent's dependence on Russian energy at a time of ongoing tensions.
"I firmly believe that, exactly because our partnership is so reliable, it can generate a strong strategic gravitas with a competitive advantage that has a much wider geopolitical impact," Anastasiades predicted.
"At an age in which our region's stability is under threat from the forces of terrorism, extremism, and radicalism, Cyprus and Israel, stand, and will continue to stand, together, as pillars of stability and exemplary cooperation, which can expand and include other partners that share this strategic choice, to the wider benefit of our region," he concluded.
Interview by i24NEWS senior diplomatic correspondent Ellie Hochenberg.
Text and editing by i24NEWS web editor Jonathan Gratch.