Bulgarian PM affirms ties in Jerusalem, but will not move embassy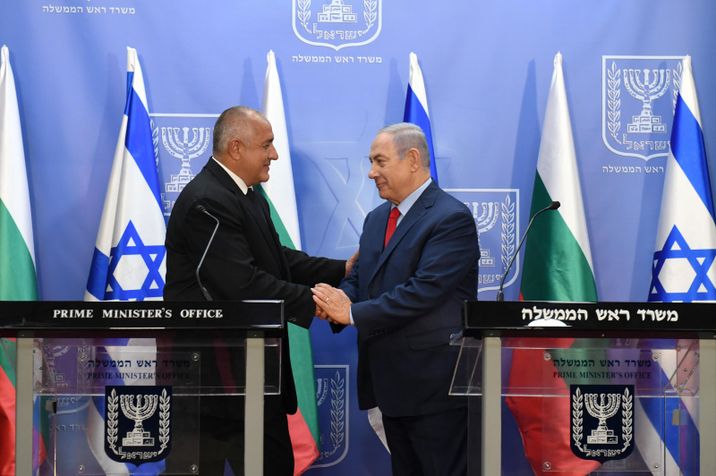 Prime Minister Benjamin Netanyahu meets with Bulgarian Prime Minister Boyko Borissov in Jerusalem on June 13, 2018
Haim Zach (GPO)
Borrisov says Israel has helped Europe reduce the dangers from radicalism in the Middle East
Israeli Prime Minister Benjamin Netanyahu with his Bulgarian counterpart Boyko Borissov in Jerusalem, both relishing in their states' relations despite the latter's unwillingness to accept the city as Israel's undisputed capital.
"The status of Jerusalem as the sacred site of the three monotheistic religions should be agreed in the course of Israeli-Palestinian peace negotiations that will lead to an accord on final status of the Palestinian territories," Borrisov stated at the American Jewish Committee (AJC), holding its first annual 4-day Global Conference outside of the United States.
Bulgaria, like most states, voted in favor of the UN resolution that condemned US President Donald Trump's recognition of Jerusalem as Israel's capital, with Guatemala and Paraguay the only countries to follow the US embassy move from Tel Aviv, coinciding with Israel's 70th anniversary as a state.
Borrisov did nonetheless express understanding for the Jewish state's wish.
"We are convinced that the Jewish people's relation to Jerusalem is indisputable and are not indifferent to the wish of the Jewish population of Israel and of world Jewry and to the right of Israel, being a sovereign state, to decide which city will be its capital and to insist that it be internationally recognized," he said.
Netanyahu expressed gratitude towards Bulgaria's support of Israel otherwise in the international arena.
"I want to thank you for your consistent defense of Israel in international forums, including in the EU. It's time that all of Europe's leaders understood that Israel is the one that defends the interests, our common interests in the Middle East, both in terms of security and in many, many other ways," the Israeli leader told Borrisov during their meeting.
The Bulgarian prime minister, whose country currently holds the 6-month rotating position as presidency of the Council of the European Union, echoed Netanyahu's statement.
"Had it not been for Israel, Europe and European civilization would have been in bigger jeopardy in the face of rising radicalism and religious fundamentalism in the Middle East," Borrisov told the AJC.
Netanyahu reinforced the "friendship [that] goes back many, many years. We will never forget how the people of Bulgaria laid on the train tracks and prevented the deportation of Jews in Sofia," he said in reference to the Holocaust.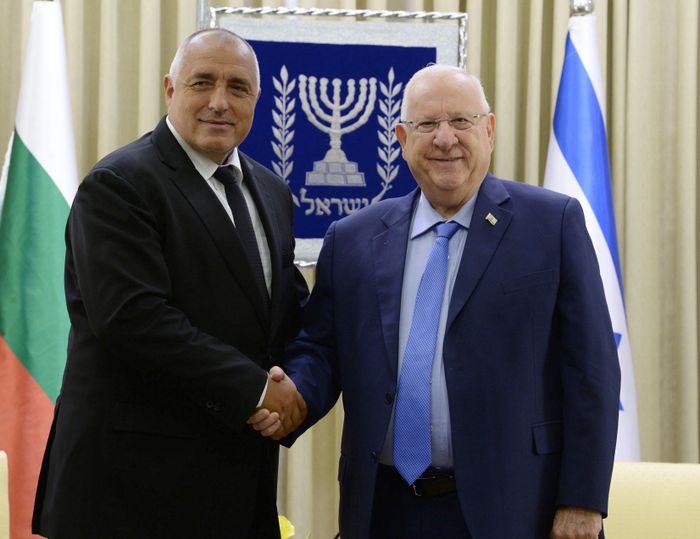 He also pointed to a shared fight against 'radical Islam and terrorism,'alluding specifically to the 2012 terror attack in Burgas which killed five Israelis and one Bulgarian.
"We appreciate your efforts against antisemitism, and our common battle against radical Islam and the terrorism it espouses that claimed a tragic cost of lives, Israelis and Bulgarians, on the soil of Bulgaria."
President Rivlin greeted the Bulgarian premiere with a candle-lit cake for his birthday and reminisced about visiting Bulgaria two years ago.
You need to be logged in in order to post comments. Sign up or log in
They are not serious if they are not let them move their embassy to Jerusalem