Netanyahu says use of drone-tech by terror groups a 'true nightmare'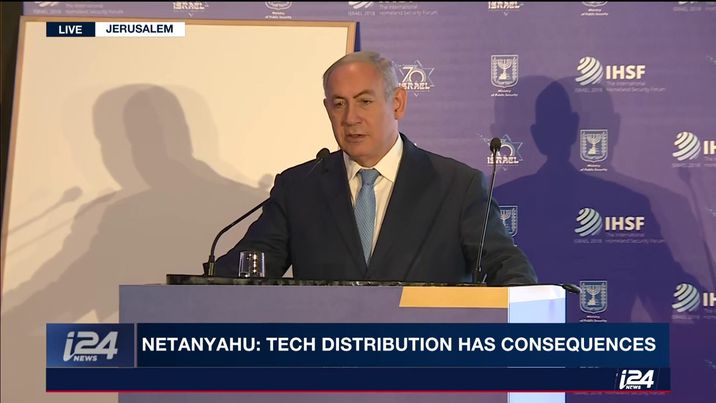 Israeli PM Benjamin Netanyahu speaking at the International Homeland Security Conference, Jerusalem, 14. June, 2018
i24NEWS
'By fighting Iran, Israel is serving the cause of security and peace beyond the Middle East'
Israeli Prime Minister Benjamin Netanyahu said on Thursday that the use of drone technology by terrorist groups is a "true nightmare" and served as the biggest challenge to security forces around the world.
"This is the ultimate distribution of technology down to the level of individuals. You don't need vast state apparatus, you don't need the foreign intelligence services of superpowers, you don't need anything," the prime minister said at the International Homeland Security Conference in Jerusalem, addressing security officials from nearly 20 nations.
"You need this $50 contraption and 50 kilos of TNT attached to it and you can sit in Chevy Chase and get to the White House lawn," he continued, referring to a suburb just north of Washington DC.
"This distribution of technology has immense consequences that not obviously understood," he said "I cannot tell you that we have solved this," but added that Israel was working to "harness technology against the technology."
On Wednesday, Germany's Parliamentary Budget Committee authorized a one billion Euro ($1.8 billion) deal to lease Israeli-built Heron-TP surveillance drones from Israel.
Netanyahu praised the move as a "huge contribution to the Israeli security industry and Israel's economy." Chief of staff of the German air force Lt. Gen. Ingo Gerhartz said the deal would allow significantly better protection of the Germany military, according to Reuters.
Referring to the "enormous variety of challenges we have", alongside drones Netanyahu pointed to the new phenomenon of social networks which he said provided a "vehicle of human communication" that was used to inspire hate, violence and fuel radical Islam.
Turning to the issue of cyber security that he called "something you are all dealing with", the prime minister addressed the third global security threat.
"Israel now accounts for 20% of the global private investment in cyber security," Netanyahu said touting his countries technological advancements in the field. This, he explained was 200 times Israel's weight in the global population and placed it second only to the United States.
"Cyber is such a new way of attacking countries and is potentially very powerful," he said, describing it as more complicated tactic due to the fact that "you may not be able to spot the potential attacker."
However, the prime minister said the "biggest challenge in cyber security" was its ability to threaten civil aviation and the ease at which you "can bring down planes with cyber interference."
Earlier this year, Israel's elite military unit revealed that it helped Australia thwart an Islamic State (ISIS) plane terror attack intended for July 2017 that targeted an Etihad flight en route from Sydney to Abu Dhabi.
Praising Israel's "extraordinary" intelligence service for uncovering the incident, he said this was only one of "dozens and dozens" of terrorist attacks in "dozens of countries" that have been foiled by the organizations.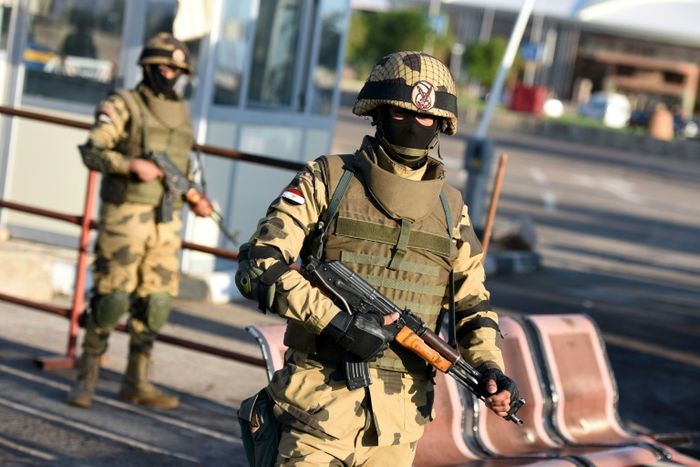 In February, Economy Minister Eli Cohen said Israel had warned 30 countries worldwide about separate terror plots over the course of 2017.
The prime minister then exhibited a map of the world to the audience of security officials where two major threats - ISIS and Iran - were color coded red [extreme Sunnis] and black [extreme Shiites]. These, he said displayed the "actual problems."
As ISIS attempts to establish a base in Egypt's Sinai Peninsula, Netanyahu explained that "Israel by its very proximity" is working to prevent this from happening. He warned security officials, that if ISIS was successful in seizing more territory it would fuel the European refugee crisis further. 
No security speech by Netanyahu would be complete without a word on Israel's arch-foe Iran. "Iran is trying to colonize Syria militarily with the goal of attacking Israel," he said, as speculation mounted in recent week's regarding the Islamic regimes pullout from Syria.
"By fighting Iran, Israel is serving the cause of security and peace beyond the Middle East and we ask for the support of your government," Netanyahu said appealing to the audience and warning of a re-inflammation of a theological war between Sunnis and Shiites in the region that could would have worldwide ramifications.
"Israel is you partner for security, prosperity and peace," the prime minister concluded, reaffirming his desire for cooperation on all aspects security.
You need to be logged in in order to post comments. Sign up or log in
The West behaviour has facilitated the spread of terrorism. Antisemitism has added insult to injury.