Russian embassy holds first official party in Jerusalem
Un drapeau russe flotte au-dessus d ela mission russe de Jérusalem
Domaine public
Netanyahu was to attend the reception at the Russian-owned Saint Sergius Mission, in western Jerusalem
The Russian embassy in Israel hosted Thursday a reception for its national day in Jerusalem for the first time, rather than Tel Aviv, highlighted by Prime Minister Benjamin Netanyahu in his remarks at Sergei's Courtyard. 
"We are pleased to be here for two reasons. First of all it is Russia's holiday and it is a holiday that is being dedicated and marked here in Jerusalem. I anticipate that that there will be many more such days in Jerusalem," Netanyahu said. 
"Second, as you know, it is the opening of the World Cup. I am also Foreign Minister and can only express the hope that everyone will win," he added. 
The property was officially transferred to the ownership of Russia, with Netanyahu symbolically handing over the keys to Russian Ambassador Anatoly Viktorov, explaining that Israeli bureaucracy had stalled the process, described it as "a big problem" that doesn't exist in Russia.  
The event comes in the wake of US President Donald Trump's transfer of the US embassy from Tel Aviv to Jerusalem in May, after he recognized the disputed city as capital of Israel.
Before that decision the Russian government last year said it views "west Jerusalem as the capital of Israel".
The same statement also recognized "east Jerusalem as the capital of the future Palestinian state".
Dmitry Alushkin, a spokesman for the Russian embassy in Tel Aviv, said Thursday's event was consistent with his country's April 2017 remarks.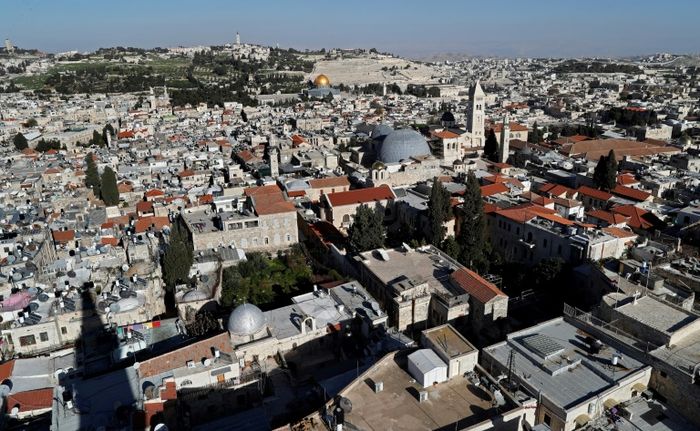 Palestinians claim the eastern part of Jerusalem, annexed by Israel, as the capital of their future state. The Jewish state considers the entire city its own, "indivisible" capital.
In December, Trump recognized Jerusalem as the Israeli capital, without making any distinction between the mainly Palestinian east and the predominantly Jewish west.
His move broke with decades of international consensus that Jerusalem's status must be negotiated between Israel and the Palestinians, and drew near global condemnation.
Particularly enraged were the Palestinians, who declared a diplomatic boycott of the United States.
The Trump administration said that the move did not, however, prejudge the final status of the city, nor the borders of Israeli sovereignty.
(Staff with AFP.)