Netanyahu presses Putin over Iran's ouster from Syria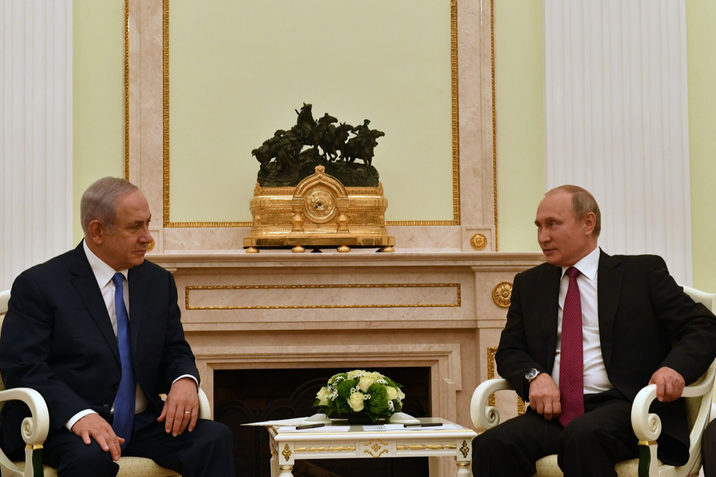 Israeli Prime Minister Benjamin Netanyahu sits down with Russian President Vladimir Putin in Moscow on July 11 2018.
Kobi Gideon/GPO
Prime Minister Benjamin Netanyahu met Russian President Vladimir Putin in Moscow on Wednesday, with Israel's demand that all Iranian forces be removed from Syria at the top of the agenda.
After landing in Moscow on Wednesday Netanyahu made his way to the Kremlin, where he shook hands with Putin and began a closed door meeting.
"Clearly our focus is on Syria and Iran. Our opinion is that Iran needs to leave Syria -- that's not new to you," Netanyahu told the Russian leader.
Exactly as his plane touched down in Russia, the Israeli military announced that it had shot down a Syrian military drone that entered Israel's airspace.
"Co-operation between us is central to the prevention of these flare ups and deterioration of these situations and others," Netanyahu said, referring to the drone's interception.
Putin, who earlier lauded the state of Israel and Russia's relationship, told the Israeli premier "we are aware of your concerns, let us discuss them in detail" before the two began formal talks.
Wednesday's Netanyahu-Putin summit is the latest in a series of regular meetings and phone calls between the two leaders since Russia's direct military intervention in the Syrian civil war in support of President Bashar Al-Assad in 2015.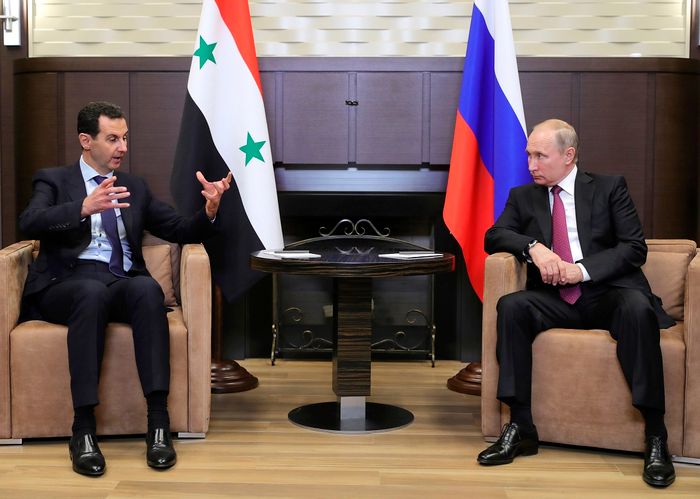 Israel has repeatedly warned that Iranian-backed forces fighting alongside Assad were attempting to stake out a permanent presence in the country, consolidating in southern Syria adjacent to Israel's northern border.
After the meeting, Israeli diplomatic sources were quoted as saying by the Ynet website that "Russia is acting to push Iranian forces from near the Syrian border."
In exchange, Haaretz reported citing the same sources, Israel is expected not to "intervene" in Assad's efforts to stabilize his rule. It is not clear what specific actions Putin wants Israel to refrain from taking.
As the meeting concluded Netanyahu headed directly to the World Cup semi-final match between England and Croatia taking place at a Moscow stadium. 
Netanyahu and his wife, Sara, were accompanied to the match by two Israeli teens currently fighting cancer.
Though allied with Assad, Moscow has largely given Israeli warplanes a free hand over Syrian skies and has turned a blind eye to frequent strikes attributed to Israel targeting outposts housing Iranian and Iran-backed forces and armaments, including heavy weapons convoys believed destined for Hezbollah.
Ali Akbar Velayati, a top aide to Iran's supreme leader Ayatollah Ali Khamenei, is visiting Moscow at the same time as the Israeli premier. Iran's foreign ministry said Velayati would relay messages to Putin about "the importance of expanded relations between Iran and Russia."
Velayati brushed off finding himself in the Russian capital at the same time as the leader of Iran's arch-rival.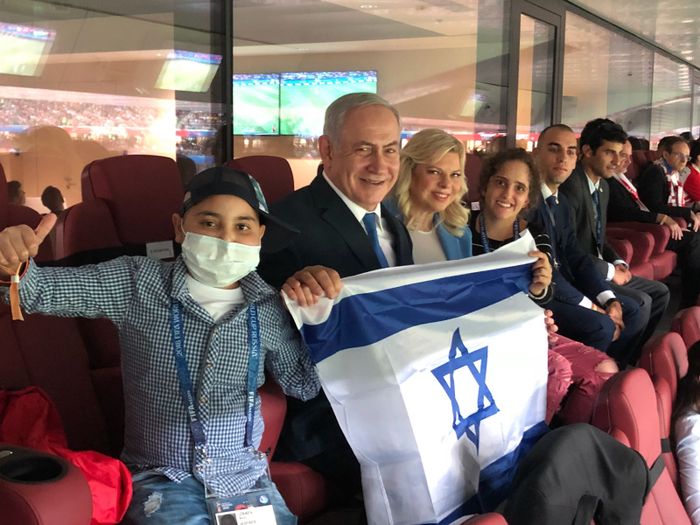 "He makes baseless and illogical remarks and nobody cares about his words," the official was quoted as saying by Tasnim news agency. "Therefore, his presence or absence in Russia has no effect on our strategic mission."
Netanyahu said on Sunday that he will insist during his meeting with Putin that Israel's national security interests vis a vis Syria are being met.
"At the meeting I will reiterate the two basic principles of Israel's policy: First, we will not tolerate the establishment of a military presence by Iran and its proxies anywhere in Syria – not close to the border and not far away from it. Second, we will demand that Syria, and the Syrian military, strictly uphold the 1974 Separation of Forces Agreement."
Netanyahu's trip to the Russian capital will also be just two days after Putin holds long-anticipated talks with his American counterpart Donald Trump in Finland.
A report by the New Yorker magazine on Tuesday claimed that Saudi Arabia, the United Arab Emirates and Israel had all separately urged Trump to offer Putin to lift US sanctions related to its 2014 annexation of Crimea in exchange for removing Iranian forces from Syria.
"Israel does believe it is possible to get a U.S.-Russian agreement in Syria that would push the Iranians out," a senior Israeli official told the New Yorker, adding that doing so "could be the beginning of an improvement in US-Russian relations over all."
Russia has reportedly agreed to distance Iranian troops some 40 to 80 kilometers from the Israeli border, but has called it "absolutely unrealistic" to expect a complete Iranian withdrawal from the country.
Defense Minister Avigdor Liberman dismissed specific distances as irrelevant, however, saying Tuesday that Israel would continue to take action against Iranian elements wherever they are identified.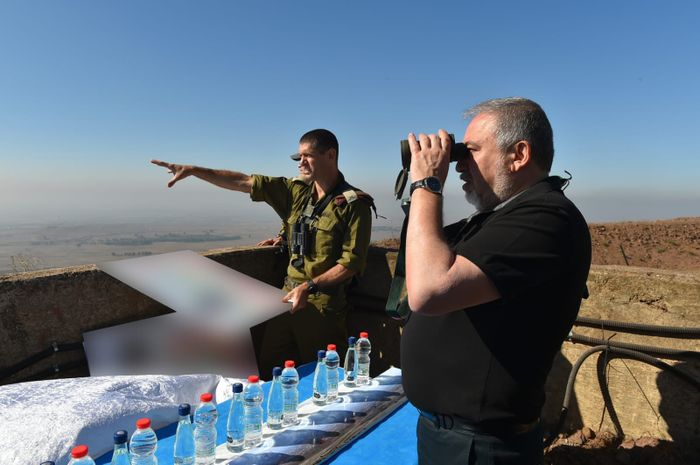 "Regarding a retreat to 40 kilometers or 80 kilometers, it doesn't matter. Therefore, the moment we see Iranian presence, we take action, and that is how it will continue," Liberman said.
Liberman said that Israel has identified efforts by Iranian-backed forces to establish a "terror network" just across the border under Assad's sponsorship.
"We are seeing efforts by figures associated with the [Iran-led] axis, with permission from the regime, to establish terrorist infrastructure here in the Syrian Golan Heights," Liberman said, warning that Assad would pay a price for cooperating with Iranian elements.
Emphasizing Israel's demand for the continued implementation of the 1974 Separation of Forces ceasefire agreement, Liberman said that any Syrian soldier who enters the demilitarized buffer zone along the border "is risking his life."
The hawkish defense minister acknowledged, however, that Assad's forces would regain control of the Syrian side of the border and said Israel was "not ruling out" eventual engagement with its northern neighbor.
Asked whether the Israel-Syria border crossing at Quneitra would ever be reopened and whether he could envisage the longtime foes ever reestablishing ties, Liberman said: "I reckon we are a long way from that, but we are not ruling out anything."
Israel and Syria have fought three major wars: the 1948 Arab Israeli War, the Six-Day War in 1967, and the Yom Kippur War in 1973, which ended with the 1974 Separation of Forces Agreement establishing a UN-monitored demilitarized buffer zone along the countries' shared border.
See also:
Analysis: New dangers of an escalation between Iran and Israel in Syria arise