Trump says NATO allies commit to boost defense spending beyond 2% benchmark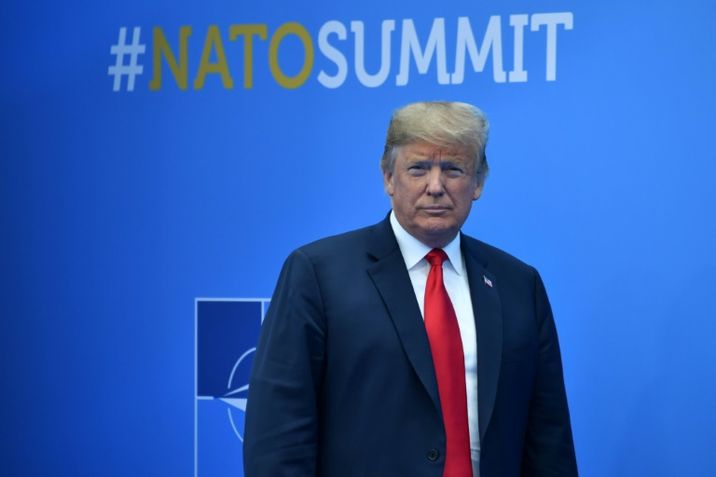 US President Donald Trump is demanding that NATO allies "reimburse" Washington for the cost of defending the continent
Denis Charlet (AFP)
US President Donald Trump Thursday hailed "tremendous progress" on defence spending commitments by NATO members, saying two days of tough talks had left the alliance "much stronger".
"We made a tremendous amount of progress today," Trump said after emergency talks with fellow NATO leaders prompted by his demands for allies to boost military budgets immediately.
"Everyone's agreed to substantially up their commitment -- they're going to up it at levels they've never thought of before."
The US leader had thrown the summit into crisis by demanding countries meet a spending target of two percent of GDP immediately, instead of by 2024, and to eventually double spending to four percent.
Trump has long complained that European countries do not spend enough on their own defence, leaving the US to shoulder an unfair burden for protecting the continent.
"I let them know I was extremely unhappy with what was happening and they have substantially upped their commitment and now we're very happy and have a very, very powerful, very strong NATO, much stronger than it was two days ago," he said.

Trump stated his commitment to NATO, speaking after reports that he had warned leaders that the United States could pull out of the alliance if other members failed to increase their contributions.
"The US were not treated fairly, but now we are. I believe in NATO," Trump told a press conference after a fraught NATO summit in Brussels.
"The US commitment to NATO remains very strong," Trump added, "mainly because (of) the additional money they've committed."
- Friends like these -
The mood was already prickly ahead of the summit, prompting a terse exhortation from the European Union's President Donald Tusk for Trump to "appreciate" his allies and reminding him that Europe had come to its aid following the 9/11 attacks.
Trump has explicitly linked NATO with a transatlantic trade row by saying the EU shut out US business while expecting America to defend it.
The US leader has also singled out Germany for particular criticism over its defense spending.
Germany, Europe's biggest economy, spends just 1.24 percent, compared with 3.5 percent for the US.
Trump has taken particular aim at the proposed Nord Stream II gas pipeline, which is set to run from Russia to Germany under the Baltic Sea.
"Everybody's talking about it all over the world, they're saying we're paying you billions of dollars to protect you but you're paying billions of dollars to Russia," he said Wednesday at a breakfast meeting with NATO chief Jens Stoltenberg.
Merkel, who grew up in communist East Germany, shot back that she knew what it meant to be under Kremlin domination and was glad a united Germany was now able to "make our own independent policies and make our own independent decisions".
The pair later met for a one-on-one meeting and while Trump insisted they had a "very very good relationship", their frosty body language suggested otherwise.
- Kremlin concerns -
European diplomats are wary of a repeat of last month's divisive G7 in Canada, when Trump clashed with his Western allies before meeting Kim Jong Un at a summit, where he praised the North Korean leader as "very talented".
Trump will meet the Russian leader in Helsinki on July 16 for their first summit amid an ongoing investigation in the US into possible Trump campaign collusion with Russia.
There have been fears that Trump, keen to be seen to make a breakthrough with the Kremlin strongman, might make concessions that would weaken Western unity over issues like Ukraine and Syria.
Trump heads to Britain on Thursday, where the government is in crisis over Brexit and where tensions with Russia have spiked after London blamed Moscow for the death this month of a British woman from contact with the Novichok nerve agent.
The substance is the same military-grade toxin that nearly killed a former Russian spy and his daughter in an earlier attack that Britain also blamed on Moscow.