Kuwait Airways compensates Israeli national for refusing her flight ticket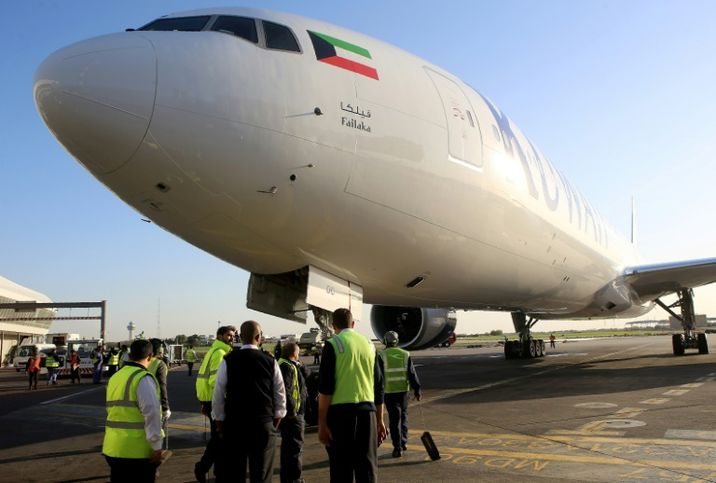 A Kuwait Airways plane is seen at Kuwait International Airport on December 9, 2016
Yasser Al-Zayyat (AFP/File)
Kuwait Airways are by no means the only airline in the Middle East to ban Israelis from their flights
Kuwait Airways agreed to compensate a British-Israeli woman in her discrimination claim for refusing to sell her a flight ticket due to her Israeli nationality as per the company's policy.
"Kuwait Airways has agreed to pay substantial damages plus costs to an Israeli National who was refused a ticket on a Kuwait Airways flight from London to Bangkok on the grounds of her nationality," the UK Lawyers for Israel (UKLFI) published on its website, having helped the plaintiff Ms. Mandy Blumenthal obtain representation for her claim.
Despite agreeing to pay Ms. Blumenthal for her claim, the company did not admit liability.
The airline has justified its ban by pointing to a Kuwaiti law that prevents citizens from dealing "with entities or persons residing in Israel, or with Israeli citizenship."
Back in November 2017, Ms. Blumenthal was denied her wish to purchase a return ticket from London's Heathrow airport to Thailand with a stopover in Kuwait.
A video of the incident posted on Youtube shows the Kuwait Airways ticket clerk repeatedly refusing to sell her a ticket due to the company's police that "Israeli passport holders are not permitted to travel on Kuwait Airways".
An attorney for Ms. Blumenthal in the matter, David Berens said the airline would now have to face a decision whether to end the discriminatory practice or end its UK routes entirely. 
"The law is clear: direct discrimination on grounds of nationality in the provision of a service to the public is illegal. Ms Blumenthal has done a service in showing up Kuwait Airways' illegal policy. Kuwait Airways is now legally obliged to end this policy or end its services from the UK altogether," he said. 
A German court ruled in favor of the company, upholding their policy of forbidding Israeli passport holders from flying with them, though a senior German Justice Department official urged the government to revoke landing rights for Kuwait Airways.
UKLFI confirmed that it would help other potential claimants following the favorable result.
The policy has caused no little controversy in recent years. The airline halted its flights between European cities in 2016 in the wake of lawsuits filed in Switzerland in the name of an Israeli, and in 2015 it stopped its flights from New York to London when the United States demanded that it drop its ban on Israeli passengers.
An Arab-Israeli social media star had also published a video denouncing Kuwait Airways' ban on Israeli passengers after being turned away when he tried to board a flight to India.
"This is daylight discrimination, and it should be illegal," Nuseir Yassin, also known as Nas, said in the video.
Nevertheless, Kuwait Airways are by no means the only airline in the Middle East to ban Israelis from their flights.
Despite Israeli officials repeatedly hinting at Saudi Arabia's increasing fondness for the Jewish state, the flagship air carrier of that country has freely admitted to barring Israelis from traveling on their jets.