Russian embassy trolls US Space Force on Twitter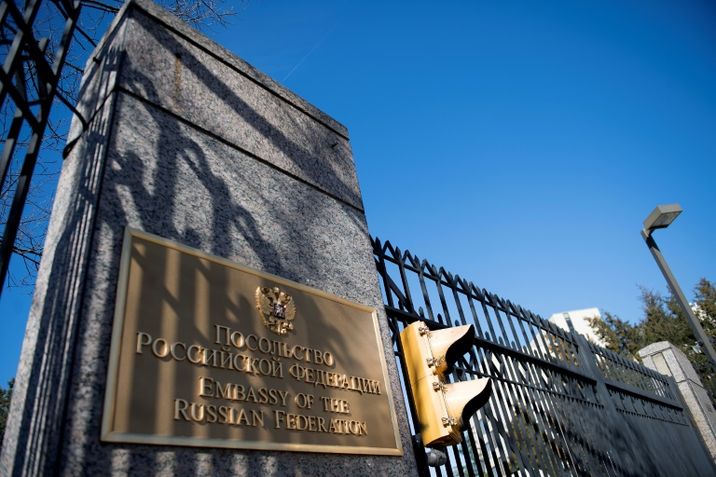 The sign for the Russian Embassy is viewed in Washington, DC
JIM WATSON (AFP)
The Russian Embassy appeared to mock the US Space Force initiative via Twitter on Friday, following Vice President Mike Pence's announcement Thursday that "the time has come" for the US to open its sixth military branch in space.
"Good Morning, Space Forces!" the tweet says, showcasing Russia's military space program logo and followed by a link to the webpage.
The Russian Embassy has a history of tweets presumably mocking Trump's announcements.
In response to Trump announcing he would close the Russian consulate in Seattle in March, the Russian Embassy tweeted a poll asking followers to decide which US Consulate in Russia they would close down if it was up to them.
- Pence at the Pentagon -
Pence spoke at the Pentagon on Thursday on progress in implementing President Donald Trump's order to build a new military branch known as Space Force.
"The time has come to write the next great chapter in the history of our armed forces, to prepare for the next battlefield where America's best and bravest will be called to deter and defeat a new generation of threats to our people, to our nation," the Pence told reporters.
"The time has come to establish the United States Space Force," he said.
Trump in June ordered the creation of Space Force, which would become the sixth service in the US military, arguing the Pentagon needs it to tackle vulnerabilities in space and assert US dominance in orbit.
The creation of a new US military branch would require approval by Congress and would signify the first new branch of the US military since the Air Force was created in the 1940s.
Following the announcement, the Trump 2020 campaign sent out a message to supporters conducting a survey on the future logo of the proposed force.
"President Trump wants a SPACE FORCE -- a groundbreaking endeavor for the future of America and the final frontier," the email from the campaign stated. "As a way to celebrate President Trump's huge announcement, our campaign will be selling a new line of gear."
In an attempt to rally support behind the proposal, the Trump campaign will sell merchandise featuring.