Rivlin meets Danish PM, hails ties in visit to honor rescue of Jews from Nazis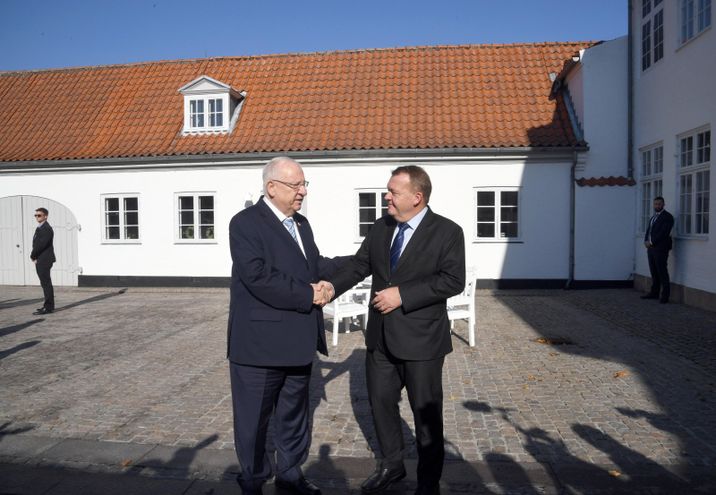 President Rivlin met with Danish PM Lars Lokke Rasmussen during visit to Denmark on Oct 11, 2018.
GPO
90% of the Danish Jewish community was rescued during World War II
Israel's President Reuven Rivlin met with Danish Prime Minister Lars Løkke Rasmussen for lunch on Wednesday as part of his visit to Denmark, hailing the strong relations between the two small countries while calling for more.
"We already cooperate on a wide range of issues – counter-terrorism, homeland security, cyber and innovation and I believe we can do even more," said Rivlin according to Israel's government press office. 
The Israeli President went on to say that Israel needs Denmark's support in the European Union and other international fora in order to combat what he said was  sustained discrimination and anti-Israel initiatives.
"Denmark plays an active and important role in the international coalition for the stability of the region. It is good to know we have friends like you to stand with us," Rivlin added.
He also expressed appreciation for Denmark's purported understanding of Israel's border threats and efforts in fighting ISIS, adding that he hoped Europe would adopt a similar approach to the Iranian threat. 
Addressing the humanitarian crisis in the Gaza Strip, the Israeli president pointed the finger at Hamas and demanded the return home of two Israelis believed to be held captive for about three years as well as the bodies of two fallen soldiers in the 2014 Israel-Gaza conflict.
"The world must demand answers from Hamas about our boys who they are keeping prisoner. They, who continually complain about the humanitarian conditions in Gaza, are ignoring basic humanitarian principles by holding them hostage."
Ethiopian-born Avera Mengistu was filmed by an Israeli security camera climbing the frontier fence with the Gaza Strip in September 2014.
Human Rights Watch said it was told by an Israeli official that Hisham al-Sayed, a Muslim Bedouin, was picked up by monitoring equipment as he crossed the border into Gaza in April 2015.
Hamas has long demanded that Israel release hundreds of Palestinian prisoners re-arrested following a deal to secure the release of kidnapped soldier Gilad Shalit in 2011 before commencing negotiations over a their new captives.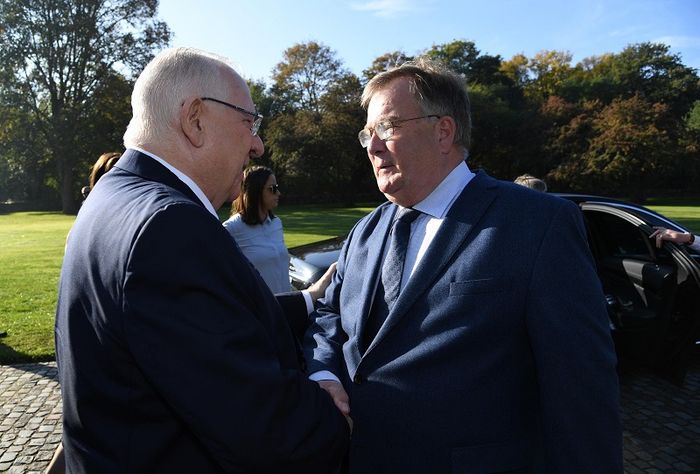 Rivlin was invited by the prime minister to commemorate the 75th anniversary of the rescue of over 7000 Danish Jews from Nazi persecution and their safe transfer to Sweden in October 1943.
"The rescue of the Jews of Denmark is a remarkable event in the history of the Holocaust, a bright light in the darkest time in human history. Denmark is a shining example of a country that stood at the side of its Jewish community during the Holocaust. The Jewish people and the state of Israel will never forget that," Rivlin said thanking the prime minister for the Danish resistance during World War II.
Denmark was under Nazi military occupation from April 9 1940 to May 5 1945, but the danish resistance movement managed to help more than 7000 Jews escape. 90% of the Danish Jewish community was rescued and when they returned home they found that their property had been protected by their fellow Danes.
"This is an important message in the context of the need to oppose the rise of anti-Semitism in Europe and as support for Israel," Rivlin said.