Bogdanov to i24NEWS: 'Naive' to think Israel knows what rest of world doesn't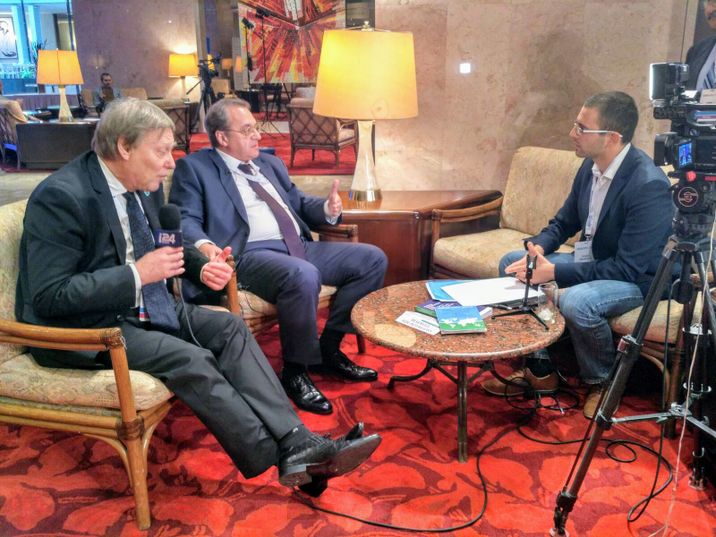 Russian Deputy Foreign Minister Mikhail Bogdanov is interviewed by i24NEWS correspondent Eylon Levy at the Dialogue of Civilizations Rhodes Forum
i24NEWS
Russian deputy foreign minister in wide-ranging interview to i24NEWS
Russia's deputy foreign minister slammed Benjamin Netanyahu for "megaphone diplomacy" and cast doubt on the evidence the Israeli prime minister presented on Iran's nuclear program, telling i24NEWS: "It's naive to think that only one country and only one secret service knows something that nobody else knows."
Mikhail Bogdanov, who is also President Putin's envoy to the Middle East, spoke to i24NEWS on the sidelines of the Dialogue of Civilizations Rhodes Forum in Greece. In a rare, wide-ranging interview, the Russian diplomat explained Russia's surprise decision last year to recognise West Jerusalem as Israel's capital as "logical".
Bogdanov spoke in Russian through a simultaneous interpreter, despite being able to speak English fluently.
THE IRANIAN ATOMIC ARCHIVES
Mikhail Bogdanov is sceptical of the evidence Israeli prime minister Benjamin Netanyahu showed the world on Iran's nuclear program. But he is confident that the Iranian leadership "is ready to assist and check" Netanyahu's allegations.
Netanyahu revealed evidence of an alleged "secret atomic warehouse" during his speech to the UN General Assembly last month. The announcement came months after Netanyahu revealed that Mossad, the Israeli secret service, had smuggled half a ton of documents out of Iran's "atomic archives".
Bogdanov said he was not concerned by Netanyahu's revelations, casting doubt on the credibility of Mossad's intelligence. "It's naive to think that only one country and only one secret service knows something that nobody else knows," he said.
The Russian diplomat, however, was ambivalent about whether the International Atomic Energy Association (IAEA) should investigate Netanyahu's allegations.
"These documents and archives should have been transferred to the IAEA long ago," he insisted. "Under to the agreement between the IAEA and Iran, the IAEA can inspect any site at any time."
"It's the work of the IAEA, which is supposed to check this," he said. "It is a professional and serious organisation. It has authority and legitimacy." But asked to clarify whether he wanted the IAEA to inspect these secret facilities, Bogdanov falsely claimed, "This has all been checked a number of times."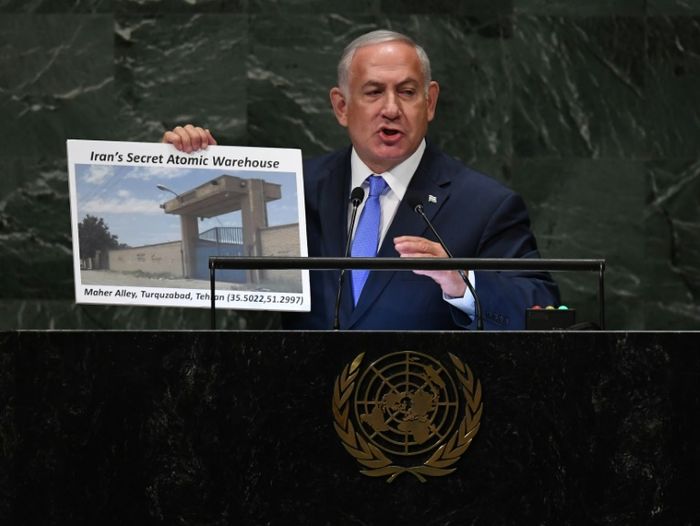 Bogdanov slammed Netanyahu for making his allegations about the Iranian nuclear programme in a televised press conference and at the United Nations instead of turning the evidence over to the IAEA.
"Maybe it's part of information warfare," he elaborated, "but speaking seriously... Israel should have taken a different approach and not worked with journalists and with what we call 'megaphone diplomacy', but say seriously, let's check this now, today, not in New York. We're ready to assist, and I think the Iranian leadership is ready to assist and check this."
Netanyahu called on the IAEA to inspect the sites during his UN speech. He also criticised the agency for failing to take action after his earlier revelations in April.
Bogdanov mocked Netanyahu's theatrical performance at the United Nations, in which he used placards with satellite pictures to present his evidence: "To tell the whole world they have something, and show pictures, maybe some people like this and it helps him, maybe it's intended to score points and for internal consumption."
THE DOWNING OF THE RUSSIAN JET
"You can imagine what would have happened if 15 Israeli officers had been killed through our fault."
In late September, Israeli planes performed a now-regular bombing raid on military targets in Syria. The Syrian army activated its air defences and shot down a Russian reconnaissance, killing all 15 crew members on board. Russia initially blamed Israel. It said the Israeli fighter jets had used the Russian plane for cover, causing the Syrian air defences—supervised by Russian officers—to latch onto the Russian plane.
Bogdanov was reluctant to elaborate on why Russia had blamed Israel for a fatal accident by the Syrian military. "I think that on this issue, the president of Russia and minister of defence have already spoken," he said. "I think everything is more or less clarified."
Except everything is not "more or less clarified".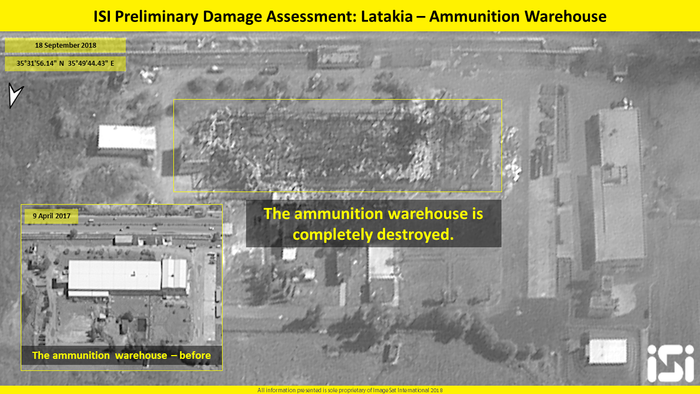 The commander of the Israeli air force flew to Moscow and presented the Israeli army's findings, explaining that the Israel had given the Russians sufficient notice to clear the area, rebutting the allegation that Israeli jets had used the Russian plane for cover, and proving that Israeli jets were already back in Israeli airspace when the Syrians shot down the Russian plane. Russia continued to blame Israel, ignoring Israel's evidence in its official report. Moreover, while the Russian Defence Ministry said it "reserved the right to respond", President Putin attributed the downing to a "chain of tragic events", distancing himself from the army's threats.
But Bogdanov repeated that he could not "add anything," insisting: "It's not my job to comment on what my president or minister of defence mean, it's not my capacity."
THE WAR IN SYRIA
Russia responded to the downing of the plane by giving Syria S-300 anti-aircraft batteries, a weapon Israel has for years been lobbying the Russians not to provide for fear the system would harm Israel's freedom over the skies of Syria.
Does Russia understand Israel's security concerns?
"Of course, of course we do," said Bogdanov. "Therefore for many years despite requests from the Syrian authorities—there were even agreements and prepayments, and people were prepared—we didn't deliver the S-300 system precisely because the Israeli leadership asked us not to do so. But when through the fault of Israeli pilots, 15 people died, as our minister of defence said, the rules of the game have changed…. The rules of the game were violated when Israeli pilots used a Russian aircraft for cover, knowing how it threatened the Russian crew."
Bogdanov dismissed Israel's demand that Iran be kept completely out of Syria, insisting that it is Syria's sovereign right to authorise Iranian troops on its soil.
"Syria is a member of the United Nations," he said. "It has equal rights to Russia, Israel, America and any other country. This is a sovereign country led by a legitimate government. It can agree on cooperation with any other country, including Iran, Russia, Israel, any other country. That's Syria's sovereign right, and it's not the business of a third party to intervene in these subjects of politics or policy of a sovereign country."
And yet all the same, Russia has been negotiating with Israel about a buffer zone keeping Iranian troops away from the Syrian border.
"Of course, all this was done in coordination with Damascus," Bogdanov elaborated.
"As we explained to our Israeli and American colleagues... this is a sovereign decision for Syria who should be on their territory," he said. "They asked us and the Iranians to be there. The Iranians have said repeatedly on many levels that Syria asked them to help them in the fight against terrorists, and when Mr Assad tells them that their mission is accomplished and they are no longer needed, they will leave Syria, just like us."
I challenge Bogdanov on his insistence that Russia's policy in Syria is driven by concern for the country's sovereignty. "Sceptics might look at Russian policy," I ask, "and say following evidence of Russian interference in American elections, with the Skripals and the invasion of Ukraine that actually it's not credible to say sovereignty is what's driving Russian foreign policy."
Bogdanov pulls a face, smiles, and then laughs. "You know, it's really funny to talk about this," he chuckled. "You must not be aware of the processes that have taken place in the last four years." In Ukraine, he said Russia was "waiting to implement the agreement between the legitimate president [Viktor Yanukovych] and the opposition"—and accused the deal's Western guarantors of failing to see it through.
(Ukrainian President Viktor Yanukovych signed a deal in February 2014 with the parliamentary opposition amid the Maidan political crisis, which followed the Yanukovich government's decision to suspend an association agreement with the European Union. The deal called to restore constitutional government and hold elections by December 2014. Following riots, Yanukovych fled to Russia.
"We were only waiting to implement that agreement between the legitimate president and the opposition... Did it happen? Where are these guarantees? Where are these elections and where is the legitimate president?"(Ukraine ended up holding elections in May 2014 without Yanukovych.)
"And you are talking about credibility," Bogdanov said with a smirk.
THE ISRAELI-PALESTINIAN PEACE PROCESS
If Russia thought its interests would be served by meddling in the 2016 US elections to promote Donald Trump, it might be regretting that now when it comes to Israel.
According to Bogdanov, the Trump administration is "destroying what previous administrations did, for which the Americans, Israelis, and Palestinians won Nobel Peace Prizes". Asked whether Trump's policies could have a positive effect, he said: "On the contrary. The new US administration is working to undermine the legal basis for resolving the Palestinian-Israeli conflict."
Bogdanov lashed out at Israel for demanding action against Iran at the United Nations, but ignoring the same forum when it comes to the Palestinian issue. "What is happening is with Iran, they go to New York and demand something about Iran, so you can also demand something about the Palestinians at the United Nations," he said. "Israel is not doing what it should be doing according to the Security Council and Security Council resolutions."
Russia still believes that "direct dialogue with the Palestinians" is the best path for Israel, Bogdanov said, expressing regret Netanyahu had declined Putin's offer for a summit with Abbas in Moscow in 2016. "Unfortunately our Israeli colleagues rejected this effort for direct talks at the highest level and to try to move this point from an impasse."
JERUSALEM
Russia surprised the international community in April 2017 by recognising West Jerusalem as the capital of Israel, becoming the first country in the world to recognise Israeli sovereignty over any part of the contested city. In a laconic statement at the time, the Russian Foreign Ministry did not explain the reasoning for the unusual announcement.
"Sometimes we notice that there are certain elements of irrationality in our approach," Bogdanov said, noting Russia had already recognised an independent Palestinian state with a capital in East Jerusalem, in November 1988. "And we asked ourselves a question—what about West Jerusalem? If we say East Jerusalem is the capital of a Palestinian state, then logically, West Jerusalem would be the capital of Israel."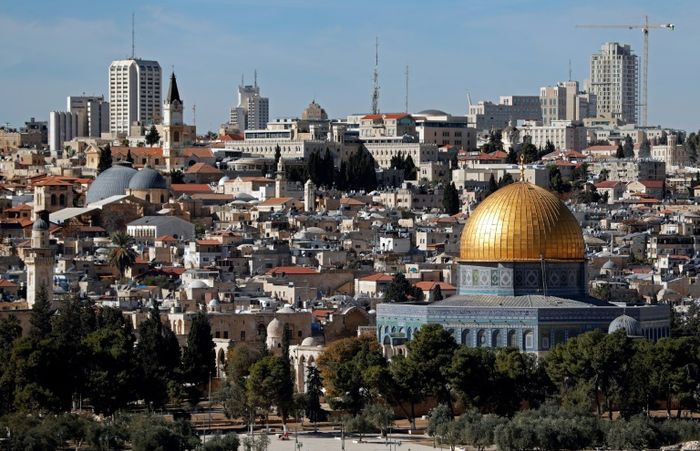 Bogdanov noted that the Israeli leadership is based in Jerusalem. "Therefore it was logical to come to the conclusion that East Jerusalem, God willing, would be the capital of Palestine, and West Jerusalem would be the capital of Israel. Logically," he argued.
Bogdanov stressed that Russia believes the future of Jerusalem "should be determined in Palestinian-Israeli negotiations" because there are many ways to envisage cooperation between an Israeli-controlled Western city and a Palestinian-controlled east. But he stressed that "in terms of sovereignty", Russia regards the lines of 4 June 1967—and not the "corpus separatum" of the original UN decision from 1947—as the relevant legal basis.
Asked whether Russia would use its leadership to encourage other countries to recognize West Jerusalem as Israel's capital, Bogdanov said, "Everybody decides for themselves." But he said that if European countries accede to the Palestinians' request to recognise a Palestinian state with a capital in East Jerusalem, "they would automatically and logically recognise the capital of Israel in West Jerusalem".
Bogdanov said Russia would not move its embassy from Tel Aviv to Jerusalem until it can also move its Ramallah mission to a Palestinian-controlled East Jerusalem. "We have recognised East Jerusalem as the capital of the Palestinian state. Can we transfer our representative office in Ramallah... to East Jerusalem? We support a balanced policy. If we transfer our embassy to West Jerusalem, which we recognise as the Israeli capital, what should we do with East Jerusalem, which we have recognised as the Palestinian capital?"
Bogdanov said he hopes to return to Israel "quite soon".
Eylon Levy is the i24NEWS investigative reporter. Twitter: @EylonALevy