Netanyahu urges ambassadors to condemn, sanction Hezbollah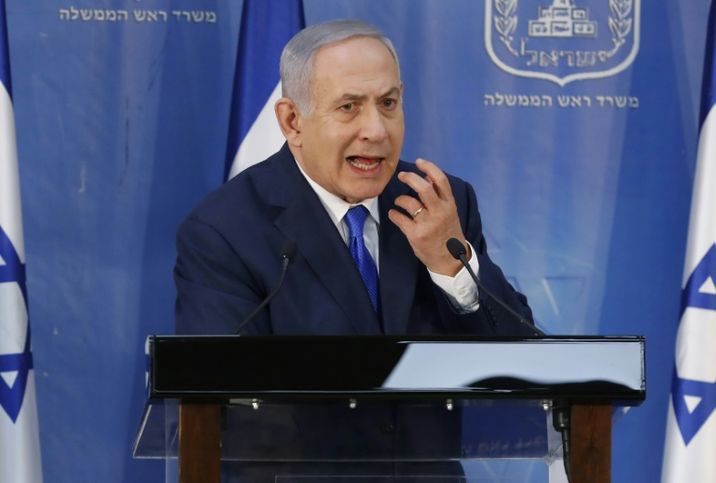 Le Premier ministre israélien Benjamin Netanyahu lors d'une conférence de presse à Tel-Aviv, le 4 décembre 2018
Jack GUEZ (AFP)
Never remiss in raising the ultimate foe, Iran, he hailed Israel's great efforts as the single army take it on
Prime Minister Benjamin Netanyahu led a group of ambassadors on Thursday through a tour of Israel's north, urging them to "condemn the aggression unequivocally and intensify the sanctions" against Hezbollah after Israel revealed this week a tunnel network on the Lebanese border.
The cross-border tunnels "are wider and larger, and their goal is to transfer battalions, large forces, into Israeli territory, in order to come in and carry out a killing spree and kidnappings and to capture villages," the Israeli premier stated.
Israel on Tuesday announced the launch of "Operation Northern Shield" to destroy the underground tunnel that were not yet operational, though it was not said how many had been detected or how they would be destroyed.
The IDF said that Israel has seen over the years a concerted effort by Iran-backed Hezbollah to dig such tunnels, though emphasized that none were yet operational nor posed an imminent threat to Israeli civilians.
"Anyone who attacks us — is taking his life into his hands," Netanyahu portended, later suggesting that Israel may take action against Lebanon, which he demanded "stop granting permission to use its territory for these attacks on Israel."
Netanyahu was accompanied by ambassadors from France, Austria, Canada, Ethiopia, Brazil, Russia, EU, Hungary, Ivory Coast, Italy, Great Britain, and Poland. 
'We will act as much as whoever attacks us, with a target on his head. I told the ambassadors that they should condemn the aggressions of #Iran, Hezbollah and #Hamas unequivocally,' Israeli Prime Minister @netanyahu said on the #Israel-Lebanon border: #NorthernShield pic.twitter.com/KKwfjSsV23

— i24NEWS English (@i24NEWS_EN) December 6, 2018
The IDF said that "Operation Northern Shield" was initiated under a special task force that has since 2014 been leading operational, technological and intelligence efforts on the issue of tunnels on the northern border and has "developed vast abilities and knowledge on Hezbollah's attack tunnel project."
The operation was launched before dawn on Tuesday, with the army declaring some areas adjacent to the Lebanon border a closed military zone and deploying additional forces to the north.
No special instructions were issued for Israeli civilians in the area, but local municipalities were preparing public bomb shelters as a precaution against potential attacks by Hezbollah.
"We are denying our enemies the weapon of tunnels systematically and decisively," he told the ambassadors. "What we are doing with Hamas and with Hezbollah as well — we're doing everything we need to do."
Never remiss in raising the ultimate foe, Iran, he hailed Israel's great efforts as the single army in the world to take it on.
"What we're facing is one big enemy. That enemy is called Iran," Netanyahu said.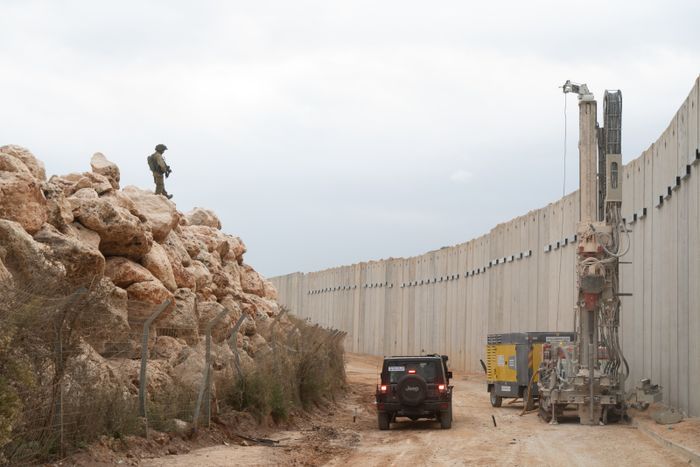 Opposition leader Tzipi Livni on Wednesday accused Prime Minister Benjamin Netanyahu of over-dramatizing the army's discovery of Hezbollah tunnels infiltrating its territory from Lebanon for political gain.
"We are not now in a situation where our soldiers are behind enemy lines," said Livni, who served as foreign minister during Israel's 2006 war with Hezbollah.
"We are talking about engineering activity within the sovereign territory of the state of Israel," she added, accusing Netanyahu of "blowing the incident out of proportion."
"Therefore he made a defensive engineering event into a dramatic military operation," she said.
"This was done from two reasons -- either the prime minister is himself panicking or he wants to sow panic to justify his actions both in delaying elections and abandoning the residents of southern Israel."
"The Israel Defense Forces is the only army in the world operating against the Iranian military. Iran's entrenchment in Syria has been stopped," another senior official said during the tour.
Lebanon's Prime Minister designate, Saad Hariri, said on Wednesday that the Israeli operation at the border should not lead to any escalation.
Underlining the fact the Lebanese army had the authority and responsibility to protect its borders, he blasted Israel for its "continued violation of Lebanese airspace and territorial waters."
Hariri said the issue would be taken up with both UN General Secretariat and Security Council, but stressed his government's "commitment to the full obligations of Resolution 1701 and to the ongoing coordination and cooperation between Lebanese authorities and U.N. forces".
-UNIFIL-
Hours after touring the northern border with Israel's Defense Forces (IDF) on Thursday, Nations Interim Force in Lebanon (UNIFIL) confirmed the existence of a Hezbollah cross border tunnel. 
UNIFIL "visited a location near Metula in northern Israel", it said in a statement, and "can confirm the existence of a tunnel at the location".
Netanyahu addressed the work of UNIFIL to the ambassador's on Thursday, calling on the force to expand its role on the Israeli-Lebanese border. 
"UNIFIL should expand its role, because evidently it's not been done. UNIFIL is supposed to monitor, at the very least monitor if not stop, the transfer of weapons into Lebanon, into south Lebanon," Netanyahu said. 
"And you know there were 15,000 rockets and missiles at the end of the Second Lebanon War. There's about ten times that and we haven't seen a single case, a single filing of a complaint or report by UNIFIL," he added. 
The Israeli Prime Minister also touched on the subject of an escalation as a result of "Operation Northern Shield", which his Lebanese counterpart Saad Hariri downplayed.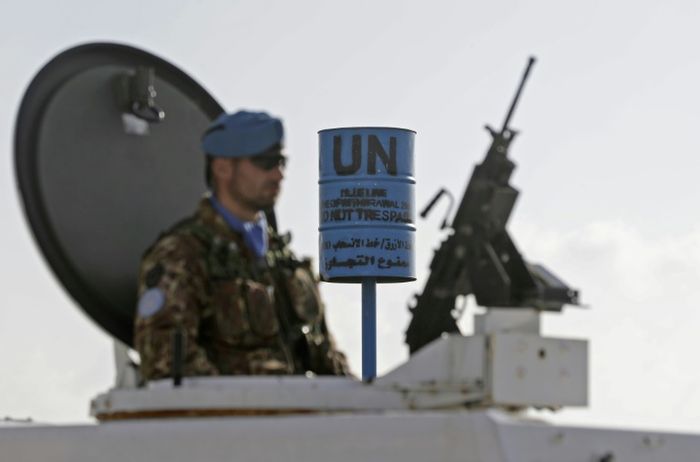 "We're going to destroy more (tunnels). My goal was first of all to dismantle these terror tunnels without getting into broad escalation. We passed a clear message of what we're doing and so far I can't tell you that the risk of escalation doesn't exist but I don't think it's quite as… If you pass the first 24 or 48 hours, and we are there, without an escalation, I think the risk is much lower," Netanyahu said.
"It exists, we're ready, we're deployed, we're all ready to go if we have to, but I'm not sure that Hezbollah will make the terrible mistake of testing our resolve and our preparedness," he added. 
Netanyahu also said that Hezbollah would most likely condemn Israel for being the aggressor, and that Israeli jets are flying over Lebanon frequently. 
"So the answer (to that) is, first of all, we're not the aggressive power, we didn't say that we want to destroy Lebanon and this is not, our life's goal is not to eradicate the people of Lebanon off the face of the earth. But that's the goal of Hezbollah vis-à-vis the Jewish State of Israel," he said. 
"Second point is that we have a perfect right of preemptive self-defense to survey and collect intelligence against those who openly declare their goal to destroy us, and we do so. But what they're doing is actually invading our ground, our territory. That's what they're doing and you can't make a false symmetry between these two things," Netanyahu concluded.