Berlin hits out at EU's 'complete failure' to protect its borders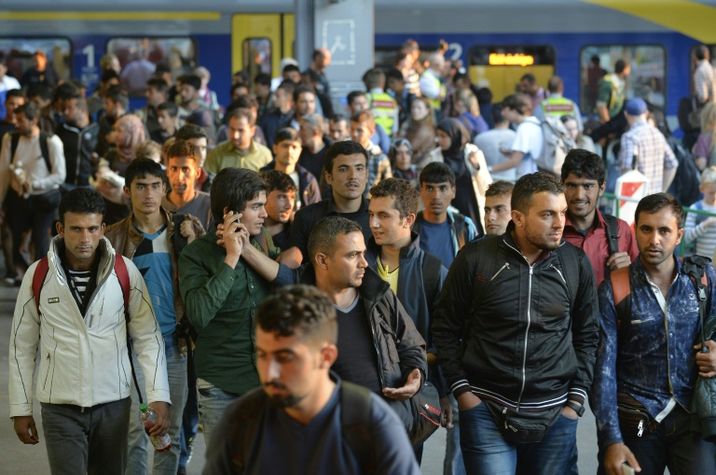 Des migrants arrivent en gare de Munich le 12 septembre 2015
PHILIPP GUELLAND (AFP)
Hungary sees record number of migrants enter; 'no refugees welcome' at Maccabi Tel Aviv
Germany's transport minister on Sunday hit out at the "complete failure" of the European Union to protect its external borders, as he called for measures to halt a record migrant influx.
"Effective measures are necessary now to stop the influx. That includes help for countries from where refugees are fleeing and also includes an effective control of our own borders which also no longer works given the EU's complete failure to protect its external borders," Alexander Dobrindt said in a statement.
Dobrindt, who is a member of the Chancellor Angela Merkel's conservative Bavarian allies CSU, also warned that the country "has reached its limit of capacity", a day after 12,200 more refugees reached the southern German city of Munich -- a key arrival point.
As Germany buckles under the strain of the record refugee influx expected to reach 800,000 this year, dissenting voices from the CSU has grown louder.
Dobrindt's statement came just days after CSU vice president Hans-Peter Friedrich called Merkel's decision "an unprecedented political error" that would have "catastrophic consequences".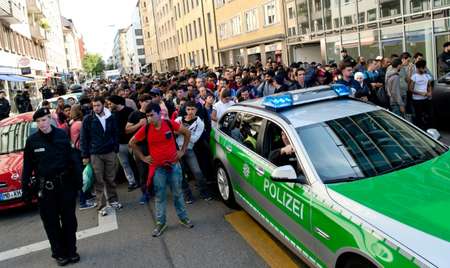 Munich buckles under strain of refugee influx after 12,200 arrive in one day
Authorities in Munich have said they are overwhelmed by the surge of migrants streaming into the Bavarian capital after more than 12,200 migrants arrived in the city on Saturday.
The large number of refugees led regional officials to sound the alarm and urge other areas in Germany -- seen as the promised land by many of those seeking safe haven in Europe -- to pull their weight.
Germany has so far taken the lion's share of migrants, admitting 450,000 people this year, with Chancellor Angela Merkel's decision to relax asylum rules for Syrians drawing praise from the refugees, but also sharp criticism from domestic allies and counterparts abroad.
"We no longer know what to do with refugees," Munich's mayor Dieter Reiter said, amid fears many of the new arrivals would have to spend the night outdoors.
"Munich and Bavaria can't overcome this great challenge alone," a spokeswoman for the Bavarian authorities said, adding the city was struggling to find shelter for all the additional people.
As the newcomers arrived, some onlookers at Munich station held welcome signs to greet them. But there were far fewer than several days ago when cheering volunteers handed out groceries and children's toys.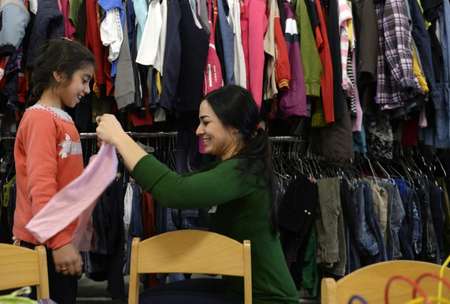 Hungary sees record number of migrants
The number of migrants entering Hungary from Serbia hit a new record on Saturday, after more that 4,000 people walked across the border with Serbia just as the authorities in Hungary were completing preparations to seal the frontier.
Authorities are now working around the clock to finish the controversial anti-migrant fence along its southern border with Serbia.
Hungary has seen some 180,000 people entering illegally this year and has passed a raft of tough new laws that will take effect on Tuesday, meaning anyone crossing the border illegally can be deported or even jailed.
"These migrants are not coming our way from war zones but from camps in Syria's neighbors… So these people are not fleeing danger and don't need to be scared for their lives," hardline Hungarian Prime Minister Viktor Orban told Germany's Bild daily.
He said that Merkel's decision to relax asylum laws had caused "chaos" and accused European leaders of "living in a dream world."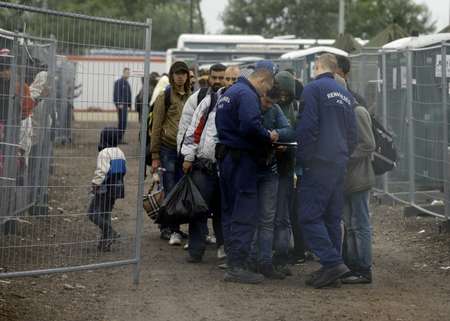 The idea that quotas would work is an "illusion," he said. "The influx is endless: from Pakistan, Bangladesh, Mali, Ethiopia, Nigeria. If they are all going to come here, then Europe is going to go under."
Canada relief fund
Canada will create an emergency relief fund for refugees fleeing Syria, matching private citizens' donations dollar-for-dollar up to Can$100 million, Ottawa announced on Saturday.
Christian Paradis, minister for international development, at a press conference, praised Canadians' generosity, and said the matching funds would "ensure their donations can have the greatest impact."
"These funds will be used to help meet the basic needs of conflict-affected people in the region," the minister said, adding that the money would be used to secure various forms of assistance, "including shelter, food, health and water."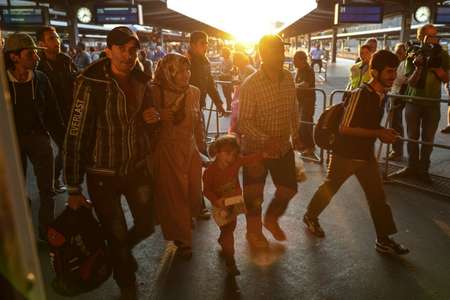 The funds also will help pay for "protection and emergency education," as well as providing "assistance in some transit countries for refugees when these countries are eligible for official development assistance."
The Ottawa government's match would apply to donations made by Canadians before December 31, 2015, Paradis said.
He said the government will disburse the funds to established international aid groups like the Red Cross and Red Crescent.
Meanwhile, the prime minister of Ontario, Kathleen Wynne, announced separately Saturday that her province would take in 5,000 refugees by year's end.
Mixed feelings from fans
A group of fans of the Maccabi Tel Aviv soccer team, expressed their disapproval Saturday of the UEFA decision to donate some of the proceeds from ticket sales to help Syrian refugees.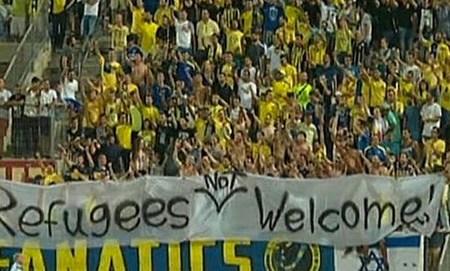 The 80 teams competing in the Champions League and Europa League will donate 1 euro per ticket from their first home games.
The fans raised a banner saying "refugees not welcome" which is a negative spin on the "refugees welcome" banners seen at football games across Europe.
Players from Bayern Munich entered the stadium for the Bundesliga game on Saturday accompanied by migrant children. The players held hands with the mascots – a German-born child on one side and a migrant child on the other – for what the club described as a "symbol for the integration of refugees."
(Staff with AFP)
You need to be logged in in order to post comments. Sign up or log in
September 13, 2015 6:24 PM
Hey EU...you master is speaking. Pay attention. LoL