Analysis: Will strategic Russian weapons find their way to Nasrallah?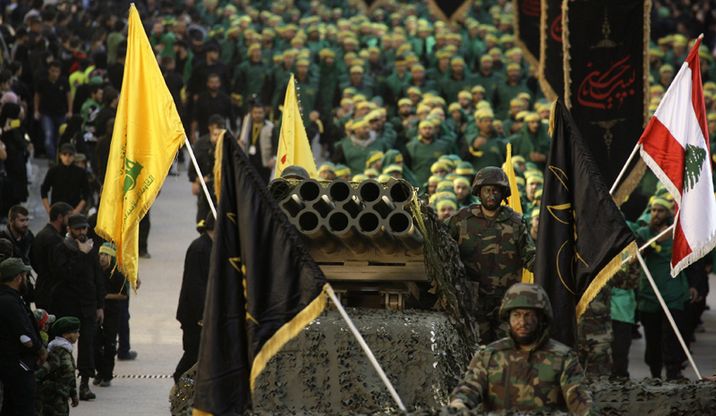 Hezbollah fighters during a rally
Twitter
Hezbollah had much to gain by leaking that Russia was giving it weapons. Such a scenario is not so far fetched
The "leak" by top Hezbollah commanders to the Daily Beast about the advanced types of weapons allegedly provided to their organization by Moscow was no mistake. Israel denied that such weapons were ever transferred to the pro-Iranian terrorist group while the Russians never confirmed this information – but for Hezbollah, spreading such information is a win-win situation.
The "leak" was meant to resonate in at least four countries – Lebanon, Syria, Israel and Iran. Hezbollah is engaged in continuous warfare on Syrian soil against anti-regime forces and recently experienced several setbacks. "Leaking" a detailed list of advanced Russian-made weapons allegedly given to Hezbollah was supposed to impress the group's enemies in Syria and in Lebanon – radical Salafi groups such as ISIS and Jabhat an-Nusra, and the main opposition force - the Free Syrian Army (FSA).
Having your enemy believe that you have a mighty supporter watching your back and supplying you with strategic weapons is important; the Russians have already proven that they can act quickly to achieve results on the ground and help their allies in their hour of need. Those fighting Hezbollah on the Qalamoun mountains and threatening its base of power in Beirut or in southern Lebanon will now take this into consideration.
As for Israel, Hezbollah might want to put an end to the positive dynamics of cooperation between Moscow and Jerusalem regarding Syria. The alleged Israeli assassination of Hezbollah commander Samir Quntar in a Damascus suburb last month occurred despite the Russian presence in Syria, generating anti-Russian sentiments and even rage within the ranks of the organization.
An added bonus for Hezbollah: Disclosing details of an arsenal allegedly provided to the organization by Moscow, with "no strings attached" as Hezbollah claimed, will make Israelis feel more suspicious towards their Russian partners.
As for Iran – the unnamed Hezbollah members also told the Daily Beast that if another war with Israel were to break out, Iran would supply the weapons needed, not Russia. The organization appears to have been signaling the Iranians that while they appreciate their support thus far, it has other potential arms suppliers. But the most intriguing question relates to the true nature of relations between Hezbollah and Moscow and how well Syria can safeguard the weapons it gets from Russia.
During the 1980s, when the USSR was actively involved in the Syrian civil war and supported the regime of Hafez al-Assad, Hezbollah leaders considered Moscow their sworn enemy along with the Baathist Syrian regime. On September, 30 1985, four Soviet diplomats were kidnapped in Beirut, and one of them was injured. The kidnappers demanded that "the infidel Russians" put pressure on Damascus to end to its military presence and activity in Lebanon. Hezbollah was behind the kidnapping, with the blessing of its spiritual leader, Sheikh Hassan Fadlallah.
Many years have passed since, the strategic relationship between Moscow and Damascus survived the fall of the Soviet Union and Syria became Hezbollah's best friend. Russian-made arms continued to pour into Syria, and Israel was always concerned that some would find their way to Lebanon, where Hezbollah created a state within a state. In fact, back in 2006, Israeli forces found evidence that Russian-made Kornets and anti-tank systems had ended up in Lebanon. This prompted Moscow to announce that it would conduct an inspection of Syrian weapons depots to prevent further leaks, making it clear that it is not interested in becoming a weapons supplier for Hezbollah.
Back then president Bashar Assad had full control over Syrian territory and its army. Today, many regions in the country are effectively controlled by either opposition forces, ISIS or the Kurds, while army army units have deserted and moved - along with their weapons – between various militarized groups. It is reasonable to assume that in weak and decentralized Syria, at least some weapons that Assad's regime is getting from Iran and Russia will find their way to Hezbollah-land. Israel has in the past bombed, according to foreign sources, Iranian army convoys sent by Syria to Hezbollah The possible leakage of Russian weaponry needs to be discussed in high-level meetings between Russian and Israeli officials.
Ksenia Svetlova is a Member of Knesset and an expert on Arab affairs. She is a Phd candidate at Hebrew University in Jerusalem