Jews threatened, abused while walking home from synagogue in South Africa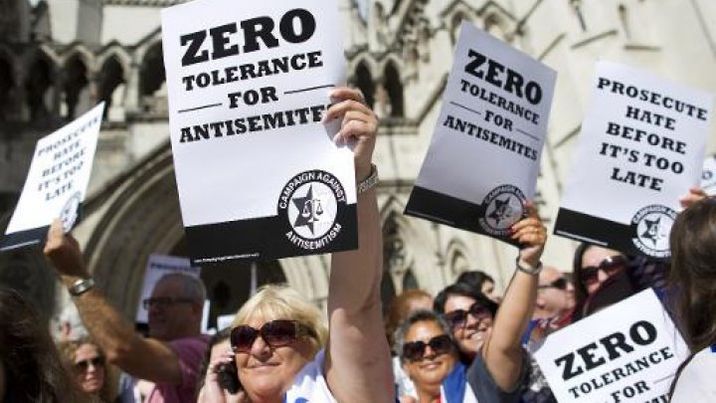 Manifestation contre l'antisémitisme
AFP
A vehicle with four people inside shouted obscenities at the men and threatened to run them over
Six Jewish men were subjected to anti-Semitic verbal abuse and physically threatened while they were walking home from synagogue, the Jewish Telegraphic Agency reports.
The men, who could be visibly identified as Jewish, were walking back from the Ohr Somayach Jewish center in Glenhazel, a Johannesburg suburb, last week. Suddenly a vehicle with four people inside drove past them shouting "f***ing Jews" and making obscene gestures.
The vehicle came back a few minutes later and crossed lanes, threatening to run the men over.
The incident was originally reported via the website of the Coordination Forum for Countering Anti-Semitism, an Israeli government forum that monitors anti-Semitism worldwide.
David Saks, the head of the South African Jewish Board of Deputies, confirmed to JTA that the incident had occurred.
Saks told the JTA that such abuse is not uncommon in South Africa, but said that it is "unusual for the perpetrators to combine verbal abuse with acts of intimidation against the people they are targeting."
In late 2014, President Jacob Zuma of the African National Congress party made the pledge during a meeting Thursday with the leadership of the South African Jewish Board of Deputies, JTA reported.
Last May, the student councils of five South African universities decided Monday to join an academic boycott of what they refer to as "Apartheid Israel," and said they will be pressuring their institutions to implement the boycott.
"The Israeli regime is proving itself to be anti-children, anti-student and anti-education," student council presidents of the universities said in a statement.
The month before, South Africa's minister of higher education, Blade Nzimande, called for a boycott of Israeli academic institutions after Israel refused him an entry visa, saying he was radically anti-Israel and was planning to visit the Palestinian Authority rather than Israel.