Jewish anti-Israel activists arrested in New York, Boston over Passover protests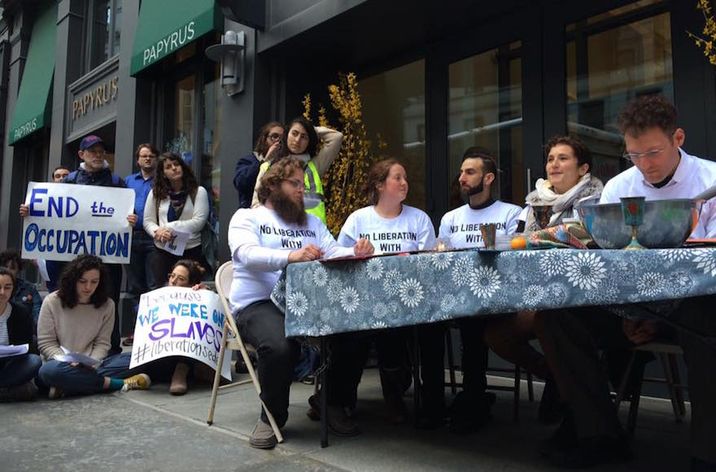 IfNotNow activists outside AIPAC's office in Boston
Facebook
Congressional anti-Semitism task force calls on Education Secretary to detail efforts to combat bias on campus
Police arrested 23 anti-Israel occupation activists at two protests in New York and Boston this week, at demonstrations organized by a group co-founded by the former Jewish outreach coordinator for the Bernie Sanders campaign who was fired from her position last week.
Seventeen protestors were arrested Wednesday in the lobby of the Anti-Defamation League (ADL) headquarters in New York, while another six were arrested at AIPAC's Boston office on Tuesday, the Jewish Telegraphic Agency (JTA) reports.
Protestors in Boston chained themselves to a symbolic Passover table and refused to leave, while in New York a similar demonstration took place with over 100 participants holding a sign reading "Liberation Passover seder," wearing shirts reading "no liberation with occupation," and singing Hebrew songs.
The activists were protesting on behalf of the ItNotNow group, formed in 2014, which calls for "the end of the American Jewish community's support for the occupation," JTA reports. 
The group was co-founded by Simone Zimmerman, who was fired from her position as Jewish outreach coordinator for the Bernie Sanders campaign over a profanity-laden post on her Facebook page slamming Israeli Prime Minister Benjamin Netanyahu.
ADL CEO Jonathan A. Greenblatt said in a statement on Thursday IfNotNow and the ADL share the same goal of a two-state solution, and was not responsible for the arrest of the New York protestors, JTA reports.
"ADL had no role whatsoever in the arrest of the protesters," Greenblatt said. "The protesters trespassed in the lobby of a private office building in which ADL happens to be one of dozens of tenants."
"It is unfortunate that [If Not Now] seems to be more interested in spectacles and ultimatums than in discussion and dialogue grappling with the difficult issues involved in achieving peace," he added.
Meanwhile, a bipartisan Congressional task force called on US Education Secretary John King to detail his department's efforts to combat anti-Semitism amid an increase of anti-Israel activities on college campuses.
A letter sent to King by the Bipartisan Taskforce for Combating Anti-Semitism cited reports of 500 anti-Israel programs on US college campuses and 29 BDS campaigns sponsored by student groups between 2014-2015, the Times of Israel reports.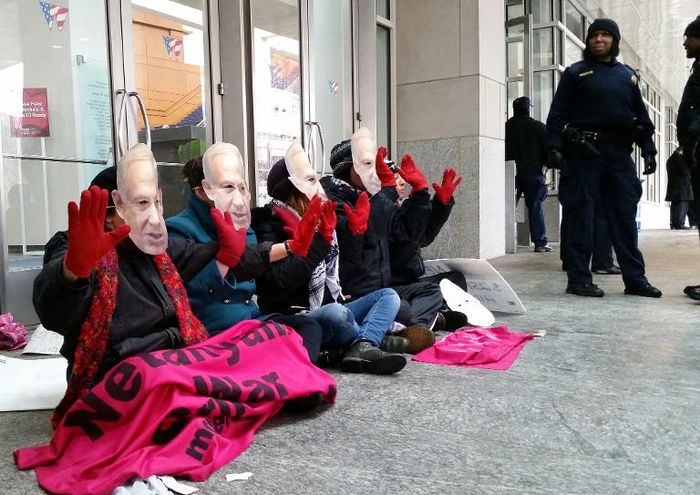 The letter calls on King to detail the number of anti-Semitism cases the department's Office for Civil Rights is currently investigating, what instructions department staff receive in order to detect anti-Semitic bias, and whether they are given guidance on how to determine whether discourse on Israel has devolved into hostility. 
The letter was backed by a number of Jewish groups, the Times of Israel reports, including the Anti-Defamation League, Jewish Federations of North America, B'nai Brith International, the Louis D. Brandeis Center for Human Rights Under Law, the World Jewish Congress, and the Zionist Organization of America.
(Staff with agencies)