NYT feature paints difficult picture of Donald Trump's relationship with women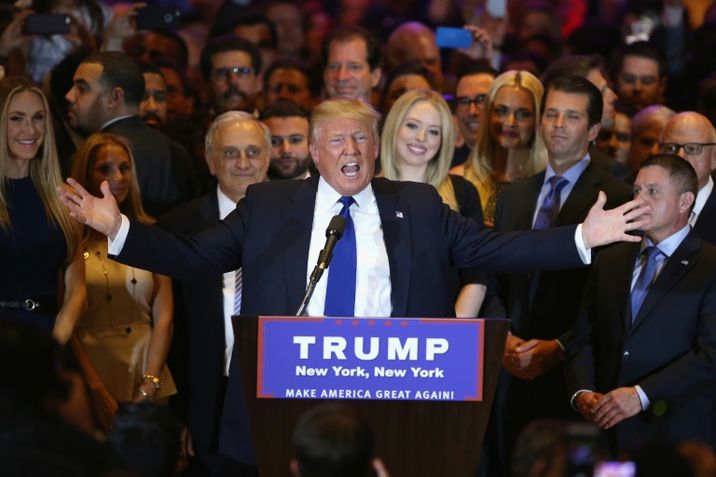 Republican presidential candidate Donald Trump speaks after winning the New York state primary on April 19, 2016
John Moore (Getty/AFP/File)
New York Times publishes interviews with dozens of former partners, employees of presidential hopeful
The New York Times on Saturday released a scathing report detailing presumptive Republican presidential nominee Donald Trump's treatment of women.
The Times interviewed 50 men and women, including employees of the Trump Organization, former girlfriends, and Miss Universe contestants, for the story, titled "Crossing the Line: How Donald Trump Behaved With Women in Private."
The interviews reveal a complicated picture of Trump, who would promote some women whom he favored to executive positions in his company, while simultaneously belittling others' appearance and making unwanted sexual advances.
Trump hired Barbara Res as his main construction manager, a top position in a male-dominated industry, for the Trump Plaza casino, and Louise Sunshine, a former Trump executive, told The Times that Trump "became the man in my life who was going to be my mentor."
Trump also took measures to ensure that women whose "work ethic" he respected would remain at his organization. 
"For me, he's made it a situation where I can really excel at my job and still devote the time necessary for my family," said Jill Martin, a vice president and assistant counsel at the Trump Organization.
"I think there are mischaracterizations about him," Martin told the newspaper.
For many other women, however, Trump's behavior, which, according to The Times, seemed to be "fleeting, unimportant moments to him," had lasting, and often damaging, consequences.
Alicia Machado, the 1996 Miss Universe winner described a day not long after winning the pageant, on which she was taken to a gym by Miss Universe executives, where Trump was waiting with 90 media outlets in an effort to push her to lose weight. 
"After that episode, I was sick, anorexia and bulimia for five years," she said. "I was about to cry in that moment with all the cameras there," Machado recalls.
"I said, 'I don't want to do this, Mr. Trump.' He said, 'I don't care.' Over the past 20 years, I've gone to a lot of psychologists to combat this."
Carrie Prejean, a contestant from Trump's Miss USA pageant in 2009, told of an instance where he made a personal inspection of the contestants, picking out some and humiliating others.
"It became clear that the point of the whole exercise was for him to divide the room between girls he personally found attractive and those he did not," she told the Times.
"Many of the girls found the exercise humiliating." Another former girlfriend recalled being asked to judge the attractiveness of his ex-wives.
Trump has repeatedly stumbled into controversy with his crude comments about women over the past year, and his approval numbers among women have spiraled downward.
A CNN/ORC poll in March found that 73 percent of registered women voters viewed Trump unfavorably, a clear downward trend since December, when 59 percent of registered women voters had a negative view of him.
Trump's campaign manager, Corey Lewandowski, predicted Trump's image among women would improve as the campaign progressed. 
"Donald Trump's numbers are going to be strong with women because they want the same thing that everybody else wants," Lewandowski said in a telephone interview with CNN.
"They don't vote based on gender. They vote on competency -- and that competency includes making sure that the nation is secure, which Donald Trump has pledged he will do, making sure we don't have illegal immigrants pouring across the border, and making sure individuals have opportunities for jobs."
In an essay for the New York Daily News, Res wrote that Trump was "nasty to the people who work for him," that he could "be very abusive and curt" and had an "incredible temper ... he lashes out at everyone."
"Of all the people I know who worked for or with Trump, including contractors, lawyers, architects, employees, only a very few actually like him," Res wrote in the New York Daily News. "Some respect him, some don't. Many hate his guts."
But she said he had a good eye for talent, and had several strong women working for him in her heyday. He told her she was "a killer" and that wanting to be liked by her subordinates was a weakness.
"Later, he would hire and promote many people with questionable qualifications," Res wrote. "I could see, over time, his growing need to be coddled and agreed with," she wrote, adding that by the 1980s, he "had taken to decorating his office with beautiful women."